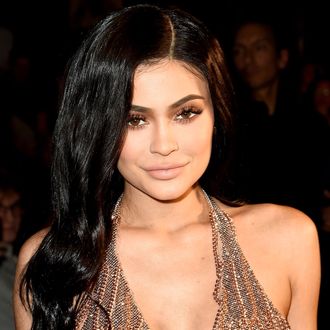 You knew this day would come.
Photo: Nicholas Hunt/Getty Images for New York Fashion
It's a Kardashian-Jenner rite of passage to get your own show separate from, but adjacent to, Keeping Up With the Kardashians. All three Kardashian sisters have had several, Rob and Blac Chyna have (had?) one, and so has Caitlyn Jenner. Hell, even Kris had a talk show. Now the youngest sibling is going it alone: After 13 seasons of airing her journey from awkward child star to teen queen on display — lip fillers, underage relationships, and all — Kylie Jenner is getting her own reality show. E! has announced that Life With Kylie will debut this summer as an eight-episode docuseries following the 19-year-old's "friendships, familial relationships, as well as her work life." What "work," you ask? That would be her growing beauty empire, of course. The show will be like one long Snapchat story, only even more filtered. At this rate, North and Penelope will have their own series in the ever-expanding Kardashian-Jenner-West-Disick cinematic universe by 2025. Meanwhile, Kendall's spinoff will air sometime never.