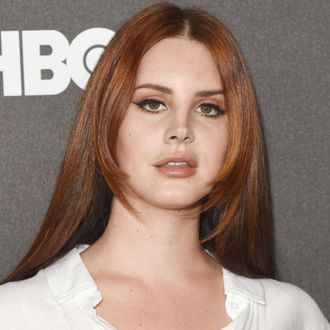 Her first time having a feature on one of her own albums.
Photo: Jason Merritt/Getty Images for Billboard
After years of refining her aesthetic to create her own witchy universe, Lana Del Rey is finally allowing a few others to join her there. Del Rey's next album, Lust for Life, will boast featured artists for the first time. In a sparkling conversation with her friend, mentor, and high priestess Courtney Love (that's worth the read for the mutual fawning alone), Del Rey has revealed some details about the new record. Sean Lennon worked with her on one song, "Tomorrow Never Came," that will include a typically nostalgic reference to his parents; for that reason, Del Rey was apprehensive about asking him to collaborate. "I didn't know if I should ask him because I actually have a line in it where I say, 'I wish we could go back to your country house and put on the radio and listen to our favorite song by Lennon and Yoko,'" she says. "I didn't want him to think I was asking him because I was namechecking them." But Sean was game and, according to Del Rey, it was all "very meant-to-be because that whole concept of peace and love really is in his veins and in his family."
Del Rey also confirms that the Weeknd will appear alongside her on the album's title track — making good on a promise to finally collaborate on one of her projects after she sang on his songs "Prisoner" and "Stargirl." Piecing together that song required the mind of pop-god Max Martin, whom she flew all the way to Sweden to meet with and tweak the song. Unlike Lorde, she took his notes, and says she's now eager to do more work with Martin — "like soon" — so it may be an even shorter wait for whatever Del Rey has up her vintage bell sleeve next.