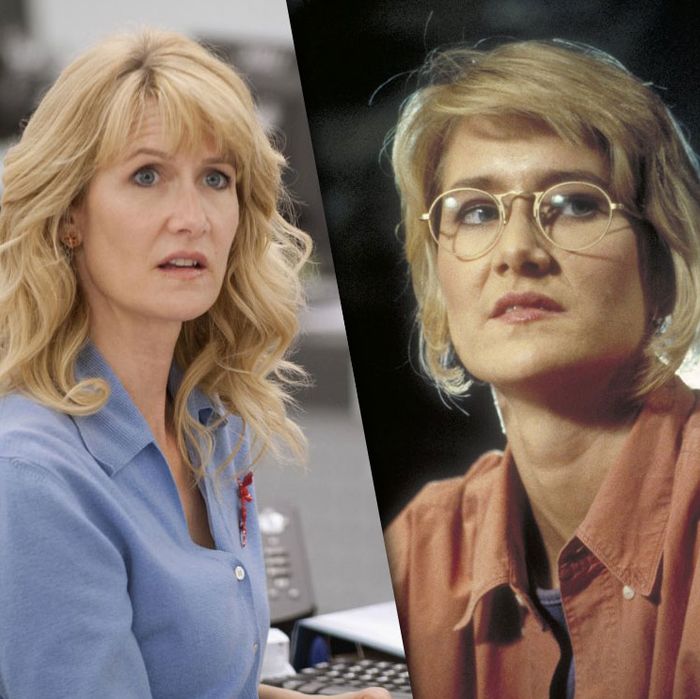 Photo: Lacey Terrell/Murray Close/Getty Images
Like Nicole Kidman and Reese Witherspoon, Big Little Lies star Laura Dern is experiencing a career revolution. But don't call her turn as Renata in the HBO hit a renaissance: The daughter of Hollywood heavy hitters Diane Ladd and Bruce Dern, she's been acting professionally since age 5, working with Martin Scorsese before most kids finish elementary school. Like her peers on Big Little Lies, Dern has nary a dry spot in her decades-spanning filmography. From Steven Spielberg to David Lynch, her résumé is always ripe for a deep dive — especially now, given her role in the recently released Wilson, and Lynch's upcoming Twin Peaks revival. The diversity of genre and medium in Dern's oeuvre makes her, like Nicole Kidman, one of the most interesting actresses working today.
Here's a primer for those who might not be familiar with some of Dern's most famous, alluring roles on both the big screen and television.
Ladies and Gentlemen, the Fabulous Stains
Dern was just 13 years old when she appeared in this Lou Adler cult classic opposite an equally green Diane Lane. They play members of the Stains, an '80s punk band that gains notoriety before emerging as fanatically aggressive versions of their former selves. The film, which also featured former members of the Sex Pistols and the Clash, is a crash course in kinetic filmmaking, and with its underground credibility, Dern cemented herself as an iconoclast worth watching. Available to rent on Amazon, iTunes, and Google Play.
Blue Velvet
Blue Velvet was Dern's first collaboration with the auteur David Lynch, and it kick-started their long and intensely unique professional relationship — which will culminate in May when Dern joins Lynch's Twin Peaks. Many consider Blue Velvet a primer for Peaks, as both share an infatuation with the grotesque underpinnings of technicolor suburbia. In Velvet, Dern plays Sandy, the quintessential girl next door to Kyle MacLachlan's Jeffrey. The neo-noir film made Lynch a household name, and punched the cards of vets like Isabella Rossellini and a terrifying Dennis Hopper. Dern's part has been immortalized by an infamous crying meme, but Sandy is more than just an innocent foil in this diabolical story. She's the vulnerable but versatile co-lead, and she proves that Lynch isn't interested in pretty girls lacking pathos. Sandy is the beating heart at the center of the macabre Blue Velvet, a reminder of the quiet, warm things we fight and long for. Available to rent on Amazon, iTunes, and Google Play.
Wild at Heart
If anything, Wild at Heart changed how the film world regarded Laura Dern. Based on the novel by Barry Gifford, David Lynch's adaptation paired Dern with an equally off the grid Nicolas Cage. As Lula and Sailor, Dern and Cage are lovers united by passion but separated several times by violence and murder. The film's complicated plot is threaded through with Lynch's signature weirdness and heightened sense of destiny. Dern's Lula is all bright-pink shirts, leopard-print skirts, leather kisses, and frizzy-haired seduction. The part was a coming of age for the actress, who said, "I didn't do four years of university, I just went to the school of David Lynch." Available on Blu-ray and DVD.
Rambling Rose
This 1991 drama paired Dern with her mother, Diane Ladd, earning the pair Best Actress and Best Supporting Actress Oscar nominations. This made them the first-ever mother-daughter duo nominated for Academy Awards in the same year, and Dern, at age 24, one of the youngest-ever Best Actress nominees. Neither walked away with a statue for Rambling Rose, but that doesn't negate its impressive place in their respective film catalogues, especially for Dern, who — in her natural, springy-haired joyfulness — calls to mind a young Jennifer Lawrence. The Great Depression–era film was a critical and financial hit that elevated Dern to household-name status, and set her on a path for the successful years to come. Available to rent on Amazon and iTunes.
Jurassic Park
Perhaps her most famous role, Dern's turn as paleobotanist Ellie Sattler lies in direct opposition to a part like Renata on Big Little Lies. Sattler is Jurassic Park's resident feminist, one who questions the nature of mankind, and famously purports that women should inherit Earth. Dern's Sattler never succumbs to genre foibles; she remains a fierce survivor until the end, a woman who can crack computer passwords, fight velociraptors, restore her partner's faith in reproduction, and deny the charms of Jeff Goldblum. Available to stream on Netflix.
Citizen Ruth
"I've never fallen in love with a character more," Dern said of her titular role in Alexander Payne's Citizen Ruth. "There was not a scene where I wasn't barfing or fucking or vomiting or burping. I was just a disgusting mess." The 1996 film tackles the controversial subject of abortion, and as the central figure in the debate, Dern is as ghastly as one can be — huffing aerosol cans out of paper bags, hurling expletives at passersby. All the while, she remains remarkably watchable. It's no wonder Dern loved this role so much — it's perhaps her finest, grossest performance to date. (Payne would also go on to direct Dern's Big Little Lies co-star Reese Witherspoon in her breakthrough role as Tracy Flick in Election.) Available to rent on Amazon, iTunes, and Google Play.
Ellen
Few discussions of Ellen DeGeneres's formative sitcom Ellen take place without mention of its most famous installment, "The Puppy Episode," in which her character comes out as a lesbian to her audience — and DeGeneres came out to the world. But most don't remember that it's Laura Dern as Susan who motivates this revelation. Susan comes on to and eventually persuades Ellen to reveal her true identity. Though at first reluctant, Ellen eventually says those famous words: "I'm gay." The moment shocked audiences, and immediately threw the careers of DeGeneres and Dern into turmoil. In a 2007 interview, Dern said that she didn't work for more than a year after the episode aired due to the controversy. Regardless, the Ellen episode cemented Dern in television history. Available to stream on ABC.com.
Inland Empire
Not so much a movie as it is a filmed nightmare, Inland Empire is David Lynch's most recent cinematic work. Lynch reunited with his muse for the 2006 project, which was both heralded and vehemently criticized upon release. The narrative is hardly sequential or decipherable, but it does whet the appetite: Dern plays Sue, an actress trapped in a lurid, folktale-like dream, where she is constantly running through doorways and at the mercy of a tantalizing storytelling device that never truly crystallizes. As with Blue Velvet, her character might be best remembered for her elastic facial contortions, but Dern is really something else here, lending gravitas to what could be simply a series of elemental entanglements. Available on Blu-ray and DVD.
Enlightened
Enlightened is, quite simply, one of the best television series of our time, and one of the most egregiously canceled. Dern's turn as Amy Jellicoe, a woman whose nervous breakdown results in both her demotion at work and her personal downward spiral, should be part of the pantheon of great TV antiheroes, if she weren't so sadly forgotten. The HBO series raked in a Golden Globe for Dern, but never quite caught on the way it should have. As Amy, Dern was her most extreme: frantic, manic, bitter, vulnerable. She wore every hat. Big Little Lies brought her the acclaim she rightfully deserves, but Enlightened is Laura Dern at her absolute best, a hot mess as engaging and transformative as the Tony Sopranos and Walter Whites of the world, if not more so. Available to stream on HBO Go and Amazon.
The Master
This power of this quiet, persuasive performance almost goes without saying. As a devout follower of the Cause, a Scientology-esque cult, Dern turns up at the film's midpoint and haunts it to the end. The Master paired Dern with one of our generation's most talented directors — Paul Thomas Anderson — and demonstrated the terrifying influence devout women can have in the house of untrammeled power. Available to stream on Netflix.
Wild
The film that paved the way for Big Little Lies, Wild united Dern with Witherspoon, and accounts for Dern's second Academy Award nomination. As Bobbi, the mother of Witherspoon's Cheryl, Dern gives the film its motivation and its devastating centerpiece. She's barely there, but her presence looms large. Director Jean-Marc Vallée would reteam with Dern and Witherspoon for Big Little Lies to even greater effect, but it's here that you get the essence of their relationship. Dern's ability create haunting characters is perhaps her greatest strength, and in Wild it's mined to perfection. Available to rent on Amazon, iTunes, and Google Play.