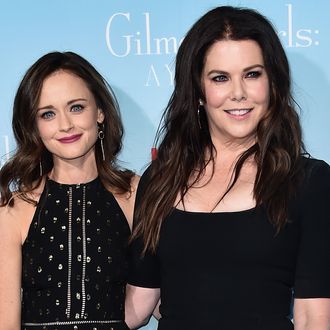 Mother and daughter.
Photo: Alberto E. Rodriguez/Getty Images
Rory's last four words may actually be her last. (No, Rory isn't dead! Rory lives on in all of us!) Tonight at Deadline's Emmy-themed the Contenders event, Gilmore Girls' Lauren Graham responded to rumors about a second Year in the Life — a follow-up to last year's successful Gilmore Girls revival. "If it all existed in a vacuum, I would play that character until my dying day … Now it's become what could we do with this story that is satisfying, that is worth continuing. I don't know if there is a need to do more. I wouldn't want it to feel like we overstayed our welcome." Alexis Bledel said it all comes down to "what story we're telling … I'm just interested in telling a story that is dynamic and that I can hook into."
Last month, Netflix's Chief Content Officer Ted Sarandos said he was in "preliminary" talks with the show's creators about more episodes. But according to Graham and Bledel, they haven't yet been approached about returning to Stars Hollow.
Maybe it's a shame we don't all live in a vacuum where Lorelai could be our mom forever, but maybe we all need to move on. Or if we can't, we can take solace that Graham has signed on to be in the Fox comedy pilot Linda From HR, and Bledel has booked a recurring role in Hulu's The Handmaid's Tale. And maybe, just maybe, if we watch them on side-by-side screens, it will feel like home.