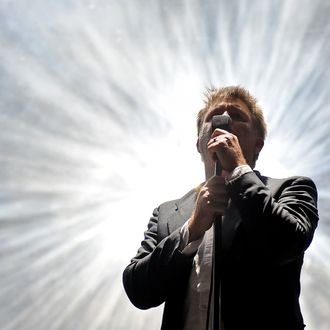 James Murphy of LCD Soundsystem.
Photo: Kevin Winter/Getty Images for FYF
There are about to be a lot of very happy LCD Soundsystem–loving bots out there: According to Pitchfork, the once-retired, now-inspired band is set to play new music at their super-sold-out, five-night Brooklyn residency. In decidedly artisanal East Williamsburg fashion, fans found out about the new music via honest-to-god paper flyers passed out before the show, politely asking them not to film any songs, whether "old" or "new":
Back in January, the band's front man James Murphy told Facebook fans that a new album was coming, just not when. The shows in Brooklyn provide an opportunity to road-test new songs in front of audiences before releasing them to the wider public. And while you wait, why not join in the fight against the evil, ticket-snatching robots?