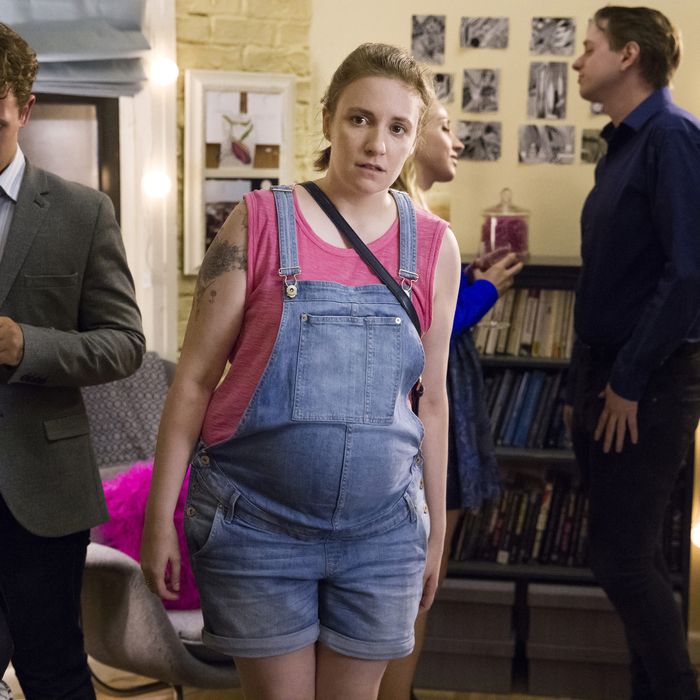 Lena Dunham as Hannah.
Photo: HBO
Spoilers ahead for the penultimate episode of Girls, "Goodbye Tour."
While Girls has always been a quintessentially New York show, Hannah Horvath has had some of her most profound moments of self-discovery outside of the city. (For more on this, read Kathryn VanArendonk's excellent piece on how Girls operates outside of NYC.) In Sunday night's penultimate episode of Girls, we see Hannah travel to a college in upstate New York to interview for a teaching position, which she is more or less offered on the spot. Hannah doesn't spend much time debating whether or not she'll accept: She knows her answer is yes. By the end of the episode, we've flashed forward to an indeterminate point in the future, in which Hannah has settled into a lovely, spacious new home upstate.

Her choice may have come as a surprise to viewers, but Lena Dunham has known for a while now that Hannah would ultimately say good-bye to the city. "From season two, I remember saying to Jenni [Konner] and Judd [Apatow], 'I think Hannah ends up with a baby upstate,'" Dunham told Vulture during a conversation with the cast earlier this season, in which she also expanded on why she decided Hannah would keep the baby:
Her destiny is to find herself through caring for someone else because I almost feel like she needs that in order to move to the next step in her life. She needs that urgency. After that, we debated about how it would happen. We debated who the father would be, whether he would be involved, etc. But the idea that Hannah would have this pregnancy and make this unexpected choice to keep it always felt really right to us. Especially considering I spent the rest of my life working with Planned Parenthood, it was fun to not make it a political choice and to just make it a super personal choice in which Hannah suddenly knew, despite all odds, that this was what she was supposed to doing with her life. Whether Hannah's going into it clear-eyed, I can't say, but I know she's going into it with a strong intuitive sense that this is the right job for her right now.
While adjusting to the idea of single motherhood has had its share of complications for Hannah, the story line came with some unexpected perks for Dunham around set. "I loved wearing the belly," she said. "Everyone on set started being so nice to me because they don't remember that's it fake, so everyone's ushering you around and making sure you have food."
"You were so comfortable with it," Zosia Mamet jumped in. "Like I remember when you were directing, if it was between scenes, you were rubbing it."
"Jenni had to be like, 'stop rubbing your belly,'" Dunham laughed. "'It's creeping me the fuck out because that's not your real belly.'"