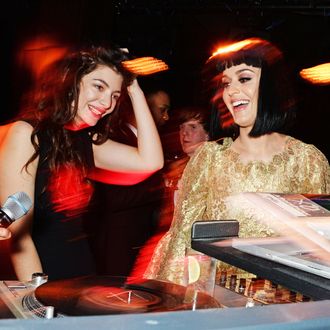 This. Is. Real.
Photo: David M. Benett/Getty Images for Soho House
Cool teen turned cool adult Lorde probably has more sophisticated taste in music than you do (she was wearing a Cramps T-shirt on the cover of Rolling Stone at age 17, after all), but she's not above the appeal of pure bubblegum pop. In a new New York Times profile, she explains her reverence for pop music and discusses, of all things, Katy Perry's 2010 hit "Teenage Dream."
"There's this sadness about it, where you feel young listening to it, but you feel impermanence at the same time," Lorde said. "When I put that song on, I'm as moved as I am by anything by David Bowie, by Fleetwood Mac, by Neil Young. It lets you feel something you didn't know you needed to feel." She regarded me closely. "There's something holy about it."
The next time you're at karaoke, keep that in mind while making your song selection.