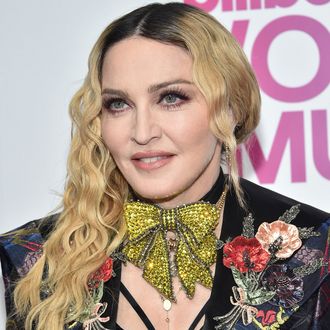 What's the truth?
Photo: Mike Coppola/Getty Images
Madonna is the subject of a biopic about her earliest days that was recently picked up by Universal (it's not a Desperately Seeking Susan reboot, sorry) and, like many a star with an unauthorized retelling of their life story on the way, she's perturbed by the thought of it. Shortly after the announcement that Universal had acquired Elyse Hollander's No. 1 Black List script about the pop icon, Blonde Ambition, Madonna shaded the project in an emoji-filled Instagram: "Nobody knows what I know and what I have seen. Only I can tell my story. Anyone else who tries is a charlatan and a fool. Looking for instant gratification without doing the work." She has now further ripped the supposed charlatan with a since-deleted Instagram post in which she fact-checks the first page of Hollander's script, giving it the zero-star review of "lies and exploitation." Only there are two issues with Madonna's gripes: For one, the lies in question are not even Hollander's words — they're Madonna's. They're also the facts verbatim as Madonna spoke them on live national television.

Madonna circled one particular passage, which Hollander quoted from Madonna's very famous 1984 debut appearance on Dick Clark's American Bandstand, saying it's inaccurate. The quote has Madonna saying she was born in Detroit and dropped out of high school when, really, Madonna was born in Bay City, Michigan, graduated high school, and went on to attend the University of Michigan. "Why would Universal Studios want to make a movie about me based on a script that is all lies??" Madonna wrote in her caption. Except if there are lies in that quote, it appears the liar is Madonna. (Though she wouldn't be the first up-and-comer to twist her story.) You can watch the interview for yourself, preserved on the great big truth-teller that is YouTube.
Either way, Madonna will not be had. "Lies have no legs!!" she wrote in a separate post next to several snake emoji directed at Hollander, Universal, and the film's producer Brett Ratner. Because no one, not even Madonna, can set her origin story straight.