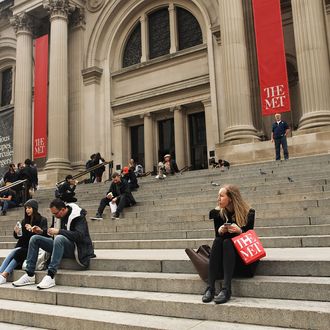 Photo: Spencer Platt/Getty Images
For more than four decades, the Metropolitan Museum of Art has suggested a $25 donation for adults to gain entrance to the museum — but museumgoers could always attend for free or give any amount they chose. But under a proposed plan reportedly being weighed by the museum's leaders and city officials, that fee might soon be mandatory for tourists. According to the New York Times, the Met has conducted confidential conversations with the city to decide if the nation's largest museum should charge admission, and if so, how that fee will be applied. Because the Met is taxpayer supported — the city owns the museum's Fifth Avenue building — both the Met Board and Mayor Bill de Blasio would have to agree on the terms of the admission fee, according to the Times.

The Met is in a precarious financial and administrative position, with a $15 million deficit and the recent resignation of its director. A mandatory admission fee could offset some of the museum's $332 million annual operating costs, but the change could also mean the museum would lose the public money it gets from the city, according to the Times. There's also the question of how the museum will define a visitor's tourist status: 63 percent of the Met's 7 million annual visitors come from outside New York state, the Times reports, and it's unclear if the proposed fee would apply to those who live outside of New York City or those who live outside of New York state, and how residency would be determined at the museum's front desk. The Met's conversations are further complicated by a now-settled lawsuit brought against the museum, which prompted the Met to alter the language on its signage to call the $25 admission charge "suggested" rather than "recommended." All that is to say: Alert your visiting grandparents now — the Met might not be free the next time they visit.