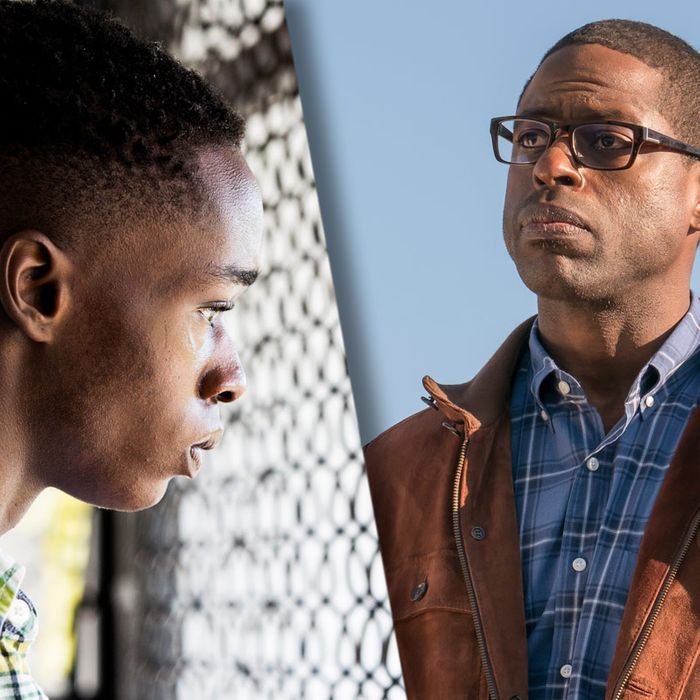 L-R: Moonlight, This Is Us.
Photo: A24, NBC
Turns out MTV is serious about breaking down the awards-show barriers between film and television. Three weeks after the network announced its long-running Movie Awards franchise would start honoring TV shows as well, Vulture has learned it's going even further than the Golden Globes or People's Choice Awards by having films and series, as well as actors from both mediums, compete against each other in the same categories. Ever wonder how Oscar winner Moonlight would fare against Game of Thrones or Me Before You would fare in competition with This Is Us, Game of Thrones, or Grey's Anatomy? MTV is about to let us find out.
To be sure, the new MTV Movie & TV Awards isn't ushering in complete kudos segregation: There will still be popcorn trophies for best movie and best TV show, for instance, as well as for the best actors from both formats. But most categories at the May 7 show — to be hosted by Adam Devine, film (Pitch Perfect) and TV (Workaholics) star — will be platform agnostic, from best comedic performance and a Next Generation award honoring relative newcomers, to the aforementioned Moonlight vs. This Is Us smackdown in the battle of "best tearjerker." And in another break from awards-show tradition, the acting categories will be gender neutral, rather than split between actor and actress. In an interview Wednesday, MTV president Chris McCarthy, who also oversees VH1 and Logo, told Vulture the decision to tear down the old walls was simply a reflection of how the music-focused channel's under-25 target audience views content (and each other). "This audience actually doesn't see male-female dividing lines, so we said, 'Let's take that down.' They don't see lines between theatrical releases and television— they just see it as great content — so let's take that down," McCarthy said. "And they don't really care whether it's scripted, reality or a theatrical release. They just want to celebrate great content."
MTV plans to release a full list of categories and nominees later today, but the network gave us an advanced look at two other categories beyond tearjerker to demonstrate how the show's new strategy will work, and how its overall philosophy is evolving. A staple of past MTV Movie Awards, the "best fight" competition — first won in 1996 by Adam Sandler and Bob Barker for their epic Happy Gilmore confrontation — has been reimagined in the age of Trump as "Best Fight Against the System." It will feature three movies (Get Out, Hidden Figures, and Loving) and two TV shows (Luke Cage, Mr. Robot) in a category designed to honor a "film or show whose characters best exemplify fighting against a system that tries to keep them down."
McCarthy says the transformation of the tongue-in-cheek "Best Fight" category into something more serious is "the best example" of how the new Movie & TV Awards are changing to keep up with the MTV audience. Best Fight, he said, "made a ton of sense at the time," in the relatively calm and peaceful 1990s. "But today is such a different story," McCarthy added. "We're seeing what's happening in culture. Young people are rising and forcing change … and we're seeing a voice of activism that's just so different and so refreshing. We wanted to support that, and so the idea of a best actual fight almost was an antiquated idea. We thought it was much more celebratory to honor the stories and characters that have fought against the system that they thought was oppressing them. It felt more modern and more reflective of the audience and how they see fighting." Also new this year is the Best American Story category, which MTV says will go to a movie or series which "shows America at its best, open, and diverse." This year's nominees include Moonlight on the movie side and the series Black-ish, Fresh Off the Boat, Jane the Virgin, and Transparent.
As for the decision to blend film and TV talent in many categories, such mingling of mediums would probably never fly at a more traditional Hollywood awards show — agents, and most likely, talent guilds would not have it. But perhaps because of the Movie Awards's iconoclastic reputation, McCarthy says he's not expecting any pushback from movie actors worried about their work being judged alongside TV. "We're seeing movie actors and actors from all categories leaning into TV and seeing it as a huge opportunity, and nothing other than just a great platform to do their craft," he said. "Those lines have really come down, too. Actors and actresses go back and forth. We haven't seen any tensions around that."
The increasingly blurred lines between forms of content, and how said content is distributed, is also informing other changes to the MTV Movie & TV Awards. Because so many viewers now consume entire runs of series years after they've premiered (or even after they've wrapped), MTV also plans to give out an award for what in past years might be called "classic" TV. "We're adding a category that's (called) Bingeworthy, and it just honors content that's timeless," McCarthy said. "The audience is really time-period agnostic now. A great story's a great story." Still, as previously noted, MTV ultimately decided to do a little bit of dividing by continuing to maintain a few medium-specific categories. McCarthy said that choice was mostly driven by the realization that without some division, a lot of awards-worthy content would be overlooked because there'd be too few categories and nominees. "We didn't want to leave some great actors and great stories on the sidelines," he said.
The full list of MTV Movie & TV Awards nominees are below:
MOVIE OF THE YEAR
Beauty and the Beast
Get Out
Logan
Rogue One: A Star Wars Story
The Edge of Seventeen
BEST ACTOR IN A MOVIE
Daniel Kaluuya – Get Out
Emma Watson – Beauty and the Beast
Hailee Steinfeld – The Edge of Seventeen
Hugh Jackman – Logan
James McAvoy – Split
Taraji P. Henson – Hidden Figures
SHOW OF THE YEAR
Atlanta
Game of Thrones
Insecure
Pretty Little Liars
Stranger Things
This Is Us
BEST ACTOR IN A SHOW
Donald Glover – Atlanta
Emilia Clarke – Game of Thrones
Gina Rodriguez – Jane the Virgin
Jeffrey Dean Morgan – The Walking Dead
Mandy Moore – This Is Us
Millie Bobby Brown – Stranger Things
BEST KISS
Ashton Sanders & Jharrel Jerome – Moonlight
Emma Stone & Ryan Gosling – La La Land
Emma Watson & Dan Stevens – Beauty and the Beast
Taraji P. Henson & Terrence Howard – Empire
Zac Efron & Anna Kendrick – Mike & Dave Need Wedding Dates
BEST VILLAIN
Allison Williams – Get Out
Demogorgon – Stranger Things
Jared Leto – Suicide Squad
Jeffrey Dean Morgan – The Walking Dead
Wes Bentley – American Horror Story
BEST HOST
Ellen DeGeneres – The Ellen DeGeneres Show
John Oliver – Last Week Tonight With John Oliver
RuPaul – RuPaul's Drag Race
Samantha Bee – Full Frontal with Samantha Bee
Trevor Noah – The Daily Show
BEST DOCUMENTARY
13th
I Am Not Your Negro
O.J.: Made in America
This is Everything: Gigi Gorgeous
TIME: The Kalief Browder Story
BEST REALITY COMPETITION
America's Got Talent
MasterChef Junior
RuPaul's Drag Race
The Bachelor
The Voice
BEST COMEDIC PERFORMANCE
Adam Devine – Workaholics
Ilana Glazer & Abbi Jacobson – Broad City
Lil Rel Howery – Get Out
Seth MacFarlane – Family Guy
Seth Rogen – Sausage Party
Will Arnett – The LEGO Batman Movie
BEST HERO
Felicity Jones – Rogue One: A Star Wars Story
Grant Gustin – The Flash
Mike Colter – Luke Cage
Millie Bobby Brown – Stranger Things
Stephen Amell – Arrow
Taraji P. Henson – Hidden Figures
TEARJERKER
Game of Thrones – Hodor's (Kristian Nairn) Death
Grey's Anatomy – Meredith tells her children about Derek's death (Ellen Pompeo)
Me Before You – Will (Sam Claflin) tells Louisa (Emilia Clarke) he can't stay with her
Moonlight – Paula (Naomie Harris) tells Chiron (Trevante Rhodes) that she loves him
This Is Us – Jack (Milo Ventimiglia) and Randall (Lonnie Chavis) at karate
NEXT GENERATION
Chrissy Metz
Daniel Kaluuya
Issa Rae
Riz Ahmed
Yara Shahidi
BEST DUO
Adam Levine & Blake Shelton – The Voice
Daniel Kaluuya & Lil Rel Howery – Get Out
Brian Tyree Henry & Lakeith Stanfield – Atlanta
Hugh Jackman & Dafne Keen – Logan
Josh Gad & Luke Evans – Beauty and the Beast
Martha Stewart & Snoop Dogg – Martha & Snoop's Potluck Dinner Party
BEST AMERICAN STORY
Blackish
Fresh Off the Boat
Jane the Virgin
Moonlight
Transparent
BEST FIGHT AGAINST THE SYSTEM
Get Out
Hidden Figures
Loving
Luke Cage
Mr. Robot