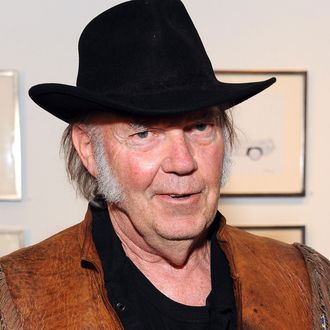 Creator of Xstream.
Photo: Angela Weiss/Getty Images
Neil Young, a guy who's made so much incredible music he should probably just chill now and not try to start a streaming service, has started a streaming service. It's called Xstream, which is the same name as the fake streaming service that's featured on Empire (so we're hoping he starts a Law & Order–style FaceUnion next).
The idea is that Xstream will play music at the highest quality your network allows at that moment. "All songs should cost the same, regardless of digital resolution. Let the people decide what they want to listen to without charging them more for true quality," Young said. "That way quality is not an elitist thing. If high-resolution costs more, listeners will just choose the cheaper option and never hear the quality."
This is a slight pivot from Pono Music, Young's initial audio player and online storefront for high-fidelity recordings where albums cost between $20 and $30. According to Stereogum, the Pono store has been offline since last July, and the company's Facebook page reveals some unhappy customers.
Apparently Xstream has been a difficult sell for investors, probably because Tidal already exists.