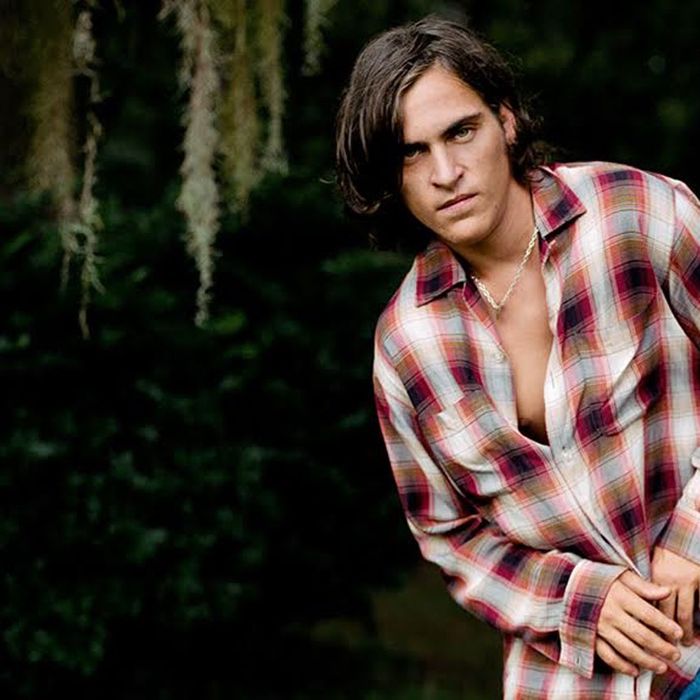 "Uneasy."
That's the feeling photographer Chris Buck used to describe his style, and as the title of a 384-page collection of his portraits that was published in February. Going back three decades, from Jimmy Fallon holding a naked baby, to Billy Bob Thornton urinating on a backdrop, to a listing Joaquin Phoenix on the cover, the book's 338 images show celebrities in an unusual and diverse array of poses, something Buck says has developed from having them "act out his weird." The title "also speaks to the fact that it's not easy," he says. "Being a celebrity's not easy. Doing these shoots is not easy. Being a human being is not easy. And I think that most people can relate to it."
Buck has been photographing the famous since the '80s, and his work has been featured in publications like Esquire, GQ, Newsweek, and New York, among others. He's wanted to put this collection together for ten years, but in 2006 publishers told him his collection had "no obvious target audience" and wouldn't succeed. Now, backed by a successful Kickstarter campaign, Buck has been able to publish it himself and reframe its narrative into two parts: a retrospective look at 30 years of culture and (in what he considers a "fuck you" to the publishers) a look at his career.
"In a way I went in both directions. By subtitling it "1986–2016," I made it clear that this wasn't just my story. It was about the story of where we've been in the last 30 years. But I made sure to make sure the edit was kind of esoteric and personal and included a lot of niche people that I thought were interesting. In a way, I made it personal and more about me, and I recognize that could actually be more interesting and more rich for the reader."
Uneasy also includes a "Stories" section, featuring 129 short anecdotes corresponding to some of Buck's photos. We asked Buck to select a group of his favorite portraits from Uneasy and share the stories behind them; the details below come from both the book and a recent interview.
Paul Giamatti, 2015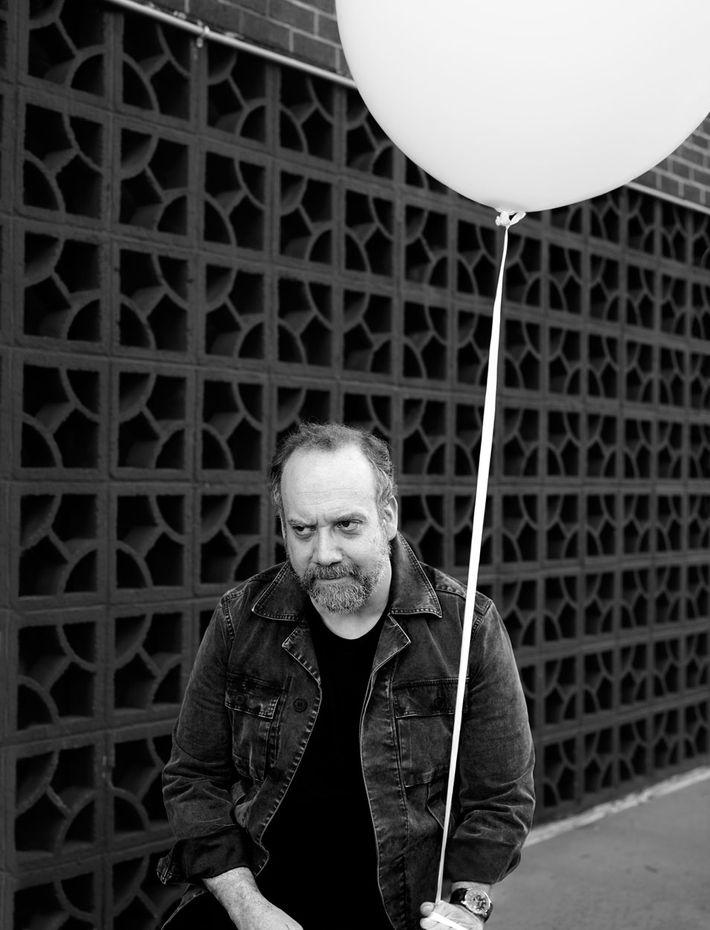 "Paul just has that vibe of being a gracious and appreciative person and works to be as normal as possible or whatever … But he doesn't particularly like being photographed, and he doesn't like props," Buck said. But in the midst of a GQ shoot where they'd moved from the studio to the streets of Greenwich Village, the magazine's photo editor spotted a large balloon in front of a retail store that he thought Paul should pose with. "We got the balloon, and we brought it over, and Paul just rolled his eyes like 'please, please no.' So we get to the spot where there's this nice, textured architectural facade and I put down my Apple Box and I'm like, 'Sit down, please.' And we hand him the balloon, and he's just in existential pain while he's holding it. I think he literally held it for 10 to 12 seconds and just gave it to his publicist. I just got the shot. He's such a sweet guy. I felt so bad, but I guess that's just why I do what I do. I felt for him, but I still made him do it."
Lena Dunham, 2014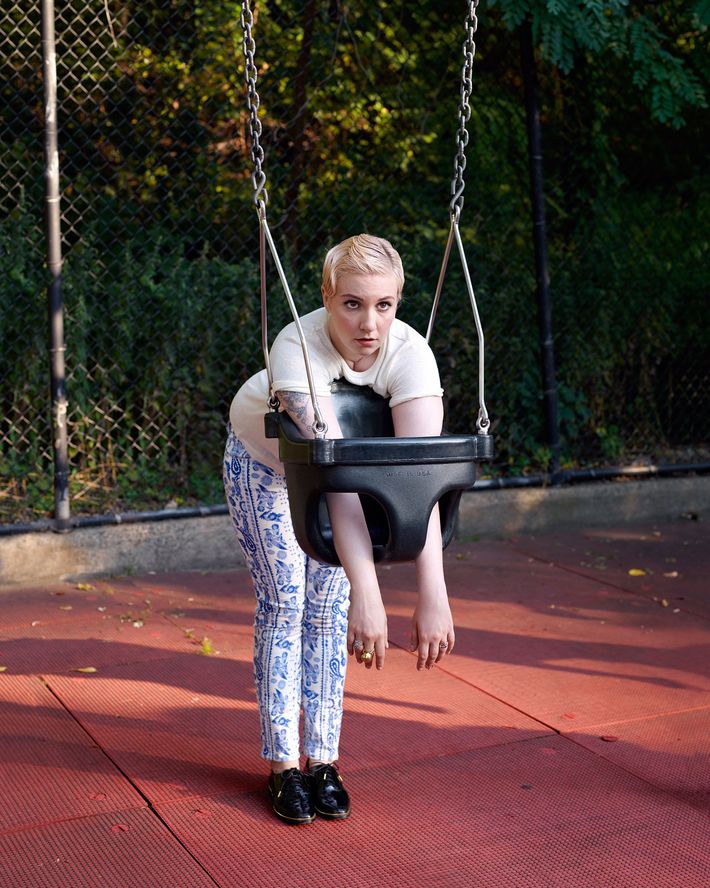 "Lena Dunham arrived promptly for our Guardian Weekend shoot at a Brooklyn studio, and she announced that she'd be needing some underwear," Buck writes, describing this photo in Uneasy. "As we moved forward with the shots that we could do sans undergarment, there remained some unanswered questions: Would the underwear arrive? When would it arrive? And how might it alter the shoot?" He continues by describing Dunham as a gracious person who doesn't match her "self-involved" reputation. "Her genuine embrace of all that is odd and creative made working with her a photographer's dream; playful, dirty, and weird — everything I look for in a collaborator," he wrote. But did the underwear ever arrive? Nope. "Once we got sort of into the thick of the shoot, I think that just stopped being a priority," Buck said. "I mean, obviously being Lena Dunham, I think pretty much everyone on set had seen her naked anyways. So it wasn't really a big deal."
Donald Trump, 2006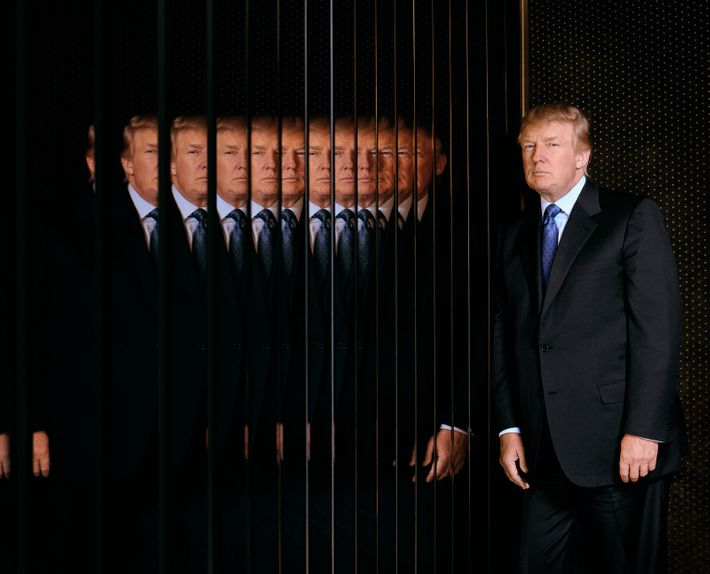 "Although he'd seemed distracted, he was cooperative and easy to deal with," Buck wrote, describing his first experience photographing the future POTUS. This, he said, came as a surprise — he'd always found Trump obnoxious on TV. But his second session with Trump, which produced this shot featured in Uneasy, was quite different. "This time the story was a conceptual shot that required additional people in the picture, so I recruited friends of my wife's and mine to be our extras," he wrote. "Now, with an audience, Trump came to life; he was charming and funny. Direct and a little bossy to be sure, but always in a relaxed and friendly way. In fact, it was the perfect dynamic — he had an audience to play to, but they were my people, so both his and my quips would get laughs." And, if he were asked today, Buck would photograph Trump again. "Of course," he said. "If I only photographed people I agree with, there would be like ten people in this book."
Gene Simmons, 2004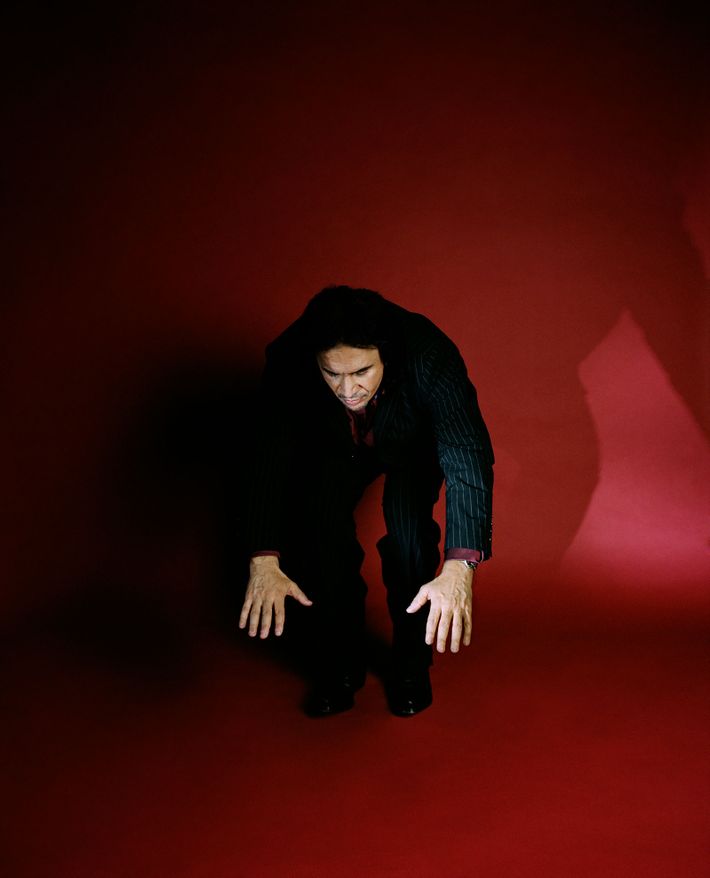 "The first time that I met Gene, we spent the first 20 minutes arguing about what the shots might look like. I was frustrated initially but soon realized that he just enjoyed a good argument," Buck wrote in Uneasy. A KISS fan in his childhood, Buck found Simmons interesting and pitched him for Esquire's "What I've Learned" column. "They loved the idea and suggested that I do the interview with him myself," Buck wrote. "I was stunned, but thrilled … I called Gene up to ask him if he was interested in the story, and he said, 'Only if it's a cover.' At that point, I laid it all on the line: I told him that this was a prestigious spot, and he could take it or leave it. I added that I thought that he was a very smart and interesting guy, so I expected him to give me straightforward, honest answers to my questions — not just provocative contradictions, as was his default position. He was on board, and he mostly kept to that promise."
William F. Buckley Jr., 2004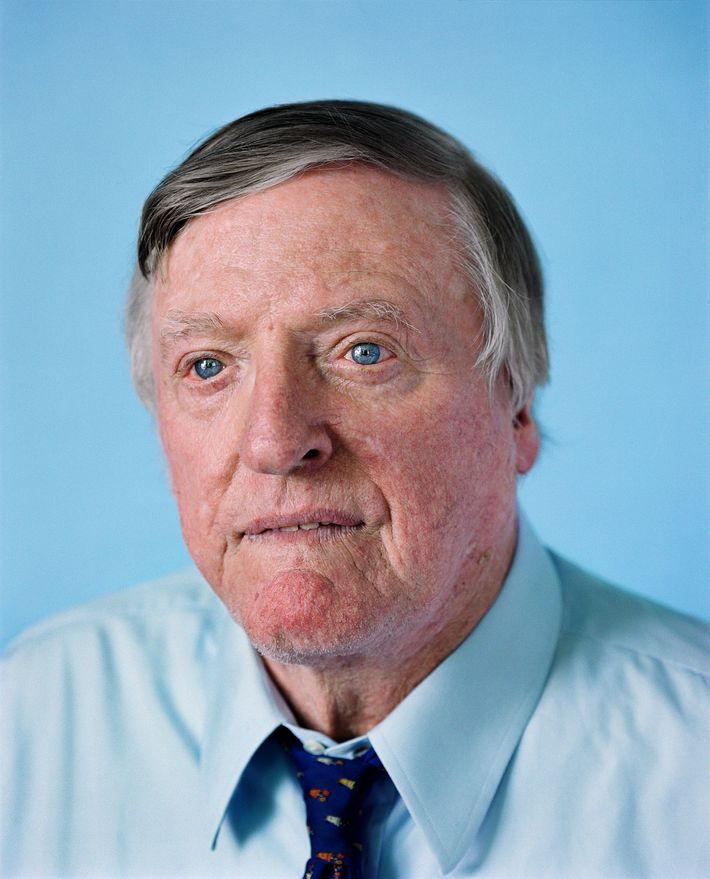 "It was with both excitement and intimidation that I approached William F. Buckley Jr.'s home in Stamford, Connecticut," Buck wrote in Uneasy. "Buckley was welcoming and showed us to the TV/harpsichord room to set up (doesn't every home have one?), and even offered me a smoke after I inquired about the little trays of loose cigarettes around the living room. ('My wife smokes, would you like one?' he asked, leaning into me and delivering the line with equal amounts of hospitality and sarcasm.) As with any celebrity sitting, we talked while we shot, and as a politics buff, I asked him his take on the neoconservatives and the Iraq War, among other things. He answered my questions, albeit briefly, and after a few minutes he asked, 'Are we done with the photography then?' It was only then that I realized that I was standing there with my camera in my hands and hadn't really been taking any pictures. I mumbled something like, 'Oh, no, sir,' looked down into the viewfinder, and shot a few frames in quick succession."
Ike Turner, 2001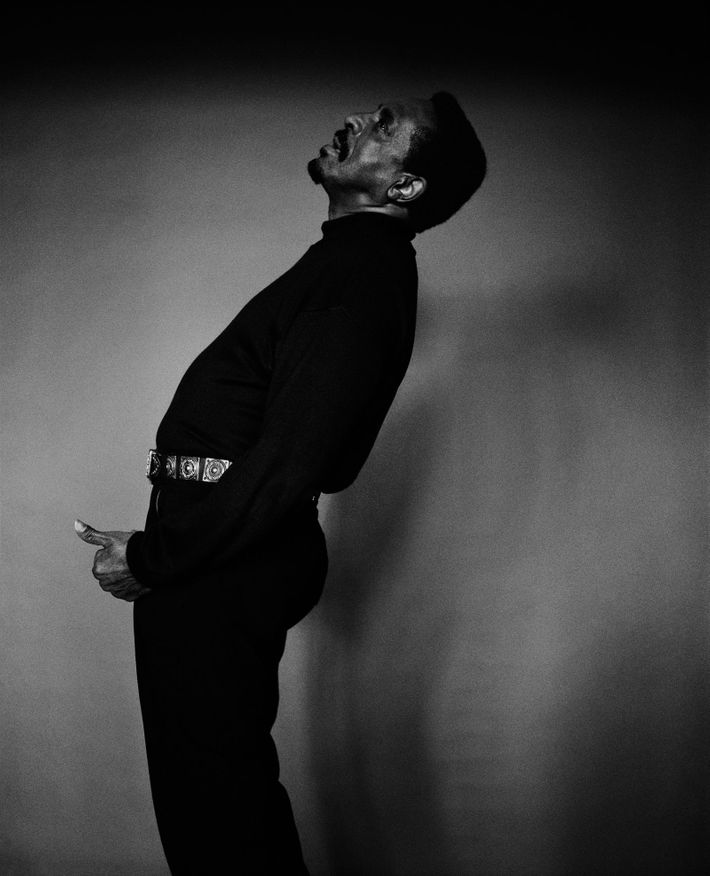 "When I shot with [Turner], we initially met by a little stream," Buck said. "I was shooting him by the stream and I remember I took my shoes off and was wading through the stream. And he was like, 'You're some crazy motherfucker. I'm never gonna forget you.' I think maybe something about our exchange at that point, he kind of loosened up and relaxed a little bit. And he was joking around, and he pretended he was going to pee in the stream … And he just kind of made this gesture with his fist and his thumb like it was his genitals. I think I shot a frame of that, and we kind of laughed. And then we went inside and shot some portraits inside with a photo backdrop. I asked him to do that again, and there's something about taking that out of context that just moved it from being kind of funny and weird to being just weirder and more ambiguous. It just makes the picture intriguing in a way. By isolating it against that backdrop and making it very dark, it makes it curious in a way that I think it wouldn't have been outside."
Malcolm Gladwell, 1999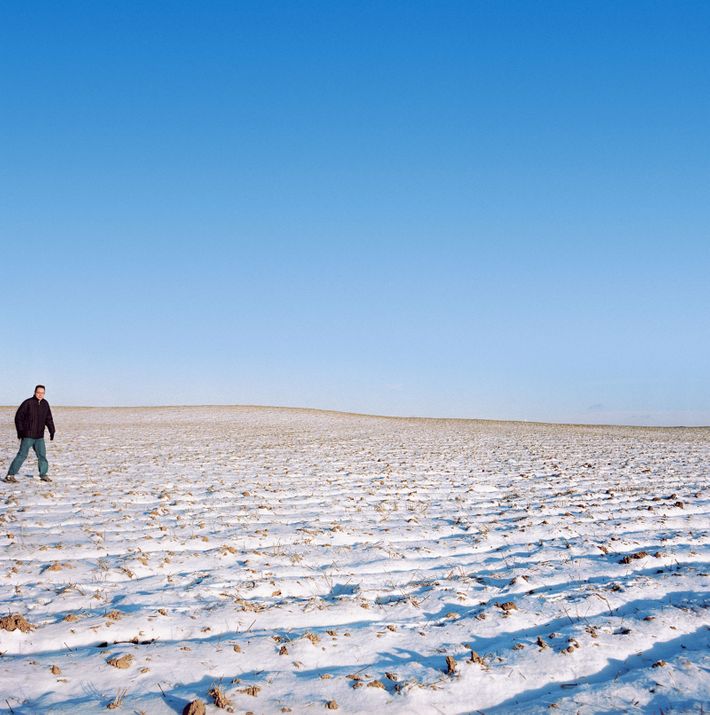 Buck took this photo right before The Tipping Point was published, and he had no idea that this fellow Canadian would someday be a household name. "He was an unknown entity," Buck said. "I didn't know who he was. I was told he was a writer for The New Yorker, and that made sense. And that was cool. I just shot him in this frozen tundra of rural Ontario, nearby where he grew up. And we did a bunch of shooting in his childhood home, and then we did some shooting out in this plowed field of crops … I loved how other-worldly it felt. Luckily, Malcolm was amenable. I think it was early enough in his public career that he didn't have the wherewithal to say, 'You know what, I don't want to do this.' So he wandered out in the frozen tundra with me for probably 45 minutes until we both got too cold." Buck says this image was a runner-up for the cover of Uneasy.
Chris Rock, 1997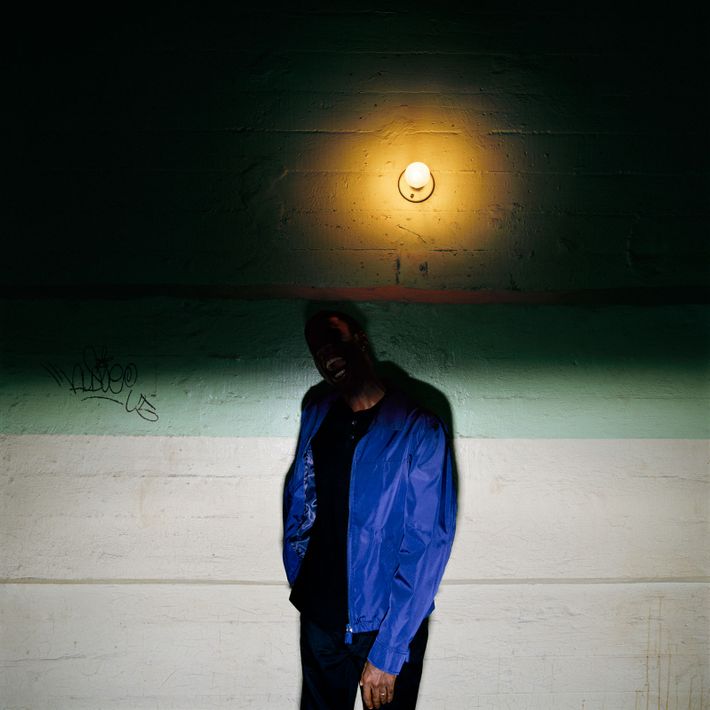 When this photo was taken, Buck didn't think Chris Rock liked him very much. "On set, it's not that he was unfriendly," Buck said. "He was professional and he was there, but he just was not engaged socially. I thought he just didn't like me." However, more than a decade later, he ran into Rock eating with his daughter at a jerk-chicken place in New Jersey. "I introduced myself and reminded him that we'd shot together three times," Buck wrote in Uneasy. "I went back to the van and told the assistants that the food was supposed to be good and that Chris Rock was in there — they found this hard to believe (mostly the Chris Rock part). We ended up chatting with Chris for about half an hour, mostly about politics (it was June of 2008). He was funny and relaxed and happy to just hang out with us … he'd always been standoffish during our photo shoots, but after spending time together at the jerk-chicken shop, I've come to believe that he just doesn't like having his picture taken."
George McGovern, 1996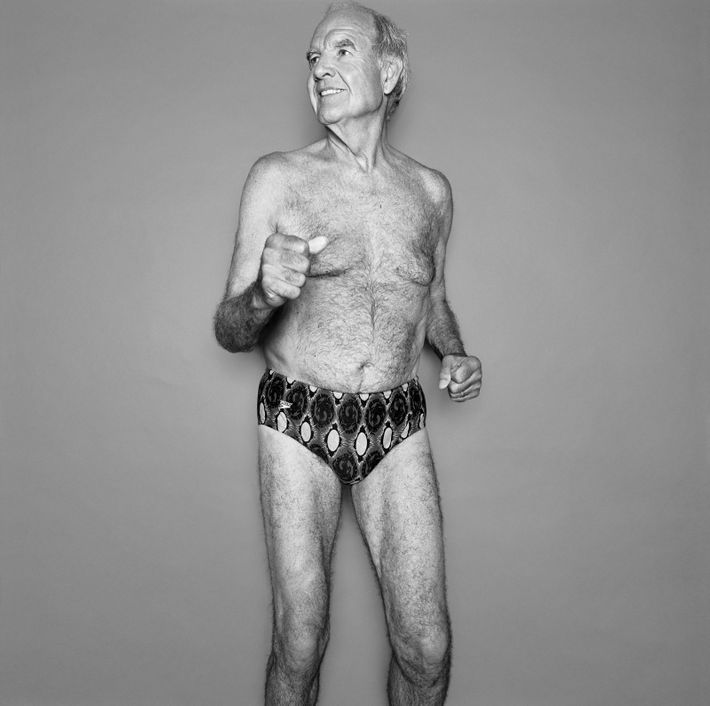 "This was literally how he looked when I met him," Buck wrote. "He was walking off of the beach, and he shook the hands of my assistant and myself. We all went inside, and my assistant and I set up our gear while he showered, shaved, and got ready for the shoot, getting dressed in clothing appropriate for a photo session … We did the more traditional session first, and then afterward I said, 'You looked really great when we first met with you — would you be willing to get back into your bathing suit?' And he said 'Oh no, no, no, no,' and I said, 'Well, you know, I wouldn't be using it for the story for Newsweek — It'd be more for my general portfolio.' And he said, 'Well, okay,' and stepped into the bedroom to put his bathing suit back on. We then set up the gray seamless in the living room of the cottage. It was a lot of fun, and in fact, his grandkids were all around — a lot of the poses we got came from them throwing ideas at him. At one point one of them said, 'Do a Nixon pose!' and he did the gesture with the victory sign. 'Do this, Grandpa!' He had the good sense not to do that. But he was a great guy — obviously very cool — and he looked amazing."
Spike Jonze, 1994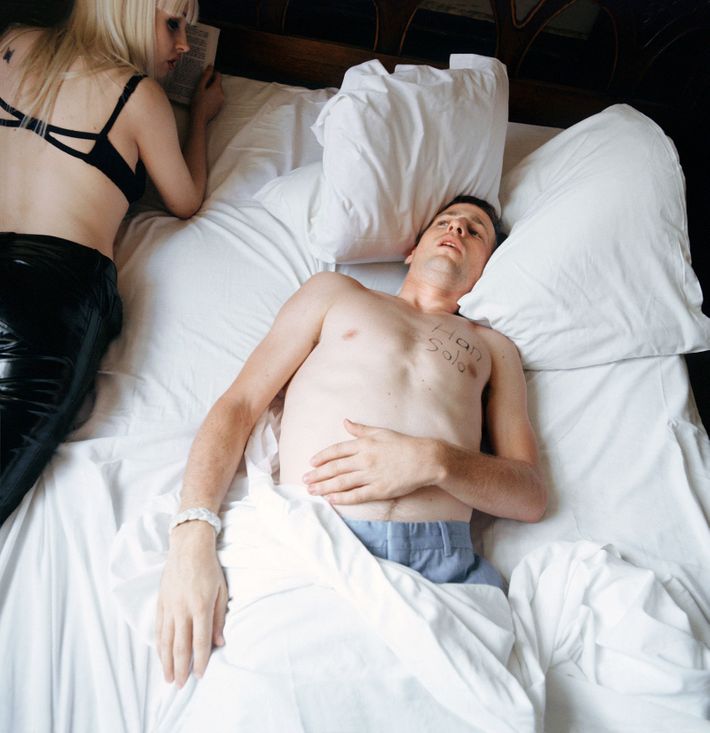 Buck thought it would be exciting to have Jonze write the introduction for Uneasy — "I thought, he's one of the most powerful, unique voices today," Buck said. "I'd just be so thrilled to have his name attached to this project." However, that's not what happened. In the stories section of the book, Buck explains what happened. "I was thinking maybe a short essay as a preface would be fun, but here is what he sent along instead: Don't ever trust Chris Buck. I was 24, this was the first time I was shot by a 'professional' for a 'professional' magazine. He asked me to take my shirt off, and I didn't want to, but he said, 'If you're uncomfortable, we don't have to use it. We can try something else.' So of course, I was uncomfortable, and we took about a hundred other shots, but this was the one he used. Chris Buck scarred me forever. Additionally, his assistant wrote to us: Spike said he's really OK with the photo being used with that caption — if Chris doesn't think the caption is funny, or doesn't want to use it, we'd prefer that the photo isn't included in his book." Even now, Buck isn't sure how to feel about the response he got. "I read it, and I was kind of upset about it when I read it," he said. "Even though I work hard to not really care what people think, I'm still a human being and I'd prefer they like it than not like it. And it's a little upsetting when people really get angry or upset about the picture I take of them. But I don't know. On, like, the third reading of his note, it kind of seemed like he's being funny. I don't know. I feel like, in the end, I think he knows what he's writing is a little absurd and funny, but also he's still actually upset."
Chris Farley, 1994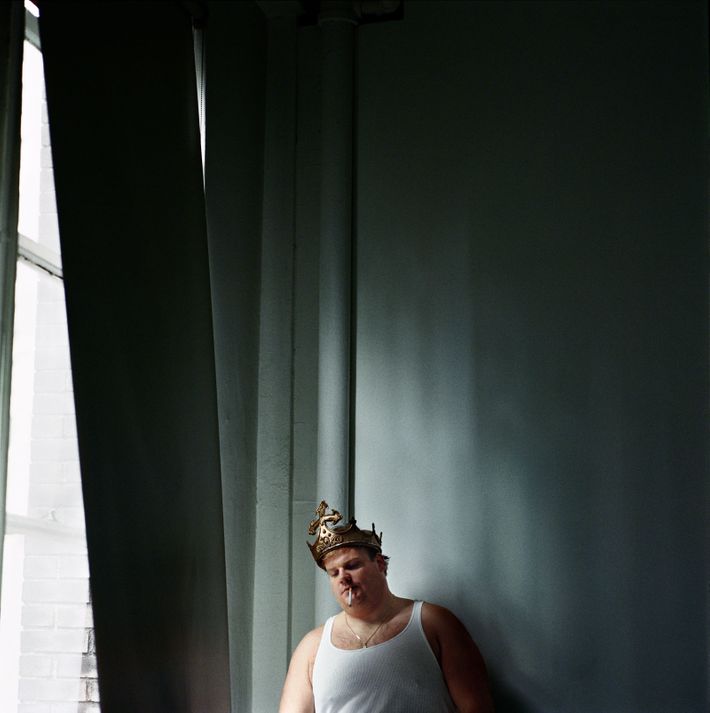 "A couple of months after Chris Farley died, I found myself flipping through the contact sheets of my session with him," Buck writes. "I found a setup that, at the time I shot it, I had read as being too serious. I had thought the pictures were unnecessarily dark and moody. Going over them later, I realized this interpretation had been me putting my style onto someone in a way that now felt inappropriate." However, looking at the photos three years after he'd taken them, his perspective changed a bit. "The narrative of how he spent his last months and days was so different than how he was perceived by me and by most people," Buck said. "So that really drew me to go back and look [at the photos]. When I shot it, I just thought it was sort of pretentious and me putting my darkness on him. And that's why I never really did anything with it until he passed away. And learning about how much he struggled and how hard it was for him, that picture just made so much more sense."
Starting with a simple portrait of a Mermaids-era Christina Ricci in 1991, Buck has contributed his photos to many issues of New York. Here's a look at the images from our magazine that made it into Uneasy.