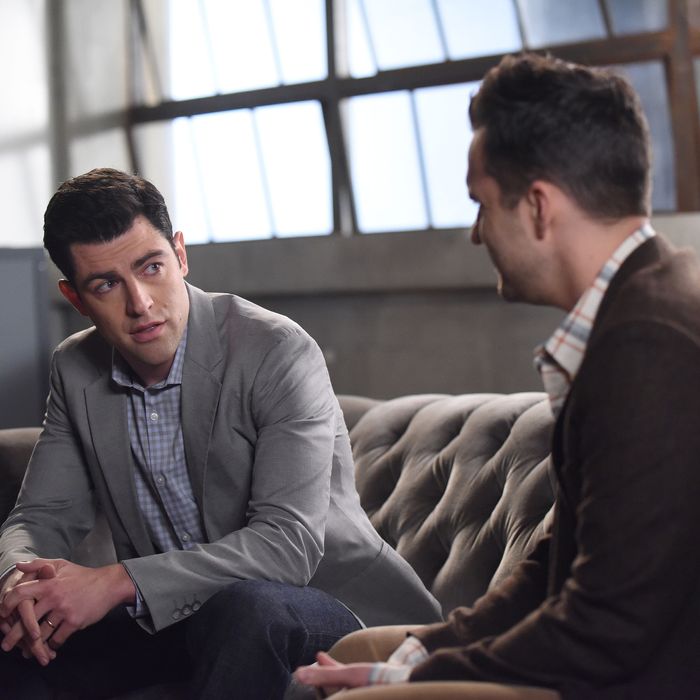 Max Greenfield and Jake Johnson in the "Five Stars for Beezus" season-finale episode of New Girl.
Photo: Ray Mickshaw/FOX
If you watched tonight's New Girl season finale, you could be forgiven for wondering whether or not the episode was actually a series finale. After all — spoilers ahoy — a lot of loose threads were knitted together, with a baby on the way for Cece and Schmidt, and Nick and Jess admitting their feelings to one another. Plus, while the network has already handed out renewals to comedies The Mick and (of course) The Simpsons, along with dramas Empire and Lucifer, there's been silence from Fox about a season seven for New Girl. Series co-star Jake Johnson told the Daily Beast last month the show was "probably done" after this season, though he later walked back the statement on Twitter (and the story appears to have been pulled by the Beast). Yet, despite all these ominous signs, right now the odds suggest we've not yet seen the last of New Girl.
According to two people familiar with Fox's thinking, it's close to — though admittedly, not completely— certain the Zooey Deschanel comedy will return in some fashion next season. Yes, the show's Nielsen numbers aren't spectacular: It's averaging a 1.6 among adults under 50, down 20 percent from a year ago. But networks don't make decisions in a vacuum, and put in context, New Girl actually remains a decent performer for Fox, particularly compared to its other established comedies. The show's demo average, when delayed viewing is tallied, puts it ahead of Sunday comedies Bob's Burgers, Brooklyn Nine-Nine, and Last Man on Earth, along with numerous Fox dramas and reality shows. Fox has struggled in the ratings overall this season, and has many major holes to fill in its schedule. New Girl is not the big hit it once was, nor is it Fox's comedy priority anymore: that would be The Mick. But the show is way, way down on Fox's fix-it list, and still boasts a loyal (if small) fan base. Fox is going to be adding a lot of new shows to its lineup next season; it will probably want the stability a veteran player such as New Girl brings.
There are a couple of considerations which work in favor of a renewal. Fox produces New Girl via sister studio 20th Century Fox TV, which means their common parent — Rupert Murdoch's 21st Century Fox — is still able to make money off sales of reruns and streaming rights to the show. And since New Girl has a Netflix deal, producing more episodes will add millions to Murdoch's coffers, helping offset the higher production costs associated with an older series. What's more, because New Girl is a company-owned asset, there's a modest incentive to ensure the show ends its run with at least a modest amount of hoopla. We saw that last month with Bones, a Fox-produced staple which could've easily been canceled a year ago. Instead, the network found a way to order a shortened, 12-episode victory lap, which culminated with a March 28 finale. Given how strong New Girl was in its early seasons, and the high level of internal fondness toward the series among current Fox network executives, it makes sense the network wouldn't just let the show fade away without some hype.
Now, to be sure, until Fox finalizes its 2017–18 lineup next month, there remains a chance New Girl falls victim to exactly such a fate. Murdoch could sweep in during scheduling meetings and demand Fox clean house and make room for a dozen new series. Or perhaps the network will fall madly in love with a large number of new comedy projects it's developing and decide it makes more sense to spend the money allotted toward another New Girl season on those newcomers. These are weird times in TV, after all. More likely, Fox has delayed saying anything about New Girl because it has a lot of other tough decisions to make regarding the future of its other established comedies, including the aforementioned Last Man and Brooklyn. Egos are sensitive in Hollywood, and Fox may not want to announce renewals for one long-running comedy until it knows the fate of all its veterans. The good news: New Girl fans won't have to wait much longer for a decision. Fox is set to announce its new schedule May 15.