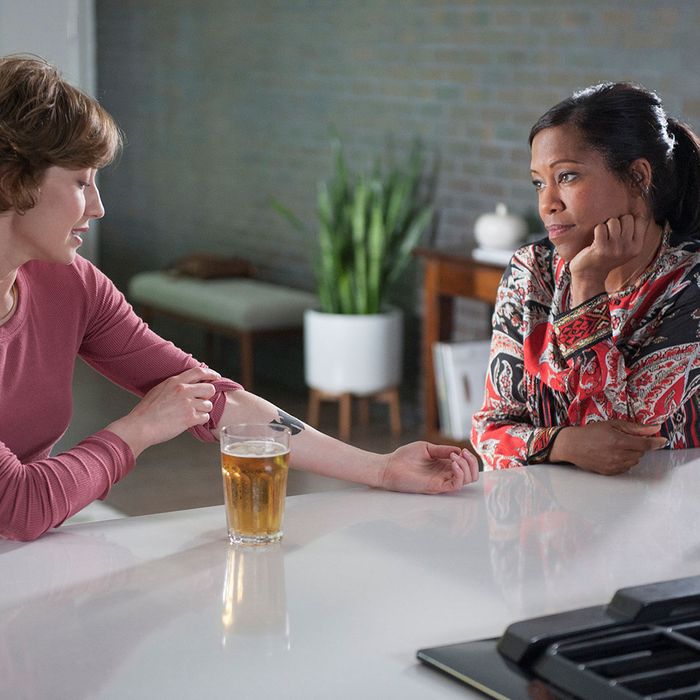 Carrie Coon and Regina King in The Leftovers.
Photo: Van Redin/HBO
The second most random thematic element of this week's Leftovers episode (after the invocation of a certain '90s sitcom) is the stealthily effective use of the Wu-Tang Clan — or as tattoo-sporting Nora Durst knows them, "the Wu-Tang Band."
The idea to have Nora cover up the names of her children with the legendary hip-hop group's signature black W (which she mistakes for a phoenix) came out of showrunner Damon Lindelof's habit of assigning "homework" to his writers when a scene required a little something extra. The writer who brought in the winning idea was Tamara Carter, who was definitely the only gay, black female dancer turned pharmaceutical-rep turned novelist on staff.
"I think it was probably the weirdest pitch that I had to offer," says Carter. "The show has absolutely nothing to do with the Wu-Tang Clan, but Damon asked very specifically about ideas for tattoos and everybody came in with something cool and weird. But I'm a city girl and I was also a street kid; I was out and about." It was her last tattoo pitch, and "I just wanted to get it out of the way. I didn't even want to talk that day. But he just latched onto it, and I explained the philosophy. To me it represents the most absurd ideology, but also the most progressive when it comes to personal freedom and, also, pain. Nora was just in so much pain, and she carries it like a samurai. You don't see what's underneath much. So I was like, wow, if I were her, I would probably connect with the ideology of the Wu-Tang Clan."
What worked about it was actually how un-Durst it was. "It just had this initial feeling of 'not Nora' about it, which was sneakily perfect," says fellow writer Patrick Somerville, an avid Wu-Tang fan who advocated for it after his own idea (a "rather unruly" Blue Oyster Cult logo) didn't make the cut. "Damon locked onto it and started talking about it, and soon it was obvious it did all these other things to help the story, too." It would have been in a tattoo artist's book, would easily cover up the kids' names, "and it was also just hilarious," says Somerville, "to imagine she would have that on her arm the rest of the season." It was also "an excuse to make the room listen to the beginning of Liquid Swords like 14 times. Tamara made fun of how obvious my white,Midwestern hip-hop tastes were, but I was busy full-on beatboxing at that point."
Carter also pitched the idea of having Nora and Erika jump on a trampoline in the back yard, so that seemed a natural place to use a Wu-Tang song ("Protect Ya Neck"). Then, as a fine counterpoint to the show's title — Perfect Strangers catchphrase "Don't Be Ridiculous" — episode writers Tom Perrotta and Lindelof are credited, respectively, as Tha Lonely Donkey Kong and Specialist Contagious, courtesy of a Wu-Tang name generator. "We'll see if the world cares," says Perrotta, "or if people find it somewhat annoying that these two white guys are using their Wu-Tang names."