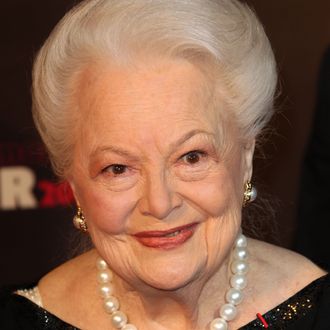 Olivia de Havilland, master of communication.
Photo: Tony Barson/WireImage
Olivia de Havilland, the only major movie star featured in FX's Feud who is still alive, does not watch the TV show, nor does she intend to watch it, nor is she interested in talking much about it. The 100-year-old actress, who is played by Catherine Zeta-Jones in the show, responded to The Hollywood Reporter's attempts to get her to comment on the series, the larger feud between Bette Davis and Joan Crawford, and the 1963 Oscars ceremony at the heart of the series with an email that can only be described as gorgeously dismissive:
"I have received your email with its two questions," De Havilland replied. "I would like to reply first to the second of these, which inquires of me the accuracy of a current television series entitled Feud, which concerns Bette Davis and Joan Crawford and their supposed animosity toward each other. Having not seen the show, I cannot make a valid comment about it. However, in principle, I am opposed to any representation of personages who are no longer alive to judge the accuracy of any incident depicted as involving themselves."

De Havilland added, "As to the 1963 Oscar ceremony, which took place over half a century ago, I regret to say that I have no memory of it whatsoever and therefore cannot vouch for its accuracy."
Now, time to find a throw pillow large enough to embroider with every word of this email.