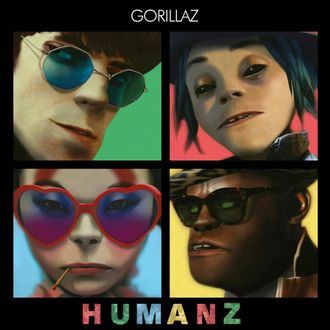 "The sky is fallin' baby, drop that ass 'fore it crash." Prince famously dreamed of the world ending in a raucous dance party in "1999," and while he might've been off by a few years, it's hard not to look back on the turn of the century as the dramatic death of a certain peace in global consciousness. Pop can't help but pick up on vibes emanating from the world. Tumult begets tumult. Our keenest creatives are able to mix valuable commentary on the state of our culture while offering up music that feels like respite from it. In Blur and Gorillaz, British singer-songwriter Damon Albarn has done just that. Gorillaz started out on a lark, when Albarn and Tank Girl creator Jamie Hewlett floated the idea of a joke cartoon band as commentary on disposable pop culture. "We're the generation whose stars come from Pop Idol and celebrity-wrestling shows," Albarn told writer Neil Gaiman in Wired in 2005. "And it's all a bit of a cartoon really."
The music gave the Blur frontman a chance to sideline rock music for hip-hop, which he'd long loved from afar as one of the begrudging mouthpieces of the Britpop explosion. He immediately sought out indie rap luminaries like Dan the Automator and Del tha Funkee Homosapien. (The trio's "Time Keeps on Slipping," off Del and Dan's Deltron 3030, is important early Gorillaz ephemera.) 2001's Gorillaz was a mishmash of great ideas struggling to find solid shape, whose multimedia aspirations were stifled by the limitations of Web 1.0, which limited the visual aspects of the project's A/V thrust to a few cool music videos and a selection of free wallpapers and screen savers on an enhanced CD.
As Albarn's travels brought artists from elsewhere in the world into the Gorillaz fold, the music began to take on the political consciousness he normally reserved for Blur, whose trifecta of Modern Life Is Rubbish, Parklife, and The Great Escape captured the British youth's end-of-century malaise, and whose Think Tank depicted that same generation's early '00s wartime panic. Gorillaz's 2005 sophomore effort Demon Days departed from the project's signature Saturday-morning-cartoon absurdity on songs like "Kids With Guns," a musing on teen gun violence. Later, the resort island made out of garbage from 2010's Plastic Beach undercut the album's seaside reflections with an extended metaphor about the dangers of environmental neglect.
Today's new Gorillaz album, Humanz, was supposed to imagine another twisted alternative future: As Albarn sought out collaborators from from the U.S., the U.K., the Caribbean, and beyond, he instructed them to write while envisioning a nightmare scenario where Donald Trump becomes the president of the United States and nudges the planet toward war. Then it actually happened.
Explicit mentions of Trump were subsequently cut or else bleeped out (Albarn: "I don't want to give the most famous man in Earth more fame, particularly. He doesn't need it!"), but the recurring notes of bruised hope and uncertainty in the immediate future are no less prescient for their lack of a specific target. Humanz is a record about the power of dancing as a political act and the effectiveness of dance music as a vehicle for messages of unity and perseverance. It is a whole album of shiftless, paranoid end-times pop in the feisty spirit of Prince's "1999" and "Ronnie Talk to Russia."
It's worth noting that most of the voices Humanz employs to achieve these goals belong to black artists. Plastic Beach's star-studded coalition of members of the Clash, the Fall, and the Velvet Underground is supplanted here by forays into house, rap, soul, and reggae all co-produced by Chicago house and hip-hop veteran Twilite Tone. The pairings bear testament to Damon Albarn's lifelong love of the stuff, but they're also exercises in sage playlist management. Your end-of-the-world soundtrack needs the pained resilience of soul, the underdog defiance of rap, the steely faith of reggae, and the tension release of house. Who could coach us through a crisis better than Pusha T, our most colorful doomsayer, and Mavis Staples, the golden voice of Christian perseverance?
Humanz is the first Gorillaz album where the group's mastermind doesn't sound like the central voice in the proceedings, but the shift feels like a function of knowing when he is and isn't needed on the mic. You don't horn in on Anthony Hamilton serving up hot buttered soul, as Hamilton does on the sinister "Carnival." You let Vince Staples rap his face off without too much interruption, like he does on the apocalyptic twerk anthem "Ascension." You cede the antifascist dub-Disney screed "Hallelujah Money" to the foreboding warble of Mercury Prize–winning singer Benjamin Clementine.
But despite a unified theme and an army of skilled collaborators, Humanz stirs too much to be a steady listen. It's a bridge between Demon Days and Plastic Beach's feeling of being dragged around demented new alien worlds, and Gorillaz's grab bag of left-field future-pop hits and druggy sound experiments.
As such, there are genius stretches (see: the sequence where Damon and frequent guests Del La Soul team up with '70s ambient-music legend Jean Michel Jarre on the boisterous, life-affirming "Momentz," then Danny Brown and Kelela serve the dark-hearted "Submission," and Damon duets with Grace Jones on the hellish "Charger," which sounds like an artifact from an alternate reality where Sly and Robbie produced Nine Inch Nails's "Closer.") But there are also lulls. Why interrupt side two's trip from the powerful despair of "Carnival" and "Let Me Out" to the redemptive wallop of "Hallelujah Money" and "We Got the Power" with the lightweight "Sex Murder Party" and the filler track "She's My Collar"? Humanz ultimately runs a little too loose and long for its own good, but as accidental documents of future world turmoil go, this shit is damn near prophecy.