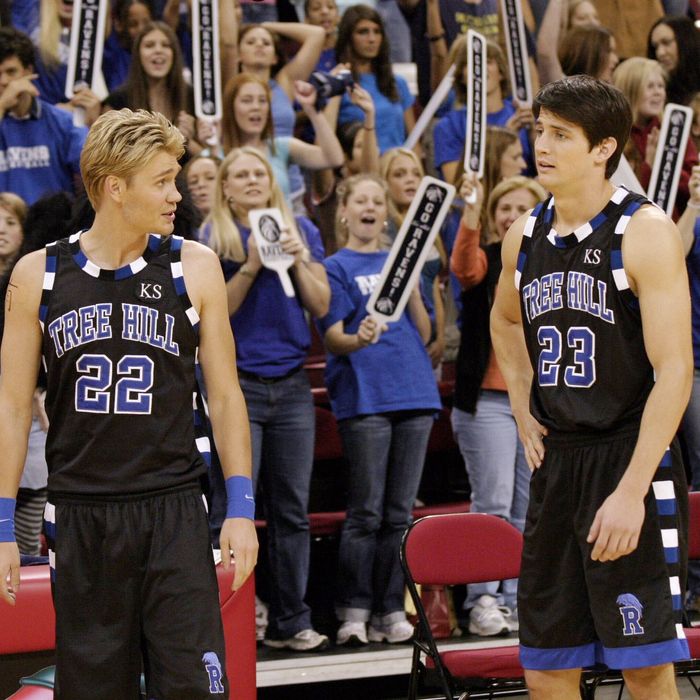 For the love of basketball!
Photo: WB
On April 4, 2012, we said goodbye to One Tree Hill, the WB turned CW teen soap that felt like it would be around forever. On this, the fifth anniversary of its finale, we take a trip back to that small North Carolina town to rank all nine of its sometimes earnest, sometimes wack-a-doodle seasons.
In case you need a refresher (all nine seasons are currently streaming on Netflix, if you feel so inclined), One Tree Hill is about half-brothers Lucas (Chad Michael Murray) and Nathan (James Lafferty) Scott, who share a villainous father and not much else. Through basketball, they learn to become family. Reading that sounds ridiculous, but, man, if you lived with it, you're already feeling things.
Of course, the show was so much more than that: It was about surviving high school, true love, the one and only time teenagers getting married might work, the birth of our once and future queen Brooke Davis (Sophia Bush), and how if you try really, really hard, you too can have your very own psycho stalker. Seriously, there were a lot of them for one group of friends.
9. Season 9
Season Highlights: "Danny Boy," "One Tree Hill"
Even the most die-hard One Tree Hill fans will admit that the show stayed a few seasons past its expiration date. I get it, it's hard to let go. The actual finale episode is a lovely little send-off that includes a flash-forward to Jamie Scott beating his dad's high-school shooting record, lots of hopeful voice-over about saying what you mean and life moving forward and growing up, which is all so very One Tree Hill your heart might explode. That episode aside, much of season nine is bogged down by, wait for it, a story line that involves Nathan getting kidnapped by cartoonish Eastern European mafiosos over a basketball player he tried to sign, that ends with Dan (Paul Johansson), CHRIS KELLER (Tyler Hilton), and Julian (Austin Nichols) putting together a rescue mission to find Nathan. Okay, some of this was because James Lafferty only signed on for half a season, but … that was the best we could come up with? Even Clay (Robert Buckley) suffering a fugue state only to realize he's forgotten he had a son who he erased from his memory six years ago is easier to swallow than that. Just kidding, that is also terrible, no matter how cute that Logan kid is.
8. Season 7
Season Highlights: "The Last Day of Our Acquaintance"
This was the season One Tree Hill had to prove it could exist without Lucas and Peyton as its anchors. It mostly fails. New characters Clay and Quinn (Shantel VanSanten) are serviceable, but the first half of the season is a drag as Nathan is embroiled in an NBA sex scandal. Like Nathan would ever cheat on Haley (Bethany Joy Lenz), show! Still, season seven is partially redeemed (a very small part) with Haley and her sisters dealing with the death of their mother. I still tear up when I see chicken dumpling soup on a menu. I blame you, Bess Armstrong! They do attempt some of the crazy that worked so well in other seasons, but with mixed results. A psycho stalker is always welcome in Tree Hill (this one is after Clay and Quinn), but Dan being married to Rachel (Danneel Ackles) and having his own miracle-healer TV show is a stretch. And that's saying something for this show.
7. Season 8
Season Highlights: "Darkness on the Edge of Town," "The Other Half of Me"
Like the majority of the later seasons, season eight tries to distract us from the fact that most of the OGs were gone, with stories about newish characters that were just not engaging. The Mia-Chase-Alex love triangle? Why? And although Jamie (Jackson Brundage) is a cute kid, One Tree Hill, especially once Lucas and Peyton (Hilarie Burton) leave, tends to go overboard with how many Jamie story lines the viewing audience might be into. That being said, a season that has Brooke Davis getting her happy ending helps me overlook some of the more lackluster elements. The other shining beacon in season eight is "Darkness on the Edge of Town," a dramatic episode set during a Tree Hill hurricane. Quinn fights off her psycho stalker one last time, and Brooke and Jamie almost drown after their car goes over a bridge (Tree Hill, work on your bridge safety, would you?). The moments throughout the rest of the season in which Nathan and Julian try to figure out what happened on the bridge that night are also compelling. And there's a character named August with a dog named Dogust. That's worth at least a few points right there.
6. Season 5
Season Highlights: "4 Years, 6 Months, 2 Days," "Echoes, Silence, Patience, Grace," "What Comes After the Blues"
One Tree Hill makes a very smart move with season five: The action jumps four years ahead, ensuring that we won't have to deal with our Tree Hillians bringing their own brand of drama to college campuses across America. Could you even imagine? Instead, we catch up with the gang post-college, when all the actors are finally playing characters their own age, as Lucas, Peyton, Brooke, Haley, and Nathan are all thrust into the real world. This time jump doesn't come without its own hindrances, though. Mainly, One Tree Hill spends a large amount of time explaining to us what happened in those four years, and how our friends have ended up where they are. You also have to buy into Lucas already being a published author, Brooke having a million-dollar fashion empire, and that Slamball is a thing. On the plus side, we get to witness Lucas and Peyton try to pretend they aren't soulmates, Nathan try to pretend he's totally cool with his depression beard, and the audience pretend like we didn't know Lucas and Lindsey's (Michaela McManus) wedding would be a disaster. Lucas's book is called The Comet, and so is Peyton's car. DUH. But also, we meet Nanny Carrie (Torrey DeVitto), and Joe Manganiello is there. A lot of ups and downs, that season five.
5. Season 2
Season Highlights: "Truth Doesn't Make a Noise," "Somewhere a Clock Is Ticking," "The Leavers Dance"
The sophomore outing of One Tree Hill isn't necessarily boring, but following a stellar first season, it doesn't have quite the same energy. I blame Felix (Michael Copon) and Chris Keller. One Tree Hill was right to introduce a gay character (the show fails in representation of both sexual orientation and race), but Felix and his closeted sister Anna (Daniella Alonso) were not the best way to do it, especially since they scrap the whole thing pretty quickly and send the siblings off into the sunset. There's no way in hell a queen like Brooke Davis would ever fall for an idiot like Felix, and nothing will convince me otherwise. So sitting through that doomed relationship isn't always pleasant. Same goes for the idea of Haley running off to go on tour with Chris Keller. You just got us onboard with two teens getting married, and now you tear them apart? Hard pass. Not all is lost, though. OTH takes a dip in the crazy pool when Dan gets settled into his villain role and hires a woman (Maria Menounos!) to seduce Keith (Craig Sheffer), leading to the first of several disastrous weddings in One Tree Hill history. Meanwhile, Lucas moves in with Dan in order to "try and take him down." Whatever that means. And the entire season ends with Dan being left for dead in his burning dealership — an incident that has serious repercussions. So, the high-school drama of the show is a little slow moving, but the soap-opera drama is top-notch.
4. Season 6
Season Highlights: "You've Dug Your Own Grave, Now Lie in It," "You and Me and the Bottle Makes Three Tonight," "Forever and Almost Always," "Remember Me As a Time of Day"
Your feeling on the ranking of this particular season most definitely depends on how much crazy you like with your One Tree Hill. Season six, the final season for original cast members Chad Michael Murray and Hilarie Burton, has that perfect One Tree Hill blend of emotional character moments and off-the-wall bonkers stuff. To file under the latter: that time when Nanny Carrie kidnaps Dan, holds him hostage, chases Haley and Jamie through a cornfield, and then meets her demise after a bottle to the head from Deb (Barbara Alyn Woods) and not one, but two bullets from Dan. And that's all in just one episode! Nanny Carrie is arguably the most ridiculous story line in all nine seasons, but it's best to just embrace that crazy.
With all the insanity, however, come some powerfully emotional moments. Brooke's attack and journey to overcome that fear, and the aftermath of Quentin's (Robbie Jones) shocking murder are huge turning points for many of our characters. But of course, this season will always be remembered for Lucas and Peyton doing what we've known was their destiny all along: getting hitched. There are some stellar Lucas and Peyton scenes, especially as they deal with Peyton's high-risk pregnancy. Murray and Burton have never been better.
3. Season 4
Season Highlights: "Some You Give Away," "You Call It Madness, But I Call It Love," "It Gets the Worst at Night," "The Birth and Death of the Day"
Ask any One Tree Hill fan what season four's most memorable moment is and they'll reply with two words: Psycho Derek. Sometimes I still can't believe that Peyton and Brooke repair their broken friendship (love triangles, am I right?) by defeating Peyton's psycho stalker turned hostage taker via cheerleading camp moves on prom night. God bless this show. Okay, there are two other words in season four that better highlight its strengths: "It's you." Yes, season four is when Peyton and Lucas finally get together FOR REAL and kiss under falling confetti after the Ravens win the state championship. Could a high-school soap opera be summed up in one scene any better than that?
The other dramatic crux of season four is Lucas's discovery that Dan murdered Keith. He does this whilst in a "It's a Wonderful Life" coma dream. So, there's that. The Dan stuff does seem to drag on, especially since we've known all along that he's guilty, but I'd go through it all again for the scenes when Nathan realizes that his father is a monster and confronts him. That's years worth of angst unfurling all at once. And sure, all the Clean Teen drama is hard to get into, and we learn a lot about point shaving in high-school basketball, but overall, One Tree Hill's final season in high school would've been a fitting send-off for the series. I mean, that final sequence of Nathan and Lucas playing one-on-one at the Rivercourt? It doesn't get any more One Tree Hill than that.
2. Season 1
Season Highlights: "Pilot," "The Places You Have Come to Fear the Most," "Crash Into You" "I Shall Believe"
From the very beginning, One Tree Hill knew what kind of show it wanted to be. Its pilot episode deftly lays out the cast of characters (okay, so we don't meet Brooke Davis until episode two) and tone that would define the show throughout its nine seasons. That's no easy feat! Sure, the show weaves in and out of crazy — but even in the first season, it wasn't afraid to lean hard into the soapier aspects of a teen soap. The car accidents! The comas! The love triangles! The kisses in the rain! The basketball? The first season also does a great job of establishing two of the enduring relationships of the series: Nathan and Haley, who end up married by the season finale, and Nathan and Lucas, the reluctant brothers. Sure, the acting leaves something to be desired, and some of the story lines err very close to teen show clichés, but both the kids and the show grow into it. From the start, One Tree Hill made it so easy to fall in love with all its characters, which is why it's easy to navigate the sillier parts of the show. We put up with the psychos and the Eastern European mafiosos and the Slamball because we've been endeared to these people since day one.
1. Season 3
Season Highlights: "Just Watch the Fireworks," "With Tired Eyes, Tired Minds, Tired Souls, We Slept," "Who Will Survive and What Will Be Left of Them," "The Show Must Go On"
Oh, glorious season three of One Tree Hill. The show is really firing on all cylinders from start to end. Okay, there is that whole thing with Peyton dating Pete Wentz from Fall Out Boy, but let's pretend that never happened. Questionable guest star aside, season three offers up the most authentic and engaging character growth within a season throughout the series. Lucas considers who he might be without basketball. Peyton grapples with finding and then losing her birth mother. Nathan and Haley FINALLY move past the ridiculous separation story line of season two and end up renewing their vows. The Brooke-Lucas-Peyton love triangle is at an all-time high, which of course, is most interesting in what it does to Brooke and Peyton's friendship (P. Sawyer and B. Davis for life, you guys!) And the whole thing ends with a wedding and then a car crash into a river (I TOLD YOU ABOUT THE BRIDGES), where Nathan's life hangs in the balance. This is good stuff.
The pinnacle of season three, though, is "With Tired Eyes, Tired Minds, Tired Souls, We Slept." It's strange now to applaud a high-school show tackling the issue of a school shooting — but at the time it aired in 2006, and we hadn't yet been inundated with shows tackling the same subject matter in exploitative ways. This episode spoke to the broad feelings around gun violence while also staying deeply personal to the show and its characters. Of course, the episode culminates with a true shocker: Keith runs into the school to try and talk down the shooter, while Dan runs in after his brother … only to murder Keith in the school hallway. The effects of that decision reverberate throughout the entire series. It's hard to watch, but completely moving, even over a decade later.