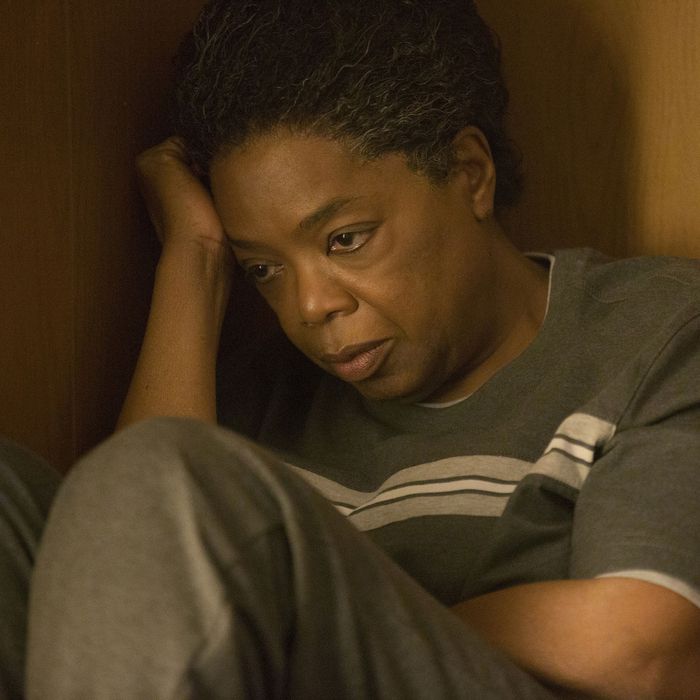 Oprah Winfrey as Deborah Lacks.
Photo: Courtesy of HBO
Oprah Winfrey is a very good actress. This is not news.
We have known this since she earned an Academy Award nomination for playing the strong-willed Sophia in The Color Purple and have been reminded again over the years via her turns in Beloved, Selma, The Butler, and the OWN series Greenleaf. But in The Immortal Life of Henrietta Lacks, the HBO film based on Rebecca Skloot's best-selling nonfiction book, Winfrey delivers a performance that's on another level. It can be challenging, even when she's convincing in a film or on a series, to forget that we're watching Oprah. But as Deborah Lacks, the daughter of a woman whose endlessly generating cell lines allowed for major advancements in biomedicine, she consistently does it. Oprah Winfrey completely disappears.
Certainly, the physical transformation helps. All traces of O Magazine glamour are erased so that we can see Deborah, who walks with a pronounced limp, has hair that's closely cropped and a little gray at the temples, and whose tired eyes are only occasionally underlined with eye makeup. There's no vanity here. More important than that, though, is the way Winfrey captures Deborah's constant tidal shifts.
Deborah is eager to learn more about her late mother's life and how doctors at Johns Hopkins University used her cancer cells for research, but she's also tired of being manipulated by others. Consequently, she veers between showing warmth toward Skloot, who's played by Rose Byrne, and expressing deep suspicion of her motives. In one moment, Deborah might be chummy and ready to share any information Rebecca might need. The next, she'll suddenly snap, snatching away copies of her mother's medical records or bitterly accusing Rebecca of trying, just like the folks at Hopkins, to make a buck off her family.
Deborah has numerous, valid reasons to be mistrustful, and not just because Rebecca is white, although that's certainly a valid one, too. She's also grappling with mental-health issues: She's paranoid, anxious, prone to manic episodes from which she returns, fully lucid and calm. Winfrey leans into all those mood swings so they feel authentic rather than histrionic. If you've ever spent time around a person who's like Deborah, and I have, you know how right she gets it.
There's one scene in which Deborah has sudden flashbacks to her painful childhood and has an emotional breakdown, crying and recounting what happened through gasping breaths and wails. Winfrey is so gut-wrenching in these moments, it's as though she sliced into herself right before director George C. Wolfe said action, then let everything flow out as soon as the camera was rolling.
But here's the other remarkable thing about Winfrey's work in Henrietta Lacks: Even though her performance is the standout, it never feels like she's upstaging the actors around her. And she's surrounded by some great ones, including Reg E. Cathey, who's terrific as Deborah's equally unpredictable, sometimes explosive brother Zakariyya, and her co-star, Byrne, who has the less showy part but still believably and subtly captures the smiling, quick-to-be-kind posture of a white woman trying to prove her sincerity to the dubious members of a black family. Instead of edging these and other key characters out of the frame, as Deborah, Winfrey always meets them right in the middle.
And then there are the personal implications of the role. Winfrey's playing a woman from Baltimore, the city where her media career was born. (It's a nice touch that Deborah visits with Rebecca at Celie's Waterfront Inn, a hotel in the Fells Point section of Baltimore that shares a name with the main character in The Color Purple.) She's playing a woman who dealt with trauma and abuse while growing up, as did Winfrey. And she's playing a daughter whose primary goal is to shine a light on what an African-American woman's contributions meant to society, which certainly aligns with a lot of Winfrey's goals as an artist and media figure. (She's also one of the producers on The Immortal Life of Henrietta Lacks.) Her performance isn't about her or these experiences, but reflecting on all this after watching the movie makes her portrayal of Deborah that much more powerful.
The film itself only partially captures what makes the story of Henrietta Lacks and her HeLa cells such a rich, complicated, and resonant one. To fully grasp it, you really do need to read Skloot's book. But the film does provide a full picture of Deborah, and Winfrey's the key reason why. I would be inclined to say she's already got a lock on an Emmy for this performance, but then I remembered what category she'll be competing in: outstanding actress in a limited series or TV movie, which means she'll potentially be up against Reese Witherspoon and Nicole Kidman from Big Little Lies, Jessica Lange and Susan Sarandon from Feud, and, possibly, Michelle Pfeiffer's as-yet-unseen work in HBO's The Wizard of Lies. And that's not even including the women of American Crime.
Regardless of who gets nominated, the fact that it's only April and we've gotten this many knock-out performance on television from this many high-caliber actresses is pretty amazing. The fact that one of them is Oprah Winfrey, who has obviously accomplished an enormous amount in her career yet is still capable of surprising us with her talent, is even more amazing.