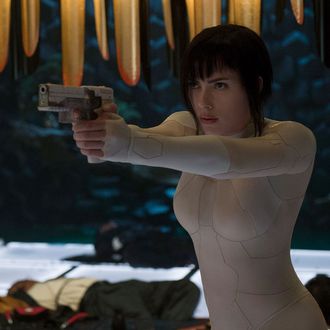 Photo: Jasin Boland/PARAMOUNT PICTURES
Now that Ghost in the Shell is out and performing poorly, the "just wait and see" approach taken by the movie's stars as well as its studio has hit its expiration date. As such, Paramount is now both talking around and about the impact that claims of whitewashing and Asian erasure had on its big new release. "We had hopes for better results domestically. I think the conversation regarding casting impacted the reviews," said Paramount's domestic distribution chief, Kyle Davies, in an interview with CBC News. He added that, "You've got a movie that is very important to the fanboys since it's based on a Japanese anime movie. So you're always trying to thread that needle between honoring the source material and make a movie for a mass audience. That's challenging, but clearly the reviews didn't help." The movie, which cost more than $100 million to make, only took in $19 million over its opening weekend, and in the era of the blockbuster a movie's debut take often dictates whether or it will be a financial success or a flop. Unless foreign audiences turn out in big numbers, Ghost in the Shell looks set to become a big write-down for Paramount.
But to say that the "conversation regarding casting impacted reviews" is a tricky way of acknowledging the controversy without actually naming it, or giving it real weight. It also pins the movie's poor reception largely on bias, rather than actual critical assessment. To be clear, critics have separately critiqued the awkward decision to put a white female lead at the center of a Japanese property, and whether or not the movie was executed well regardless of casting choices. It just seems to be that both factors led to critics being generally underwhelmed. Sure, to come right out and say the casting scandal may have, on its own, affected viewer sentiment without the aid of critics, or that — gasp! — your movie just wasn't good enough, are both near-impossible things for a studio executive to do. But hopefully Paramount and others will start checking into the "conversation" so they can avoid nasty little topics like how "casting impacted the reviews" in the future.