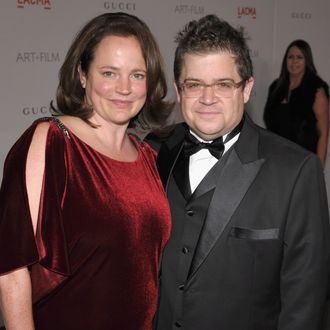 Michelle McNamara and Patton Oswalt.
Photo: John Shearer/2011 Getty Images
In the year since crime writer Michelle McNamara's unexpected death, her devoted husband — comedian Patton Oswalt — has written several lovely tributes to his late wife. Today, on the anniversary of her passing, Oswalt added to that with a Facebook letter in which he described the unique way grief has struck him. "It's awful, but it's not fatal," the letter begins. He goes on to describe the widower's life and his decision, last night, to remove his wedding ring and place it in a box of other happy memories from his and McNamara's life together. "The world gazes at you like a hungry but indifferent reptile when you're widowed," Oswalt wrote, adding that he's found an "informal" group of people who share similar tragedies, and that his main mission now is to be a good dad to daughter Alice. The letter is peppered with the wryly introspective phrasing that marks both Oswalt's stand-up and writing. In this new life, he remains massively hurt but forward-looking. "I plan things better. I'm more patient. I still sleep badly, and my weight and health need some work, but that's combat damage," he writes. "There's got to be a way to fix those without being shitty to friends and strangers who are struggling with chaos. I'll try." Read the letter in its entirety below.