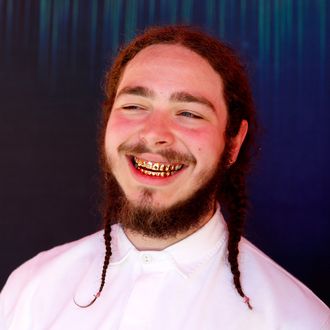 Post Malone, rapper, biscuit-lover.
Photo: 2016 Getty Images
Rapper Post Malone, of "White Iverson" fame, didn't spend $10,000 on Popeyes biscuits this weekend — he invested $10,000 in his own happiness, and the happiness of all those around him. According to TMZ, the Stoney rapper ordered $8,000 worth of fast food's finest biscuits on PostMates during Coachella, and had them delivered to the "famished" friends and festivalgoers that had reportedly gathered to celebrate his debut album going platinum last month. Ten-thousand is clearly too many biscuits. An absurd amount of biscuits. More biscuits than one man should ever have control over at one time. In other words, congratulations, Post Malone.