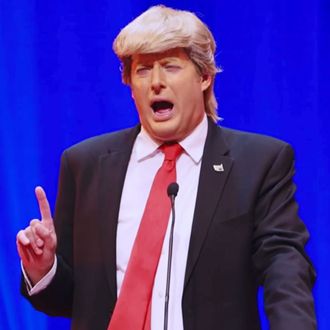 Anthony Atamanuik as Donald Trump
Photo: Fusion
Last week, there were rumblings of a "mysterious" President Show in the works at Comedy Central. Is President Trump finally getting that morning TV show he's seemingly been auditioning for for the last 15 months? Is the network rebooting That's My Bush, putting George W. Bush at a small New England art school? No — well, at least, not yet.
The President Show will be a weekly late-night talk show hosted by Anthony Atamanuik in character as Donald John Trump. Produced by Adam Pally and 3 Arts, the show will operate like a standard late-night show — featuring desk segments, field pieces, guest interviews, and a sidekick (Peter Grosz as Mike Pence) — but set in the Oval Office. The show will air Thursdays at 11:30 p.m. on Comedy Central, shifting @Midnight back to midnight, only for that night.
A longtime UCB New York staple, Atamanuik has proven himself to be comedians' favorite Trump impersonator over the course of the election, through his 40-city "Trump vs. Bernie" tour and many podcast and TV appearances. "Laughing at the president is a proud American tradition and we hope not to disappoint anyone in that department," Atamanuik said. "But our political system is too broken for us to be content joking about one man, even though he is a disastrous silly little toddler boy. Mostly I'd just like to thank Comedy Central for giving us this platform to speak truth to power and if we're lucky, end up in prison!" The President Show is set to premiere on April 27, with season 2 shooting — we guess — live from Guantanamo Bay detention camp in the not-so-distant future.