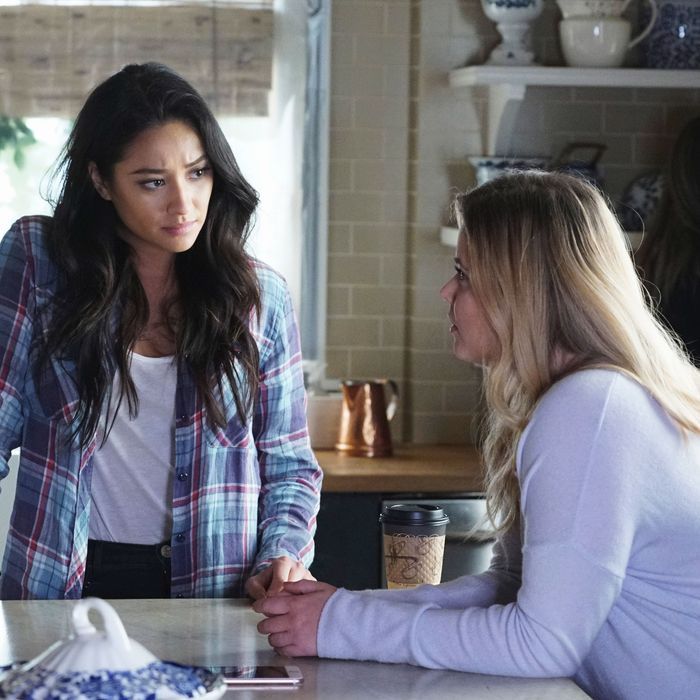 Pretty Little Liars.
Photo: Tom Ron/Freeform
It's hard to believe that when we left off with Pretty Little Liars at the end of last summer, we had to wait almost eight months until the final ten episodes made their way back to the small screen. But we did it, everyone! Those young adults in the perpetually nice-weather town of Rosewood are ready to do whatever it takes to find out the identity of "Uber A," and if the past is any indication, they'll leave behind a trail of bodies in the process.
The second half of season seven begins immediately after the events of the mid-season finale, so we've put together a helpful refresher of what to remember before PLL returns on Tuesday night. Grab your finest black hoodie and read up.
Noel Kahn isn't an "A" threat anymore …
Though undoubtedly menacing throughout the seventh season, we can knock off Noel from the list of Uber A candidates — alias, "A.D." — owing to, well, him being decapitated by an ax in a surprisingly gruesome scene. When Vulture spoke with Brant Daugherty, the actor who portrayed Noel, he opined on the character's arc: "He's been misunderstood his entire run on the show. He's always been something that they don't see him as. They see him as a villain, they see him as this, they see him as that. And then finally in the last season, he owns it, and he becomes that villain." Essentially, Noel was never properly "evil" until the final season; and even so, he was still only a lackey to Uber A's widening circle.
… though Jenna is as suspicious as ever.
Jenna is so desperate to be taken seriously that she recruits Sydney Driscoll to impersonate her while she attempts to sabotage the Liars in that spooky school for the blind. However, her reach only goes so far: When Uber A drags Jenna's body to a van in the final scene, it's clear she doesn't know who the cloaked figure is and seems genuinely shocked that Spencer was shot. ("Did you shoot Spencer?") Which side are you truly on, girl?
Oh yeah, Spencer was shot.
It was a pretty nasty blow in the chest, to boot. Although it initially appeared that Jenna was responsible, PLL implied that the shooting was actually at the unknown hands of Uber A. Spencer's off to the emergency room in the opening minutes of the mid-season premiere.
Veronica isn't Spencer's biological mother.
That honor would go to Mary Drake — a.k.a. twin sister of Jessica DiLaurentis and mother of Charlotte DiLaurentis — who tells Spencer this jaw-dropping news after she's shot. Is her father actually Peter, too? Who's to say? One thousand points to whoever successfully draws that family tree.
Alison's pregnant.
She tells Emily that it's Elliott's (a.k.a. Archer's) child, but a very popular fan theory right now is that Elliott actually impregnated Alison with Emily's eggs. (That would explain the slightly surreal scene about halfway through the season, when he wheeled Alison into an operating room while she was still institutionalized at Welby.) "Emison" react to this news by smooching. Obviously.
Things aren't looking good for Aria and Ezra …
Nicole, Ezra's girlfriend in between the time jump, was kidnapped by rebels in Colombia (and potentially assumed to be dead) while doing some volunteer work for Habitat for Humanity. Ezra travels to the country to see if she was one of a few hostages released by the revolutionaries, but she wasn't. However, she still ended up being found alive. Aria turns on the television only to see — surprise! — the two of them embracing and kissing during a news report. What impeccable timing.
… or Toby and Yvonne.
In a genuinely upsetting scene, it's discovered that the happy couple violently crashed into a tree while driving out of Rosewood to start their new life in Maine. Whether it was a legitimate crash or an "accident" orchestrated by sabotage, both Toby and Yvonne appeared to be on the verge of death.