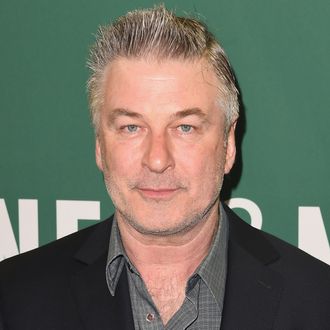 Alec Baldwin.
Photo: ANGELA WEISS/AFP/Getty Images
One of the smaller revelations in Alec Baldwin's new memoir Nevertheless is about a little-seen 2006 indie Mini's First Time. Baldwin played a stepfather who has an affair with his stepdaughter, and in the book he says he wasn't aware that his co-star Nikki Reed was only 16 years old at the time of filming. Baldwin claimed that he was furious at the producers when he learned that he'd filmed sex scenes with an actress who was underage. Not so, says producer Dana Brunetti (House of Cards, The Social Network). Brunetti slammed Baldwin's recollection in a series of tweets, countering that not only was Baldwin aware of Reed's age, but he approved of her casting. See the producer's side of the story, below:
What's the quickest way to a polite resolution? A copy of Nevertheless, Brunetti suggests.
Update, April 6: Hours after Brunetti's tweet storm, Baldwin himself decided to jump into the conversation, leading to a flurry of replies between the actor, the producer, and Mini's First Time writer-director Nick Guthe.