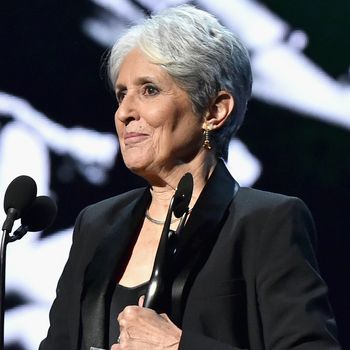 Baez.
Photo: Theo Wargo/WireImage for Rock and Roll Hall of Fame
Folk hero Joan Baez has dedicated her life and career to advocating for social justice, fighting oppression, and being an unapologetic badass. So it's no surprise that as the lone woman inducted into the Rock and Roll Hall of Fame on Friday night, she used the opportunity to act as disruptor once more. "To track Joan Baez's involvement in human rights and social justice is to chart the evolution of our own moral awakening and of our own growing planetary consciousness," Jackson Browne said of Baez's legacy while inducting her. But Baez started off self-deprecatingly, joking that few in the younger generations are tracking her at all. "I'm aware that I'm speaking to many young people who, without this induction into the Rock and Roll Hall of Fame, would have no clue who I am. My granddaughter had no clue who I was until I took her backstage at the Taylor Swift concert where she got a selfie, an autograph, a T-shirt, and newfound respect for her grandmother," she said.
Baez's granddaughter was at the heart of her speech; she's the reason for its political urgency and empowering words. (And likely also a driving force for her to come out of songwriting retirement for a song about Donald Trump, whom she later name-dropped in a performance of "Swing Low, Sweet Chariot.") We could paraphrase, but Baez's strong, vital words are best read in full:

My childhood was filled with classical, country and western, rhythm and blues, and a hit parade. When I was 16, my aunt took me to see a Pete Seeger concert. And my mom brought home a Harry Belafonte album. Though Pete was not in any way gorgeous like Harry, he was already committed to making social change. He paid a high price for holding fast to his principles. I learned the meaning of taking a risk from Pete. The Cold War was getting a foothold and ushered a shameful period in this country. My family was then Quaker and socially and politically active. Pete's influence on me took like a good vaccine, and I turned my attention to folk music and political activism.

My voice is my greatest gift. I can speak freely about the uniqueness of it precisely because it's just that. A gift. The second greatest gift was the desire to use it the way I have since I was 16 and became a student and practitioner of nonviolence, both in my personal life and as a way of fighting for social change. It has given my life deep meaning and unending pleasure to use my voice in the battle against injustice. It has brought me in touch with my own purpose. It has also brought me in touch with people of every background — with open, generous, fun-loving, hardworking people here in this country and around the world. It has brought me in touch with the wealthy, the ones who are stuck in selfishness, and the ones who give their generosity of their time and resources to benefit the less fortunate and light the way for others to do the same.

And I've met and tried to walk in the shoes of those who are hungry, thirsty, cold, and passed out. People imprisoned for their beliefs and others who have broken the law, paid the price, and now live in hopelessness and despair. I've exonerated prisoners who have spent decades in solitary confinement, awaiting execution. Of exhausted refugees, immigrants, the excluded, and the bullied. Those who have fought for this country, sacrificed, and now live in the shadows of rejection. People of color, the old, the ill, the physically challenged, the LGBTQ community.

And now, in the new political, cultural reality in which we find ourselves, there's much work to be done. Where empathy is failing and sharing has become usurped by greed and lust for power, let us double, triple, and quadruple our own efforts to empathize and to give our resources and ourselves.

Let us together repeal and replace brutality and make them passionate priorities. Together, let us build a bridge, a great bridge, a beautiful bridge to once again welcome the tired and the poor. And we will pay for that bridge with our commitment. We, the people, must speak truth to power and be ready to make sacrifices. We, the people, are the only ones who can create change. I'm ready. I hope you are, too.

I want my granddaughter to know that I fought against an evil tide and had the masses by my side. When all of these things are accompanied by music, every genre, the fight for a better world, one brave step at a time becomes not just bearable, but possible and beautiful. Thank you.