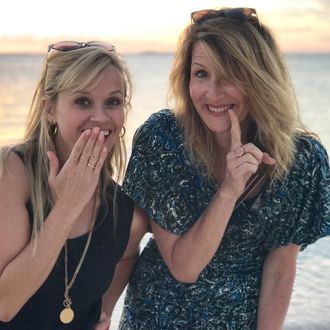 There are a lot of reasons why people tune into HBO's Big Little Lies every week — simply put, it's good television — but we're not here to gush about the Monterey super-moms or the real-estate porn right now. What we are here to discuss is the wonderful friendship between Reese Witherspoon (Madeline!) and Laura Dern (Renata!), who have been partaking in what might be the greatest press tour to ever grace the small-screen cable community. They do dual interviews! They drink wine at the beach! They drink wine on patios! It's incredible! Let's break it down for all of you skeptics out there.

Due to Witherspoon's filming commitments in New Zealand for Ava DuVernay's upcoming A Wrinkle in Time adaptation, we weren't privy to some "Witherdern" goodness until the latter half of March. But it was worth the wait — the two did a gushy joint interview with the New York Times in which Dern revealed her mother was angry that she was so mean to Witherspoon on the show.

My mother called me — and she's an actress — and goes, "You didn't prepare me for what a bitch you are." I'm like, "I didn't know I was supposed to prepare you for any character I play!" And she said, "Yeah, but you're a bitch to Reese."
The two also revealed that they have very cute separation anxiety.

WITHERSPOON Now every time Laura's on a movie that I'm not in, I'm jealous. I'm having FOMO [fear of missing out]. How dare she do Star Wars without me?

DERN I get so upset. My daughter said to me the other day, "I saw the funniest picture of Reese with Mindy Kaling, it was so cute." I was like [sobbing sound]. It's like middle school.
But enough about interviews. They say a picture is worth a thousand words, and if that's the case, then these sunset wine 'grams are worth a thousand interviews.

And because one casual wine pic isn't enough …

The two were also very snap-happy when it came to group shots, too.

Naturally, Dern gave her "forever family" a birthday shout-out last week.

It's very doubtful that Big Little Lies will come back for a second season, but if it does, rest easy knowing we'll see more of these two fabulous ladies.