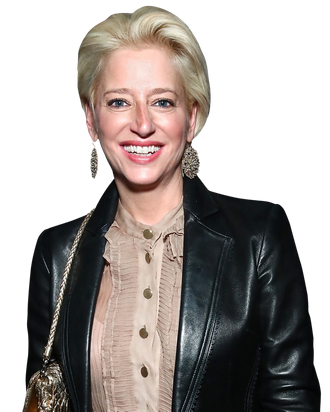 Dorinda Medley.
Photo: Astrid Stawiarz/Getty Images
When Dorinda Medley joined The Real Housewives of New York in 2015, she instantly became a fan favorite for her blunt way of dealing with the other women and her vulnerability when talking about her late husband, Richard. Last season, Dorinda's role was cemented after a trip to her house in the Berkshires ended in disaster and gave us the instant-classic GIF of her screaming, "I made it nice!"
This year, Dorinda has made some changes. She's trying to work on individual relationships with her castmates, and she's decided to keep her boyfriend, John Mahdessian, off the show because he rubbed some of the women (and viewers) the wrong way. Vulture spoke with Dorinda about Luann de Lessep's — excuse me, Luann D'Agostino's — New Year's Eve wedding, reliving the presidential election via reality TV, and whether or not she and Sonja Morgan are currently talking.
How is this season different for you?
I'm comfortable now. I'm not as afraid. I'm more of a linear thinker now. I suffered so much the first season: I was sick the day before [it aired], I was sick the morning after, I was calling my mom. We don't see it until right before you see, and we don't know how it's going to be done or how it will be perceived. You don't even remember the stuff. You really don't. You're filming for five months and it's intense.
I just feel more comfortable. I feel like I understand the girls and have established some strong friendships among them. I like the girls. I was hesitant because I had a rough, dark year. I was excited to get back together with them and work through what we had to work through.
You said that last season got a little dark. Why did you eventually decide to return to the show?
It's like giving birth. You end filming in March and you're so horrified and exhausted and then it premieres and you watch it and there's a resolution. You have that amnesia and then you're like, I kind of miss this. You get excited about it. It's a great opportunity for us. At the end of the day, it's an incredible opportunity. The drama makes people happy.
How does the drama make you feel?
Obviously not very good. I'm very reactive. What you don't know is that I'm very sensitive. You're going to see a scene where I have a discussion about it with Bethenny. After Richard passed, I had post-traumatic stress a bit. I became more sensitive and I became very protective and reactive. I don't know if it's a good thing, but I put it out there. I don't hold a lot of stuff in. I'm a forgiver.
Speaking of forgiving, it seems like you're really going through it with Sonja this season.
We are. It was a summer of complete no communication. I tried to invite her up this summer but she didn't respond, then there was this back and forth with the press. Things coming out in the press, making fun of me of setting up Luann with Tom, and I don't mix synthetics and silks. I didn't see her again until that dinner that you're about to see. The whole summer I was like, "You go low, I go high." Because I don't go to the press. When I'm off, I'm off. If you have a problem, you pick up the phone and call them.
It just hit that boiling point when I saw her in October. You'll see. We work through it. We have some twists and turns. We're speaking today, I'll say that much. We're building it back up. Here is the thing that's amazing: We have so much in common. We have very similar backgrounds. We're both empty nesters and we're in a transition phase in our lives and we didn't think we were going to be where we are now. She thought she'd be with Mr. Morgan and I thought I'd be happily married to Richard forever. That is the sad part. Our relationship went all wrong really quickly and it was hard to figure out why.
It's because you didn't invite her to the Berkshires!
I think it was deeper than that. I think there was a lot going on. As you saw, it all went very badly. It wasn't a weekend; it was a night. I didn't feel like I wanted to put her in the crosshairs of that. Everyone was bickering and it was awful. No one likes to be left out and I feel bad I hurt her feelings. I won't put myself in that position again. You'll see that this year. Now it's either everyone is invited or no one is invited.
At that dinner in the Hamptons, it seems like no one really enjoyed being together. Is that a fair assessment?
Absolutely. After last season and especially the reunion, we all just went our own ways and we were a little broken. Usually we go to dinner after the reunion, and work out our things and say, "Have a nice summer, I'll see you in the Hamptons." Literally the lights went out and everyone slithered off the stage and disappeared. There was a lot of hesitation this season. I hadn't seen anyone but Ramona the whole summer. I saw Luann briefly. It was definitely a guarded start and the viewers feel that.
Can you find a place of forgiveness?
That's what I think happened. I decided to go and establish stronger one-on-one relationships with all of the girls. Having a summer to hide out in the Berkshires, I was wondering what I like about each of them. Somehow we got assigned to these groups: Team A and Team B, and if you're on Team A, you can't talk to Team B. I don't live like that. I have friends of all different faces and places and professions. I started that amazing relationship with Carole in London and we have a lot in common and all of the sudden we're not talking. Why am I not talking to Carole? I feel like I started off well with Bethenny. She's a very strong woman and a single mom, why can't I have a relationship with her? It all went horribly wrong last year. I'm not going to be Dorinda Meddler and I'm not going to try to solve the problem.
You and Carole seem to be getting along again. You were even talking about the election in a recent episode. What's it like to relive all of that?
It was a passionate election. It was like reality TV. I watched the debates like it was reality TV. I think more people and women were politically involved — even my daughter. My husband worked with Hillary and was a big Democrat and worked with Madeleine Albright, and I did a ton of fundraisers with them. I was very pro-Hillary. Who wouldn't want a woman like her in the White House? It was very jarring watching the way Trump executed though this election.
I'm dreading the episode where you go to Carole's election party. I remember how awful I felt that night and I don't want to see you all go through that.
I think people suffered depressions. Now it's over and I have to respect our president. I have to pray that he'll do well by us. Some of the things he was saying were offensive to me and to my daughter. I felt like I had a political hangover for a few weeks, but now we're in it. You have to move forward and accept it and pray to God it all goes well. I will be the first person to say I was wrong if it does go well.
How many of your castmates do you think voted for Trump?
Carole and I were the only really vocal people about politics. They were all very careful about who they were voting for. I found it unappealing in this election because it was one that you really had to have an opinion about, especially as a woman. I think we have a few Trump supporters. I know there are few girls still running down to Mar-a-Lago.
You went down to Florida for Luann's wedding. Tell me everything!
I did — I was a bridesmaid. I couldn't believe it. I thought at this point I'd be mother of the bride, not a bridesmaid. You have to remember Lu never got properly married before. She eloped and they, like, went to a diner afterwards. It was her first official wedding. so she did it like she was 25 and it was her first wedding. It was a whole weekend. There were dinners and dancing and activities and lunches. There were three themes the night of the wedding, Tom's birthday, and New Year's. I was exhausted by the end of it. I still go to a lot of weddings, but they're second marriages and they're low-key.
She was a beautiful bride. She was beaming the whole weekend. They're in love. That train has left the station. They managed to work through everything they went through. Let them be happy. We can't get involved in other people's decisions when it comes to love.
People have a lot to say about John. You can tell me I can't see him, but if I had to swim across the East River to get to him, you couldn't keep us apart.
We haven't seen much of John this season. Was that a conscious decision?
I'm the one that took this on. It wasn't something he did or that my daughter did. I think he realized he didn't have control over it. You forget that it's going to be repeated and edited and you're going to come back on six months later. I said to him that I felt like a lot of my character and personality got overshadowed by trying to manage his relationship to the women, and I wanted to go and just be Dorinda. I just didn't want to worry about anyone else. He's happier for it. He has a big business; he doesn't need it. Now he's just John who runs Madame Paulette. In this business, it's good to have a separation of church and state when you're both suffering through it. It's healthier that way.
I was thinking about it the other day. How many couples has it been a benefit for? Ramona and Mario, me and John, Luann and Tom? I don't know if it's a good.
What do you think Richard would think of your reality-TV fame?
I think he is laughing his ass off in heaven. Richard was a funny guy. He was a liberal, sort of like that old-school '70s Democrat. I don't know if people remember I was on Housewives a couple of times doing appearances, because I knew all the girls and they would invite me to all these different events. Whenever I would get invited to a Housewives event, Richard would say, "Oh, let's go. I'm happy to sign the release." He liked anything that was quirky and new and different.
We've seen Housewives sell wines and nail polishes and books. When are you doing to do a fashion and lifestyle brand?
I decided not to do anything for the first couple of years because I didn't know how long I would be on. I went on the first time to see if I liked it and to see how I'm perceived. It ended up working out. So many people come out of the woodwork after the second season offering you stuff. I want to do something that, when this does stop, and it will, that I can carry on at some point. I didn't want to just put my name on something because this brand came to me. I want it to be something to do with Bluestone Manor and how I cook and live. I want something that's a fit so it seems natural.
This interview has been edited and condensed.