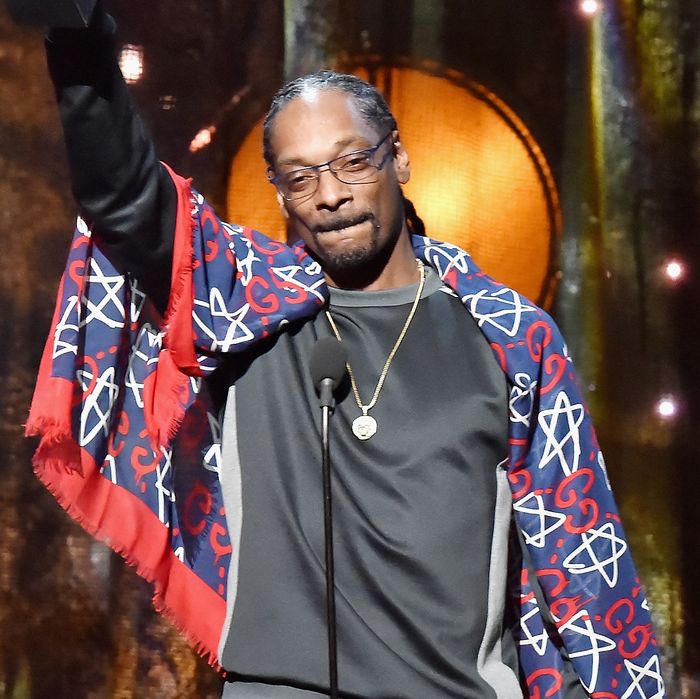 Snoop Dogg, loving every minute of it.
Photo: Jeff Kravitz/FilmMagic
Out of the six inductees at this year's Rock and Roll Hall of Fame induction ceremony, Tupac Shakur, like N.W.A last year, was the sole act who encompassed the hip-hop genre. Fittingly, Shakur's fellow West Coast rap legend Snoop Dogg — they were both signed to Suge Knight and Dr. Dre's Death Row Records — was there at the Barclays Center on Friday night to induct his late friend into the Hall with a poignant, and often humorous, speech, which traced their friendship back to when they first met in the early '90s. "I finally got a chance to meet Pac in 1993 at a wrap party in L.A," the rapper explained. "And on that night, Pac passed me my first blunt. That's right, Tupac is the one that got Snoop Dogg smoking blunts. I was a zig-zag man before that shit. We became very good friends quickly thereafter." Moments later, Snoop then proceeded to share another funny story about the time the two of them decided to try out parasailing.

We had no peers besides one another. Just two black boys struggling to become men. I never shared this story before but it really speaks to our journey. I had just beat my case and Suge [Knight] had taken us to South America to get away from all the drama, and me and Pac was parasailing. You heard right: Snoop Dogg and Tupac parasailing together with Suge Knight driving the boat. You got to remember, I had just beat my case and Pac had just got out on bail, so we'd try anything at this point. Does anybody know what parasailing is? Because we damn sure didn't. Me and Pac were sitting on the edge of the boat with all this gear and shit on and all of sudden the boat pulls away and we start floating up in the air and we're scared as a motherfucker, damn near holding hands. And Suge's ass kept dropping the lever and slamming us into the water like boom. I don't know what was in there, there could've been sharks or octopus or whatever, I'm like, man. It was crazy because not only did we think we were on top of the world at that time we actually were on top of the world. Floating around in style, then all of sudden Pac started telling me about some movie idea he had about me being the main star. He was saying some shit. I wasn't paying attention because I was like, We're too high in the sky, we need to get down. I mean the shit he was saying to me at that moment was different, though. He saw me as an actor. He saw more potential in me than I saw in myself. And it's funny because, after he passed away, I started getting a lot of movie roles and all this stuff. Pac was looking out for us even after he was gone.
Snoop also recalled what it was like in the immediate hours following Shakur's shooting.

That's the thing with Pac. When he loves, he loves hard. Whether that was him loving black people, him loving his homies, him loving his record label, and of course him loving his beautiful and incredibly strong mother, the late Afeni Shakur. Memories of Ms. Shakur are embedded in my mind. Right after I heard Tupac got shot I immediately flew to Vegas and I walked in the room, and I saw him laid out in the bed with all kinds of tubes in him. I was so weak I damn near fell over. And his mom came over to me and she grabbed me and she held me up and she said, "Baby, you got to be strong." I went and sat next to him and I whispered to him telling him I love him, and to hold on, and he was going to be okay. And even in that moment his mom was thinking more about me than herself and showed me how to love strongly. I mean it was amazing that his momma was so strong and loved so hard.
Taking to the press room after performing a Shakur tribute with Alicia Keys, T.I., Treach, and YG, Snoop also spoke openly about what Shakur's induction into the Hall means for West Coast hip-hop and gangster rap. "This award shows that the music that you make will be appreciated over the test of time if you make great music; put your heart and soul into it and you'll be appreciated, that's what this ceremony is about. They appreciate great musicians and songwriters," he told Vulture and other outlets. "No matter what field of music you make, you gotta respect good music, and that's what Tupac made."