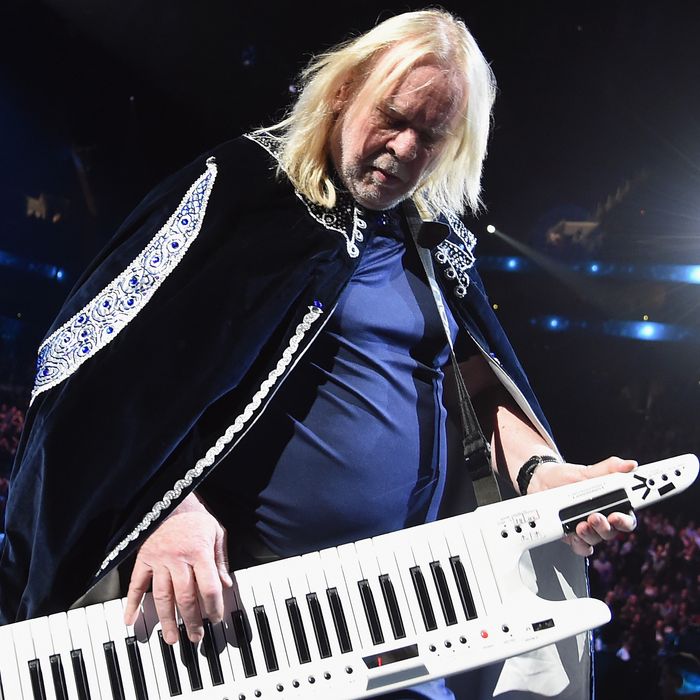 Photo: Jamie McCarthy/WireImage for Rock and Roll Hall of Fame
We certainly wouldn't blame you if you looked at the list of 2017's Rock and Roll Hall of Fame induction ceremony presenters and inductees and thought, Well, David Letterman's clearly going to be the funny one tonight. And you're absolutely right — Letterman was of course hilarious in his induction speech to Pearl Jam, weaving in some truly wonderful memories of the band with self-deprecating Late Show zingers alike. But we're not here to wax poetic about Dave's coolness at the moment. What we want to talk about instead is Yes's keyboardist and songwriter, Rick Wakeman, who delivered an unexpectedly comical speech alongside his fellow bandmates that brought the Barclays Center to its knees last night. To decide whether it aligns with your personal views of comedy is up to you — the sex-in-a-coma bit is kind of, uh, questionable — but it can't be denied that the room was very much receptive to Wakeman's little stand-up routine.

I'm very happy for a couple of reasons to be inducted. One is the fact, obviously to be a part of Yes and getting inducted into the Rock and Roll Hall of Fame, and the other is something I really probably shouldn't tell you: Less than half a mile away from this very building is where I had my very first meaningful sexual experience. No, no, no. Please. It wasn't very good — it never is when you're on your own. Anyway, as Steve [Howe] said a thank you to his wife, I will say a thank you to mine. Unfortunately, she's not here tonight. When I left her this morning, I think she was in a coma actually. The sex was still the same, but the washing was piling up.
The rest of Wakeman's family wasn't spared, either.

I'd like to thank, apart from all the guys in Yes that I work with, my father, who played a massive part in my career. Like my family, we were all in the entertainment business. We generally were very, very poor. My father was an Elvis impersonator. But there wasn't much call for that in 1947. He taught me a lot. I remember he sat me down once, he said: "Son, don't go to any of those really cheap, dirty, nasty, sleazy strip clubs because if you do, you'll see something you shouldn't." So, of course I went. And I saw my dad.
He ended with some thoughts about prostates.

I'm glad that we're actually out third [in the order on inductees] because as you get older, the old things like the prostate start acting up a bit. What I would like to say quite seriously is how important it is to have the odd examination, which I had indeed on Monday. You ladies, you don't know, it's really tough. You have to get in the old fetal position, you hear the old plastic glove go off or the rubber glove. And then it's like the gopher going on holiday inside. Whilst I was having my examination, the doctor said to me, "Mr. Wakeman, there's no need to be embarrassed. It's not unusual to get an erection with this kind of procedure." I said, "I haven't got an erection." He said, "I know, but I have."
Asked to explain his material backstage after performing "Roundabout" and "Owner of a Lonely Heart" with Yes, Wakeman said that he didn't tell his fellow bandmates what to expect with the speech. "No, they didn't know. I do it all the time in England, so it was just selected insults to throw in tonight," he explained to Vulture and other outlets. "Jon [Anderson] and Trev [Rabin] know what I do, so they were prepared to run off at any moment." For what it's worth, Wakeman also wore a fabulous sequined cape during the band's two-song set. His keytar, though beautiful in its own right, didn't stand a chance.