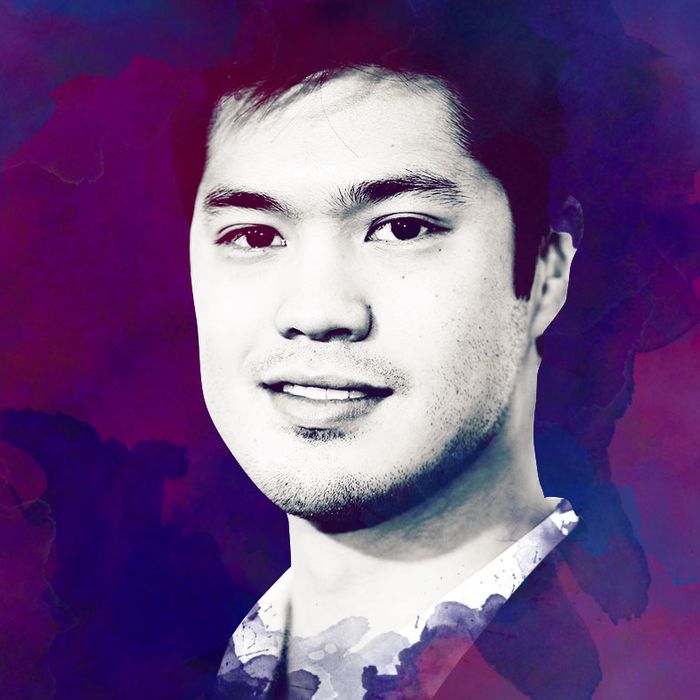 Watch enough TV with Ross Butler, and you'll be ready to dig out your high-school backpack and roll into homeroom. He's the common denominator between today's buzziest teen dramas — Riverdale and 13 Reasons Why — playing a sensitive jock with a heart of gold. He's underused on Riverdale, so it's almost unfair that Selena Gomez & Co. make us get through six whole episodes of 13 Reasons Why to earn an hour dedicated to him. It's like he was built in a lab to be the thinking teen's (and, er, fully adult viewer's) dream: On both shows, Butler twists the high-school-drama trope of being the clique's responsible one by also being bro-y and preternaturally cool.
Spring calls for a fresh-faced crush, and Ross Butler, honey, is prime crush material: He's usurping stereotypes and winning over our achy-breaky homeroom hearts.
So he's on shows for … teens?
The first rule of the internet is that teens know everything. The first rule of teen shows is that either you give us actors in their 20s masquerading as binder-carrying sophomores, or give us nothing at all. The older and hotter, the better. Ross Butler, 26, fits the bill.
What did he do before?
Butler was on a few episodes of Teen Wolf and a recurring character on Zendaya's Disney Channel show, K.C. Undercover. Scoring a role on the Disney Channel was actually a big break for Butler, who told Salon that he wasn't getting many auditions before that.
What makes him so good in Riverdale and 13 Reasons Why?
He's exactly the type of cutely obnoxious teen-jock relief both shows need. In moments when Riverdale and 13 Reasons start to get a little too earnest, he drops a one-liner or cracks open a beer to keep the tone sufficiently (Hollywood) high school. Being memorable in an ensemble piece is a skill, and Butler is a standout on both.

I get it: He's great at playing a jock.
Yes, but that's a big deal! Pickings are slim for Asian-American actors, who are often asked to play one-dimensional computer nerds or martial-arts gurus. "[Reggie] is always pranking everybody and he's just confident and arrogant. Those are not necessarily characteristics you see in Asian roles," Butler told Salon of his Riverdale role. "On Twitter and on Instagram there are [Asian-American fans] saying that it's refreshing to finally see an Asian playing a joker, an Asian playing a jock or a traditionally white character."
Oh, he's thoughtful, too.
He couldn't be your spring crush if he weren't. In that Salon interview, Butler said he doesn't want to be typecast as a jock because of his size, but he thinks the visibility is important. "I knew that Asians weren't playing jocks. Asians were … always like the butt of the joke," Butler told Teen Vogue. "So I felt that was an obstacle, and after thinking about it more, I knew that there wasn't an Asian leading man in Hollywood, and there hasn't been. There's no Asian Ryan Gosling, there's no Asian Brad Pitt, there's none of that."
So where was my crush born and raised?
Ross was born in Singapore and raised by his mom in Virginia.
Is he single?
After copious amounts of Instagram stalking, we only know that he counts Natalie Portman and Rachel McAdams as his celeb crushes.
What's he up to when he's not acting?
"I'm actually a really big board game and video game nerd," he told Backstage. He also revealed that his most random dream is to open a board-game bar, which would make for a lot of very chill date nights.
Anything else I should know about him?
Oh, yeah — he's randomly very close friends with Courtney Love, who he calls his "big sis."
Can I get another look at him before we go?
Certainly.