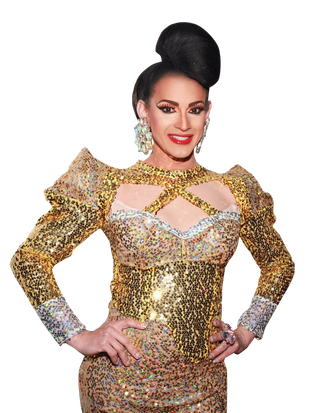 Spoilers ahead for RuPaul's Drag Race.
When Cynthia Lee Fontaine returned to RuPaul's Drag Race this season, she had one question for the world: "Are you ready to see my cucu?" Perhaps we'll be ready to handle all of that charisma one day, but not quite yet. This week's episode of Drag Race found Cynthia lip-synching for her life yet again — this time against Peppermint, after the pair's Snatch Game impersonations of Sofía Vergara and NeNe Leakes failed to hit the mark. Unfortunately for Cynthia, the battle wasn't a particularly close one — Pepper actually mimed pulling out a shotgun to put Cynthia out of her misery — and she was ultimately told by Ru to "sashay away."
Although she didn't fare as well as she hoped, Cynthia says she has "no regrets" about her time on Drag Race. In a phone interview with Vulture, she discusses season nine, her recent battle with liver cancer, the role of queer nightlife in the wake of the Pulse shooting, and her big plans to spread that cucu across the globe.
Hi, Cynthia! How are you?
I'm doing phenomenal. Just getting ready for DragCon this weekend. I'm gonna be juggling the fans like a clown this year. Last year was insane. This year, I don't know what I'm gonna do.
How do you feel about your elimination?
It was probably my time, you know? I'm a fighter. I may have been a little bit concerned about the challenges and all this stuff, but I respect the panel of judges and RuPaul. I got so much from season nine, so no regrets.
Last year, most of us didn't know that you were struggling with stage-one liver cancer. How did that affect your run on season eight, and what was season nine like?
During my lip synch on episode three, when I was eliminated last year, I was feeling symptoms. I lost, like, 47 pounds during the filming last year. But if you watch season nine, I was feeling great. I was feeling healthier. If you see my body, I have a belly, baby! That means my liver is working amazing. Filming season eight was so different than season nine, now that my health was back to normal.
You're so supportive of your competitors. You made everyone panties for the cheerleading challenge, then you cheered on Charlie when she gave up during her lip synch. Where does that positivity come from?
I think, in my case, it's because of all the negative experiences that I didn't like in the past. The liver cancer, losing my brother, losing someone in the Pulse tragedy, plus seven important people in Austin's drag community over the past few years. It helped me to increase my positive attitude because I'm alive. I'm healthy. I'm honoring all these angels who passed away by doing my best to make my dreams come true. That makes my positive attitude go up. Second, because I had done season eight, I got to become a mentor to all my sisters on season nine. For some of them, this was their first time working on TV. It was new for them. If they had any questions or if they wanted any advice, I was more than happy to help.
Last season, you won Miss Congeniality. Do you think you'll win the title two years in a row?
You know what? Maybe. If I win back-to-back on Miss Congeniality, I'll be more than grateful, more than happy in the end. At the same time, I want one of my other girls to continue my legacy of community service, like working on HIV prevention and working with the American Cancer Society. One of the names that comes to mind right now is Peppermint. Why Peppermint? She stuck out. She was gracious and so courageous to say, "I'm a transgender woman and I'm here on this show." She's advocating for the trans community — not just in New York, where she lives, but the whole entire universe.
You mentioned the Pulse nightclub shooting, which you also talked about on the show. Did it come up a lot in workroom conversations?
Between the queens, we had a couple of conversations about how that tragedy impacted not just our interactions with our community, but the safety between the drag community and the entertainment business. It touched everyone. It touched all of us. We talked about how we're gonna turn this situation into something positive. We all agreed that now that we are alive, now that we are working, we're gonna be respectful. We're gonna be more aware. We're gonna help each other be safe. At the same time, all the girls agreed that we should not be afraid. We're not stopping. We're going to be stronger than ever. We can perform anywhere without fear. It's up to us to create an environment where we are free to do whatever we want. Our space is always a safe place to have fun and be yourself.
Drag queens play such a crucial role in creating those spaces for LGBTQ people. How does that make you feel?
It's satisfaction guaranteed, in my case. I'm just trying to connect with people. I want to tell them that you don't have to feel afraid. Enjoy yourself. This is a safe place to do whatever you want to. I get messages on social media and letters and emails from fans in each city saying, "Thank you for making me feel safe here," and "Thanks to you, I spoke to my dad about my sexual orientation, and now he is trying to accept me." Even after that tragedy, this is my family and this is my community.
What's next?
Next for me, I'm promoting my one-woman show, CuCu Confessions. I am doing stand-up at the Haters Roast tour with former contestants from Drag Races past. We're going overseas to the U.K., too.
Any parting words?
You know what? To be very honest with you, babe, do not give up. If you have a dream, make it impossible to make it not come true. And let's get the cucu to All Stars season three!
This interview has been edited and condensed.