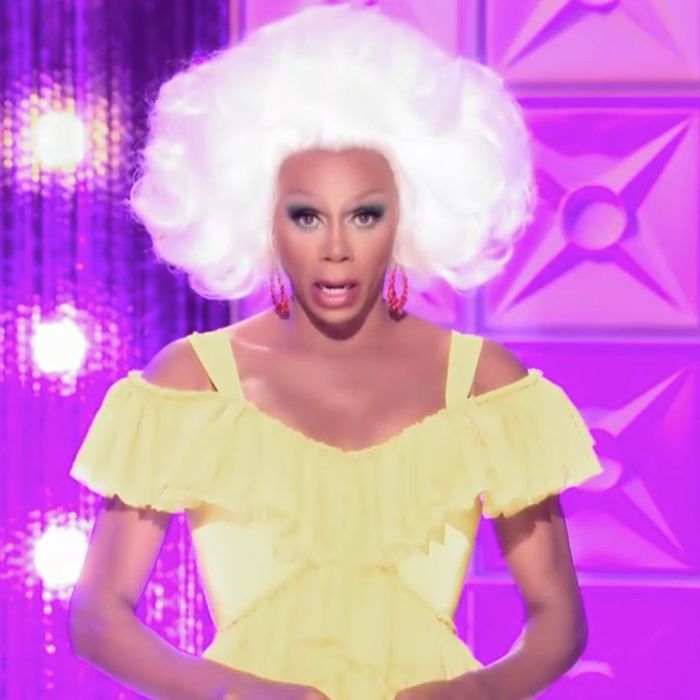 Well, here we are at the fourth episode, and guys, I really gotta tell you — I'm worried about this show. Normally, even at its worst (season seven), it still didn't exhaust me as much as this episode did. This one is a far cry from last week's: All that fun and whimsy is replaced here with wave after wave of crushing, paralyzing, ugly insecurity from a bunch of people I feel like I don't really know or care about. My fear is that the big ball of nothing we witnessed tonight is the best the show has to offer, but let's see if we can make something of this mess together.
While it's clear by now that the show succeeds or fails on the strength of its cast, one thing that this season is missing that previous seasons with weaker lineups have featured is time. Where are the first-act mini-games? Where are the extended-preparation montages? This week even featured a truncated runway, and I'm just not certain what they're replacing that content with. Another producer-incited, vaguely pedantic survivor's guilt tearjerker in the workroom?
Even the main challenge this week — the girls are split into two teams and tasked with creating a morning talk show — is given the added wrinkle that they're "filming it live," which feels like a clever way to combine the usual rehearsal footage without having to play any final product on the runway. The challenge has a few memorable moments, but no one emerges as a possible front-runner in the competition, though it does make a great backdrop for the various insecurities of, well, everyone.
With so much naked insecurity floating around that workroom, you might think it would be difficult to pinpoint the most troubling example, but anyone who watched last week's Untucked (World of Wonder's weekly behind-the-scenes companion to the show) will know exactly where we need to begin: Aja. Oh, poor Aja. Aja entered this competition a front-runner in many people's eyes by virtue of her substantial online following and a fan base of loyal stans that she's built up after a few years in the Brooklyn drag scene. I've been hearing for months about her fierceness as a performer — something she proved and then some in last week's lip sync — but all that confidence seems to have fallen away bit by bit each week. At week four, we're finally starting to see her crack in a big way.
If you're not watching Untucked, I highly recommend you stop what you're doing, figure out your life, and visit YouTube immediately. Not only did the queens finally start to open up and get actually, truly shady for what felt like the first time, it also delivered unto us a monologue that may be the first (pray to God herself not the last) truly memorable moment of the season. While recapping the judge's critiques for Valentina, Aja interrupts and proceeds to spit out a speech that fits somewhere in the canon between Shangela's Shondaland "sugar daddy" read of Mimi Imfurst and Laganja Estranja's nuclear "I feel very attacked" meltdown. Unfortunately for Aja, this episode made clear that she has more in common with the latter than the former. She doesn't make any dire mistakes in this week's challenge, but dodged a bullet by selecting a strong team with mostly good chemistry.
This week's competing team has the misfortune of being stacked with queens with even shakier confidence levels. Both Aja and Trinity as team leaders make the curious choice of selecting their closest rivals for this week's morning talk-show challenge, with Aja selecting Valentina and Trinity choosing her pageant rival, Eureka. This little rivalry was teased briefly in the first episode and hasn't really been revisited since — but does anyone really care about these two as bitter enemies of the pageant circuit? Alyssa and Coco they are not.
It's unclear how much of the challenge they're required to write themselves, but either way it's obvious that unlike the last team challenge, this task probably required a more collaborative team leader than Trinity is able to provide. But I wonder how much that would matter to someone like Eureka in the end, who throughout this episode displays a lot of the same rottenness that plagued Phi Phi O'Hara in both of her outings. It's clear that she is the victim in her own mind, but right now in both Untucked and Drag Race proper she is reading more as a petty bully than a plucky underdog. This is the most annoying kind of reality-show villain because these people refuse to pick a fucking lane.
It's possible to be self-aware and an honest-to-god star, but few of the queens prove that this week. A prime example of this is our returning Miss Congeniality, Cynthia Lee Fontaine. It's hard to believe that this was the episode where she left us last season (has a Miss Congeniality ever been given to a queen who left so soon?), and unfortunately it's a bit telling that I can see Cynthia sticking around for at least a handful of challenges before her eventual departure. This is in part because of the possible casting issue I mentioned above, but also because Cynthia seems a bit more comfortable than many of the queens around her. In her pairing with Charlie it's clear that she knows what works for her and is not the type to fit in many other boxes. I hesitate to say this, but I'm seeing a bit of Alyssa Edwards in Cynthia's performance. Both are extremely charismatic, have wildly expressive elastic faces, and I'm not sure either has a firm grasp on why they're funny, but know well enough not to trust their instincts and be fully themselves, and the rest will follow. I'm not sure Cynthia will win over as many hearts as Alyssa has, but we got at least a dozen less cucus than we did last week, so maybe she'll surprise us.
The other winning performance this week is delivered by Shea and Sasha, the latter of which desperately needed to reveal an ounce of personality in order to stay relevant in their conversation. Sure, they aren't Tina and Amy, but they have decent chemistry and strong runway looks, and were rightly commended for it. Goddamn the prizes this season are really rough, though. A Casper gift card? A year's worth of hamburgers? Woof.
I guess we should talk about these looks now, huh? Even though the show itself didn't really seem to fucking care if we got a good look at them or not, let's dive in and see if maybe you picked up on something in the 0.3 seconds they appeared onscreen that I may have missed.
Farrah: I guess the runway theme was, um, "nightie," and this certainly fits the bill. Farrah is very pretty!
Alexis: This is very bad. She looks like she just stepped offstage as Miss Hannigan at a sad regional theater.

Aja: This is the best makeup we've seen from her so far, I think. It may just be the truncated stage time.

Valentina: Gorgeous. Looks like what Jessica Rabbit is wearing under that dress. A note about Valentina: She is hot and confident, but does she have an actual personality? I can't quite decide.

Shea: Roxy Hart realness.

Sasha: I like when Sasha goes fishy. I'm so relieved not to hear whatever whackadoo narrative she concocted for this look.

Trinity: A nice Katey Sagal drag look.

Peppermint: Charlotte Russe clearance rack. This, combined with her poor showing in the challenge and my general inability to remember her should have landed her in the bottom.

Charlie: A very pretty look to lose in.

Cynthia: I think this may be my favorite Cynthia look so far, but it still looks very bad and cheap to my eyes.

Eureka: I imagine a "nightie" runway is not something every self-proclaimed big girl looks forward to, but Eureka knocked it out of the park.

Nina: People chat about Nina's makeup, but for me it's all about that body-ody-ody. The makeup seems like an afterthought here. I love Nina, but her weepy episode gave me pause. What exactly has Nina experienced by episode four that triggered this? It just didn't feel earned.
And so after all is said and done, Trinity slides from the top to the bottom and faces off against Charlie in what must be one of the worst lip syncs in recent memory. What is Charlie even doing here? She takes a Britney song — a goddamn gift on this show — and performs it like somebody's aunt who stayed too long at the wedding reception. Remember when we cheered the Dax/Laila double elimination? I wish Charlie could be eliminated twice for this humiliating showing. Trinity fares well by comparison, but it's hard to judge if it's really that great on its own merits. She certainly does a lot of jumping and rolling, but is that … cool? I have a feeling we'll be seeing a lot more of that ass if and when she ends up here again. Detox, watch out.
So, farewell, Charlie. I wish we would have seen some of that wit we'd all heard so much about, but I guess you'll just have to check out a video of her in blackface to judge for yourself.