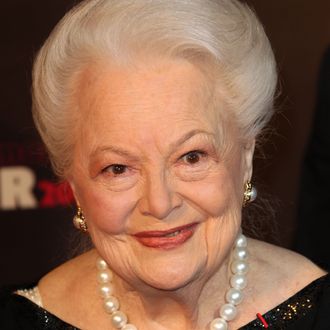 Photo: Tony Barson/WireImage
Olivia de Havilland, Hollywood royalty and noted master of communication, delighted us commoners earlier this week when she responded to an inquiry from The Hollywood Reporter that asked if she has seen Ryan Murphy's new anthology series, Feud. Specifically, did she like the series? And most importantly, was it historically accurate in portraying Bette Davis and Joan Crawford's relationship, as well at the infamous 1963 Oscars ceremony? The 100-year-old actress, who's played by Catherine Zeta-Jones on the show, fired off a delightful response via email:

I have received your email with its two questions. I would like to reply first to the second of these, which inquires of me the accuracy of a current television series entitled Feud, which concerns Bette Davis and Joan Crawford and their supposed animosity toward each other. Having not seen the show, I cannot make a valid comment about it. However, in principle, I am opposed to any representation of personages who are no longer alive to judge the accuracy of any incident depicted as involving themselves. As to the 1963 Oscar ceremony, which took place over half a century ago, I regret to say that I have no memory of it whatsoever and therefore cannot vouch for its accuracy.
It's a great email written by a woman who's 100 years old — hot damn! — and it managed to circle back to the show's creator, Murphy himself. And of course he loves it. Would you expect anything less? "I love Olivia De Havilland. She is forever a lady," Murphy told E! News. "My favorite part of the quote was she said that she couldn't vouch for anything at the '63 Oscars because she couldn't remember it. I love that it was such a little blip in her life! But she's amazing and everything that she says and does should be treasured. I loved what she said." We wouldn't disagree.