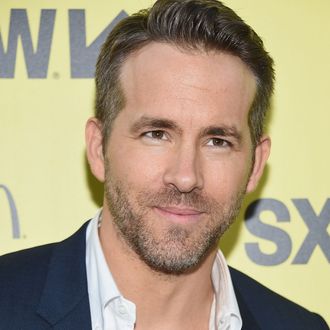 Owner of several bad tattoos.
Photo: Michael Loccisano/Getty Images for SXSW
Last month, a Ryan Reynolds fan (who has since been promoted to superfan, by us) tweeted at Reynolds, saying that if the actor liked his tweet, he'd get Reynolds's name tattooed on his butt. Of course, Reynolds did like the tweet, so … what did he expect? Twitter user @poolspidey later tweeted Reynolds a photo of his brand new tattoo — "Ryan Reynolds" in all caps, in alternating black and red lettering. (Is that Comic Sans?)
Reynolds responded, "Oh god. Oh. Dear. God. What have you done!? Thankfully, all the letters in my name are silent."
If Reynolds truly didn't want this guy to get a butt tat, he probably shouldn't have liked the tweet. After all, Reynolds knows a thing or two about regretting tattoo choices. In a New Yorker profile referring to his own tats, Reynolds said: "I hate them all." He continued, "It takes three hours in makeup to mask them. … I'd get them all lasered off if it wasn't hours and hours of brutal pain."
At least he doesn't have his own name on his ass. Maybe he could get "@poolspidey"?