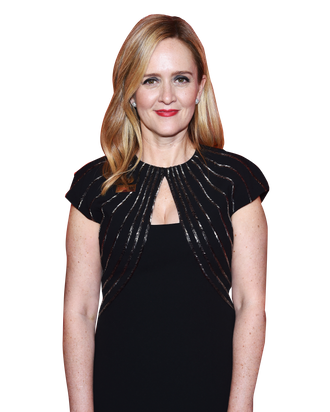 If Luther is the angry black man that, according to a running sketch on Key & Peele, lives inside Barack Obama, Samantha Bee may be the mad-as-hell, Canadian-born white lady that resides within every left-leaning American regularly consuming news about the Trump administration. For that matter, the version of Samantha Bee who appears on TBS's Full Frontal might be the mad-as-hell, Canadian-born white lady who lives inside the actual, more mellow Samantha Bee.
As host of the weekly comedy show/savage commentary on current events, Bee is usually fired-up and ready to sound a barbaric WTF about everything from Russian hacking to why Democrats are good at protesting but absolutely terrible at voting. But during an interview with Vulture Thursday morning, from her dressing room backstage at Constitution Hall, the actual Bee was pretty soft-spoken and relaxed. The relaxed part is impressive considering that, on Saturday, she'll host the Not the White House Correspondents' Dinner, a made-for-television event that, thanks to the diluted nature of this year's actual White House Correspondents' Dinner, being held that same evening, has become the most talked-about event of what is usually the buzziest weekend in D.C.
That buzz is humming at a much lower frequency this year. Considerably fewer celebrities are rolling into town for the festivities, several media outlets have canceled the parties they normally host, and, for the first time in more than three decades, the president will not appear at the dinner. (President Trump announced in February that he would not attend the annual formal, glad-handy event; instead, he will hold a rally that evening in Harrisburg, Pennsylvania.)
Before Trump bailed, Bee says she and her Full Frontal team sensed there might be a void and started to figure out how they might fill it. On Saturday, they will do so by hosting the TV- and Twitter-ready alternate dinner at D.C.'s Constitution Hall, where it will be recorded in the afternoon and air that night at ten on TBS. An uncensored version will stream on Twitter starting at 11 p.m., and proceeds generated will be donated to the Committee to Protect Journalists.
As of Thursday morning, the auditorium at Constitution Hall, ordinarily a concert venue and frequent site for high-school graduations, had already been dressed up to look like a bizarro version of the ballroom at the Washington Hilton, where the actual dinner is held, complete with a dais and a floor filled with round tables where guests such as Rachel Bloom, Padma Lakshmi, and, yes, Keegan-Michael Key will sit. (Full disclosure: Vulture is co-hosting the Not the White House Correspondents' Dinner after-party that will follow the event.)
It may be a weird moment in Washington political history, but it's a big moment for Bee, the former Daily Show correspondent who has seized on the higher profile afforded her by Full Frontal to host the biggest WHCD weekend bash of 2017 — one she insists will not just be a roast of Donald Trump.
Have you been to the actual White House Correspondents' Dinner before?
I've only been once.
When was that?
It was … I don't remember the year. Hold on, I can remember because I was pregnant. So let me just go back in time to when I was pregnant: 2008.
So right before Obama.
Right before Obama. It was Bush. It was Craig Ferguson [who performed that year].
What was your impression of the event?
It was an interesting year to go because I'm not really a part of that world. We exist in our own world at the show to some extent. It wasn't like I knew anybody. I knew who the correspondents were, the members of the White House press corps. But they didn't know me, we didn't know each other personally, it wasn't really that feeling of warmth and congeniality. It was just me alone, this pregnant lady at a table. So I really observed the whole thing at a complete distance. Also, I wasn't drinking. Everybody around me was sloshed. Everybody gets hammered. Because nobody ever gives journalists free drinks.
It was a funny year because all of the work that was getting rewarded at that dinner, they were all pieces about what a terrible president George Bush was. They were about the Iraq War and WMDs, so the material was very challenging and well done. But then they all had to go onstage and take a photo with him. Everybody's smiling in the photos and holding a plaque for the piece that they wrote that just slaughtered him. So that was the first time I really familiarized myself with that, and it felt really awkward.
But it was fun. It was very industry. It wasn't my type of event. I don't begrudge the White House Correspondents' Dinner. I think people have a good time. They certainly raise money for a very worthy charity and that's great.
When we set out to do our event, I think, mistakenly, everybody thought that we were intending to kill the original event. And our event has nothing to do with it, really. We're borrowing from it on some level, but we just thought that it wouldn't exist. We thought that it might not happen this year because of all the acrimony.
That was a fair assumption to make right after the election.
Yeah, we conceptualized this event going back to November, really, as just something that would bring us joy and happiness. We knew we wanted to have a great, big party. I think I 85 percent believed that the dinner would not happen. I just thought it would get canceled. So we thought we would definitely have a dinner. As it turns out the dinner is going on as planned, and that's fine.
So you guys announced in January that you were going to do this.
Yes, but we had been planning and thinking about it for months.
Right, and that was before the president announced he wasn't coming to the actual dinner and a lot of the parties surrounding it started to get canceled.
We originally thought of it because at the time, in November, Newt Gingrich was talking about the fact — he was publicly stating that he thought the White House press corps was an anachronism and that Donald Trump would probably dissolve it, just get rid of it completely. And that really inspired us to do this.
How much of this is going to be riffing on the dinner versus doing something totally different from the dinner?
It will be different from the dinner. We're just nodding to it because obviously, we have to. But we will do something different with it. Of that I can assure you.
Can you say what will be different?
No, I can't.
Not a word?
No, because I love to just watch things that I don't know anything about. I don't want to spoil it. You'll be here. You'll see.
I think a lot of people assume this is going to be an anti-Trump roast. Is that a fair way to characterize it?
No, I actually don't think it's a fair way to characterize it. Our show obviously takes a position. Anyone can see it from week to week, so that is out there for anyone to behold. But this really is, for us, a celebration of the journalism that makes our show possible. So we are just here to celebrate the freedom of the press, for as long as we have it. Hopefully we'll have it forever. [Laughs.]
I am sure you consider yourself to be an entertainer first. But how much do you also consider yourself to be an informer and journalist?
I don't consider myself to be a journalist. But we rely on the work of journalists. We have journalists working at our offices. We poached a lot of really great journalists to work in our midst. Really, without them we couldn't create satire. We couldn't do this show. We are absolutely reliant on them. We are vampires sucking the life force out of all of those great journalists.
Are there a lot of journalists coming to this event? Do you have a sense of that?
You know, some are. We invited a lot of journalists. Certainly, some people felt like they couldn't come to an event like this, which we completely understand. Our event is on television. That doesn't prevent anyone from watching it. But we'll talk about them and thank them whether they're here or not. But if they come, that's great.
Do you imagine this becoming a regular event?
No.
This is a one-and-done?
I do feel that it's one-and-done.You know, it's devastating to your personal life to put on an event like this, but I think it's fun to reinvent these big events from year to year. I'd love to do something else that's big and splashy, just maybe not this exact thing again.
Just because it's so much work?
And why do the same thing twice? Why not do something different next?
I read the interview you did with Lena Dunham for The Hollywood Reporter, in which you said you had not looked at your Twitter mentions since Election Night.
I've looked at them. Very, very seldom. It's not healthy to do that. It's not good.
So there was a huge distinction between what you were seeing in your mentions preelection versus after?
To the moment that they called the election, the moment, my mentions changed completely. There was a shift — it's B.C. and A.D.
Like, it's just there. In the moment, it was just a tsunami of hatred from all of these different people. It was crazy. It was very affecting. It surprised me. Like at 10 p.m. it happened, and it was just a big shift.
What kinds of things were people saying?
You know, people say the worst things. Really, whatever you could imagine and more.
Rubbing your face in it that Clinton had lost.
Oh my God, but also just, like a photograph of me hanging from a tree. Anyone who's in the public eye — I'm sure you're accustomed to it, too. You just get the worst stuff humanly possible. The tone got more violent. The tone got more aggressive. But also the volume increased exponentially.
Tzvia [Bee's assistant] took away my password. Literally, it was so depressing for three days I could not stop looking at it. And then it was so noticeable that I was in such a dark place that everyone took away my password. I had to be treated like a toddler for two weeks, and then — everything's fine now and I manage it myself and I don't dip into it. Occasionally, I'll go: What's going on? And then I'll look and I get right off. It's sad, really, because people are trying to communicate with you who have something to say, and the vast majority are probably lovely people who just want to say hi. I really miss that direct connection. But you really have to protect yourself, mentally.
I would think you'd also have quite a few people saying, you're my life raft right now and I really appreciate what you're doing.
Definitely. And I think that's why I occasionally turn it on, just to go: oh right, people watch the show. I'm really not tuned into press about the show. I try to just completely stay out of it. So occasionally, I need to drop in just to see that people are receiving it. But for the most part it's not a good thing.
Do you worry that if you looked at it too much, it would start to affect your approach to the show?
No, not at all. It wouldn't affect my approach to the show. It just affects me personally. I don't know that I need that kind of negativity seeping in because it can erode you. It's not that it erodes your confidence, but it just erodes your —
Morale.
Which I don't — who needs that? I don't need that.
What has been the most surprising thing, to you, that has happened since Trump's presidency began? Can you even pick one thing?
I can't even pick one thing, but I will say the speed at which things were happening for a long period of time. That was very surprising to me. That was very surprising to me. I'm really just getting a sense right now that he's trying to figure out what are the toys at his disposal. He's really figuring it out in real time. I don't think that's a good thing.
So the degree to which he really had no idea what he was getting into was surprising.
It doesn't surprise me that he had no idea what he was getting into. It surprised me that someone who had almost no knowledge of what the job required would endeavor to do things as quickly as he did.
It's hard to focus on one thing that drives you the most crazy, but if I could, I would say the sense of, "Look at what's happening. Why isn't someone stopping this?" Obviously I get that there's a Republican-controlled Congress. But there's still a feeling of: When are Mom and Dad going to show up and stop what's happening?
I know.
I feel like what you're doing feeds into that feeling and that inner voice a lot of people hear when they look at the news.
Yeah, Mom and Dad — they left. They're on a world tour.
They're with Richard Branson.
Yeah. They're taking a hot-air balloon ride for the next four years, all around the world. They're not coming back. No one's going to save us. We have to save ourselves.
Do you think we can save ourselves?
I don't know! I hope so.
I'm looking to you for answers!
[Laughing.] I don't have them. I'm feeling all the same things you do. I really do. I wish I knew what was coming.
It's funny, Obama, people knew they were going to miss him, but now —
Well, now you hear his voice and you think, "Oh, remember when we had a president who knew things?"
When he spoke earlier this week —
It was so bittersweet. We had it on in our office. We had our TVs on and I felt, just for one brief moment, that he was still president. We all tried to believe it was true. You give yourself permission to think you have a regular president for ten minutes.
How have you tried to keep perspective and keep your stress levels low while covering everything that's happening?
None of us are really good at it, actually. It is something we talk about often at the office because when you are completely immersed in the infostream like this, as I'm sure you are, too, it's really draining. I mean, talk about low morale. Self-care's important. I have not mastered it. I try to turn my phone off sometimes but it doesn't really work. I don't know. I'm not good at it. Are you good at it? What do you do? I'll take your suggestions.
I don't have any. My husband will be like, stop looking at social media. Probably some of this is a rationalization but I say, "But I have to for work."
"It's my job."
It's Saturday at three in the afternoon. I kind of don't have to. I could probably go outside. Do you have concerns about things getting normalized too quickly?
I do! Of course!
Do you feel that that's already started to happen?
I think just a little bit it's starting to happen. I think it's actually not great that the weather's getting nice. Fatigue can really seep in when the blossoms are on the trees and you just want to go and get an ice cream. Which I completely understand, but we are endeavoring to remain hysterical about as many things as we can. [Laughs.] Hopefully people will stay motivated.
What was your reaction when Trump announced that he's having a rally in Pennsylvania on Saturday night, at the same time as the Correspondents' Dinner and the telecast of your show?
Oh, it's not surprising. I don't care. He can certainly do whatever he wants to do. I wish he was doing his job instead of having rallies. It really doesn't affect us at all. It doesn't affect the other dinner. It just is what it is. Nothing surprises me anymore. I've lost my capacity to be shocked.
That decision reminded me of something, and it took me a while to figure it out. Then I realized it was something Junie B. does in the Junie B. Jones books. I don't know if you ever read those to your kids?
I did. I love those books. Okay.
This boy, Jim, has a birthday party and doesn't invite Junie B., so she decides to throw her own party on the same day even though it's not her birthday.
It's — what was the show on HBO?
Yes! It's Big Little Lies!
Taking everyone to see Frozen on Ice during someone else's birthday party.
It's also that!
It's not like — our audience doesn't care if he has a rally. His audience doesn't care if we have a dinner. It really doesn't matter. I'm sure he'll have the biggest crowd that has ever existed in all of humanity, wherever he is in Pennsylvania.
This interview has been edited and condensed.