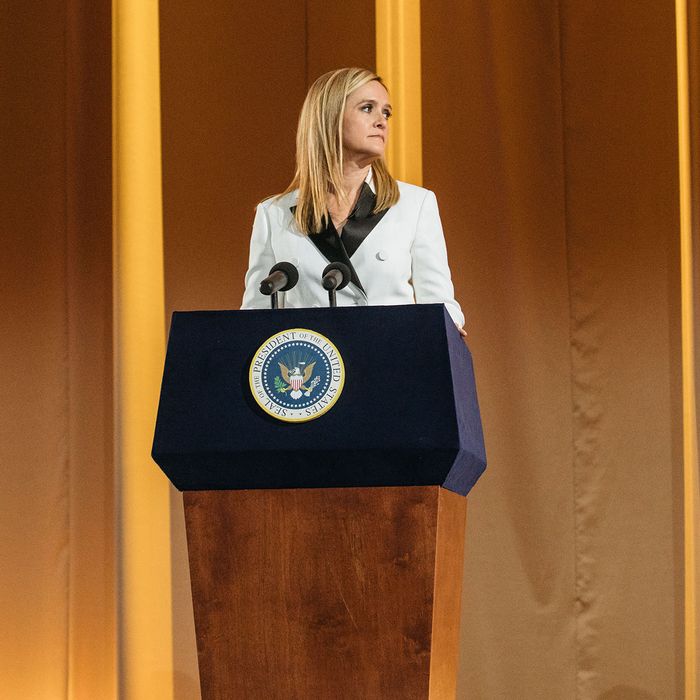 Samantha Bee during a rehearsal for Not the White House Correspondents' Dinner.
Photo: Greg Kahn
The most evocative segment in Samantha Bee's Not the White House Correspondents' Dinner was the dystopian Man in the High Castle riff in which Bee — tipped off by George Takei, because of course — watched a film revealing an alternate timeline in which Hillary Clinton, not Donald Trump, is elected president. In a dissolve out of the taped segment, Bee proceeded to deliver remarks onstage at D.C.'s Constitution Hall that she might have given at the actual White House Correspondents' Dinner, had it been held during a Clinton administration.
"Thank you, Madam President, distinguished members of the press," she began. "What a 2017 it's been so far, huh, guys? Hillary Clinton sworn in as president, the Patriots lost the Super Bowl, Lemonade won album of the year, and every print of La La Land spontaneously combusted."
It was a bizarro-world moment during an event that, in person, felt at times like a bizarro-world version of the actual White House Correspondents' Dinner — which also went forward on Saturday, minus an appearance by President Trump.
Bee's dinner — technically more of a late, finger-foodish lunch, since it was held midafternoon and recorded for broadcast on TBS Saturday night — was built around the same elements that characterize the regular dinner: There was a red carpet, which members of the news media and entertainment world (among others, Jake Tapper of CNN, Matt Walsh of HBO's Veep, and Retta of Parks and Recreation and Girlfriends' Guide to Divorce) walked before entering the venue. Waiters squeezed between round tables and hobnobbing guests to deliver the food, purchased by media organizations as part of a pro-journalism fundraising effort that benefitted the Committee to Protect Journalists. And as the event's host/comedic talent, Bee threw plenty of arsenic-laden darts at the news media, as comedians and presidents have traditionally done at the Correspondents' Dinner. (Or is it now the Not Not the White House Correspondents' Dinner?)
But this event also felt different from the norm. This was a WHCD run through a Full Frontal filter: part extended episode of Bee's weekly skewering-the-news program, part alternative "nerd prom," as D.C. regulars call the Correspondents' Dinner. But it was also a clear effort to plant a female flag in the political and cultural conversation. We didn't get our first female president, as Bee's Clinton sketch reminded us, but Bee still made sure a female voice would be heard — loudly — in Washington, D.C., during White House Correspondents' Dinner weekend. (It's also notable that the actual dinner's entertainer, Hasan Minhaj of The Daily Show, is, as he said during his remarks Saturday night, an Indian-American Muslim. With Trump out of town and everyone in his administration recusing themselves from all Correspondents' Dinner weekend festivities, this was a moment when the marginalized got the chance to grab the mic and surrender it to no one.)
During the past 30 years, only four female comedians have served as the officially designated emcees during the Correspondents' Dinner: Cecily Strong in 2015, Wanda Sykes in 2009, Elayne Boosler in 1993, and, in 1992, Paula Poundstone, the first woman to ever preside over the affair all by herself. The prerecorded "flashbacks" sprinkled throughout Not the White House Correspondents' Dinner — which featured footage of Bee hosting Correspondents' Dinners past for presidents Woodrow Wilson, Ronald Reagan, Richard Nixon, and Bill Clinton — were not only funny, they also served as sly reminders that women don't get these kinds of gigs very often. (Given Poundstone's place in WHCD history, Bee's Poundstone-esque turn in the 1990s flashback worked on more than one level.)
Bee has been clear (in my interview with her and elsewhere) that she initially decided to move forward with Not the White House Correspondents' Dinner because she and her Full Frontal staff thought there might not be a dinner at all this year, and they wanted to make sure that void would be filled. But it was also clear — in Constitution Hall during the taping, to those watching at home or on Twitter, and at the after-party that followed — that Bee and the Full Frontal team were eager to flex some feminine muscle.
The show opened and closed with live music by Peaches, who performed her song "Boys Wanna Be Her" — the glam-rock track originally featured on the album Impeach My Bush that now serves as the Full Frontal theme — while backed by an all-female band, featuring members of Ex Hex and Orange Is the New Black's Jessica Pimentel. (Fun fact about OITNB's Maria: She's also the frontwoman in a heavy-metal band.) Bee's four correspondents, three of whom (Ashley Nicole Black, Allana Harkin, and Amy Hoggart) are women, got a bigger spotlight shone on them than ever before. So did Bee, for that matter; in a break between bits, the Full Frontal host — clearly overwhelmed by the size and enthusiasm of the Constitution Hall audience — told everyone she had never performed in front of such a large crowd before.
Meanwhile, the Not the WHCD after-party — which, full disclosure, was co-hosted by Vulture — was initially presided over by female DJ duo POSSO (with Elvis Costello performing later), and its list of signature cocktails featured a concoction called the Nasty Woman, a basil-spiked drink that was sipped by men and women alike.
Of course, Bee's big afternoon and night were not, as Allison Janney joked in her pretaped opening segment, all about vaginas. The most buzzed-about moment in the whole show was probably when Will Ferrell reemerged in his role as George W. Bush. But it's notable that it was Bee who provided Ferrell with the platform to work his "strategery" magic on the audience.
For the past eight years, cable-news coverage on the morning after the Correspondents' Dinner has typically been hyperfocused on what President Obama had said the night before, as well as on the shots fired by the night's chosen comedian. This year, the conversation has been sliced up between talk about the official dinner, Trump's rally in Pennsylvania, and Samantha Bee. Already, pundits have been saying that this reflects the divisions in our country, and the fact that our shared conversation isn't even a singularly shared one anymore.
Honestly, though, most people outside of Washington and Hollywood never cared that much about the Correspondents' Dinner anyway. So maybe that conversation has always been divided, and this year that was just more apparent. Either way: In this era of alt-facts, there are clearly alternatives to the usual post-WHCD narrative. Quite rightly, one of those narratives belongs, fully, to a woman.