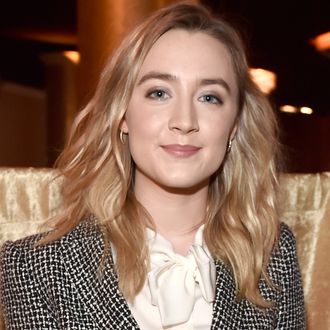 Amateur tattoo artist, Saoirse Ronan.
Photo: Alberto E. Rodriguez/Getty Images
Ed Sheeran is a British singing-and-songwriting sensation who has managed to become one of the most in-demand artists in the world, despite the fact that he is covered in questionable tattoos and is the sort to make up easily debunked stories about drunken escapades. Saoirse Ronan is a 23-year-old actress who already has two Academy Award nominations, and is also an international hero. Ronan, who is Irish*, will apparently be in the upcoming video for Sheeran's hit song "Galway Girl," and even though that's a sad and bad place for Saoirse stans to imagine her spending the long vacation she's taking between movies, the Oscar darling made the most of her music video moment by screwing with Sheeran's cacophony of body art — likely with intent. When handed the tattoo gun, Ronan was supposed to ink the name of the song, "Galway Girl," on the singer's arm, but instead wrote "Galway Grill." The first is a girl you can't stop thinking about (maybe like Saoirse Ronan), whereas the second is maybe a place that serves generous pints on the Irish coast. Presumably, Ronan knows exactly how to spell girl, and the time it takes to write anything with an ink gun would allow her plenty of opportunities to correct her mistake, which means that Saorise Ronan willingly scrawled a typo on her buddy's arm.
Sheeran shared the anecdote at a recent concert in Glasgow, and sounded entirely amused by the whole situation. He could get it removed, but the guy with a chest plate of a lion probably won't. After all, the words "Galway Grill" aren't even the 15th worst tattoo on Ed Sheeran's body, guaranteed, and at least this one was put there by a discerning person's fave like Saoirse Ronan. See the tweet below to watch Sheeran tell the story in his own words, and to remember that it's been too long since you were thankful for Saoirse Ronan.
*This post originally stated that Saoirse Ronan was born in Ireland; she was born in New York but moved to Ireland as a child.