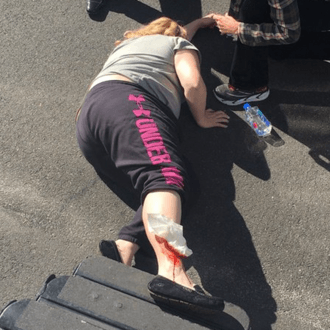 Celebrities — they're just like us! Even with all of the fame and notoriety, when April 1 comes around, they're equally as down for some jokey tomfoolery as are we simple folk. This year was certainly no exception, with various celebs partaking in some April Fools' Day pranks to start the month off with a bang. See who did what below, and start thinking up some silly ideas for next year while you're at it. You have 364 days to go, after all.

George Takei said he was running for Congress to "challenge Devin Nunes for his seat in 2018." Mark Ruffalo fell for it, tweeting Takei "this is great news!" before deleting it when he realized it was a joke.

Rebel Wilson went the gory route on the set of Pitch Perfect 3, where she took a fake tumble … with some blood.

Paul Feig said he would be rebooting another beloved film franchise, and he had an actor eagerly backing him up.

Michael Phelps's 2020 Olympic dreams have been revived. USA Swimming even got in on the fun.

Also in sports, Tom Brady shared what would've been the Boston Globe's front-page cover if the Patriots lost to the Falcons at this year's Super Bowl.

Katy Perry kept it simple with a fake cover for her upcoming album …

… while Gigi Hadid also kept it simple by Bieber-tizing her hair.

Will Arnett, meanwhile, narrated a fake Netflix show about the mundanity of office life. It's currently available to stream.

We wish Will Arnett could narrate more things. C'mon!