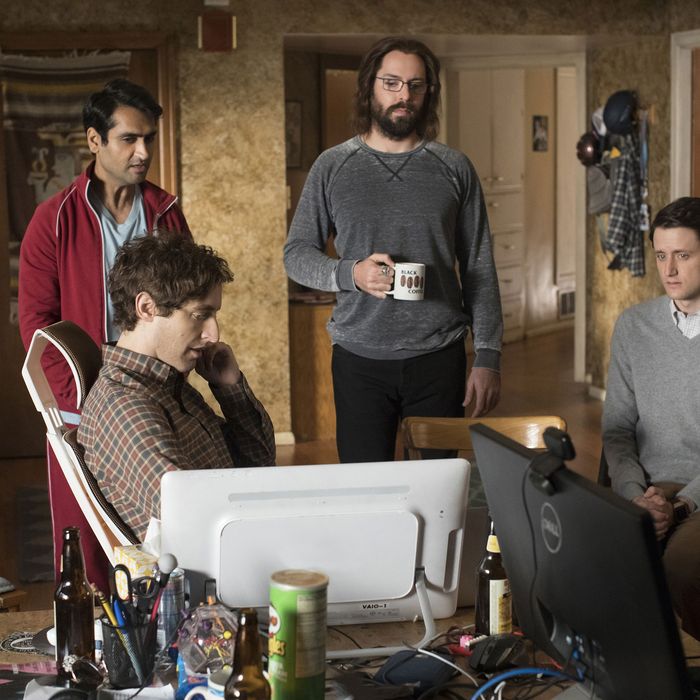 Kumail Nanjiani as Dinesh, Thomas Middleditch as Richard, Martin Starr as Gilfoyle, Zach Woods as Jared.
Photo: Courtesy of HBO
The fourth season of Silicon Valley opens with a cautionary tale about Uber. A venture capitalist named Jim leaves a swanky restaurant. He tells the valet not to retrieve his car, saying, "I'll get it tomorrow! I have too many already; I'll just call an Uber." When a strange car pulls up almost immediately, Jim gets into it without realizing that this is not the Uber he just ordered. Inside the fake Uber is a madman with an ulterior motive, one that will send Jim into spasms of fear.
Silicon Valley has always been timely regarding technology, so it's a treat to see it tackling a non-technical issue that's equally timely. I'm sure you've read stories about people blindly getting into strange cars thinking they're Ubers, either because they're too involved in their cell phones to pay attention or because Uber has conditioned people to think every stopped car is at their service. By allowing us to violate our parents' warning about getting into a stranger's vehicle, Uber has turned commuting into the bottom half of a 1977 grindhouse horror movie double bill on the Forty-Deuce.
Jim is one of the lucky mistake makers. His driver is Richard Hendricks (Thomas Middleditch), Silicon Valley's resident protagonist whose invention, the Pied Piper algorithm, was once again saved at the close of last season. Richard is passing as an Uber picking up unsuspecting venture capitalists because no one will talk to him after the numerous debacles of season three. Quick refresher: Richard lied about how many daily active users were using Pied Piper and almost had his entire code base replaced with a physical backup box device. Despite being bailed out at the last minute by his often-antagonistic mentor, Erlich Bachmann (T.J. Miller), and his best friend, Nelson "Big Head" Bighetti (Josh Brener), Richard's company is in seriously dire financial straits.
Richard gives his captive audience his spiel. He uses a cell phone to showcase PiperChat, a video chatting app serendipitously created by his co-worker Dinesh (Kumail Nanjiani). Dinesh is one of the faces that shows up on Richard's cell phone during this demo and/or sales pitch and/or pseudo-kidnapping. He's joined by Erlich, Jared (Zach Woods), and my spirit animal, Gilfoyle (Martin Starr). The app looks impressive, as does the way director Mike Judge shoots the mini-movie of organized chaos that develops when Jim's mild interest in PiperChat spirals into full-blown panic.
"Do NOT let him out of this car!" screams Erlich on PiperChat. Dinesh drops his phone, revealing that he's on the toilet. The ever-respectable Jared contradicts Erlich's advice. "We're desperate," Richard tells Jim. "No one will talk to us." To help out new viewers of the show, Jim lists the litany of Richard's transgressions before telling him, "If you can get one million users of this thing, people will be kidnapping you!" Jim exits the car, but not before uttering the corniest California-based-TV-show slogan since "Welcome to the O.C., bitch!"
"Welcome to the Valley, assholes!" Jim says snidely. He then offers Richard his card, just in case PiperChat does hit that one-million-user mark. Hey, ya never know.
Two days after Richard's run-in with Jim, Gilfoyle and Dinesh have finally updated their code so that PiperChat can run with less overhead. But Richard has other ideas: He negates their 48-hour marathon coding session by writing code that, in effect, makes PiperChat even bulkier. "We were up two days trying to decrease server load," complains Dinesh. "But who wouldn't want a 10 percent increase in image quality?" asks Richard, sounding like the Thomas Middleditch who hawks Verizon products on those smug-ass TV commercials. Sensing sabotage, Dinesh lashes out.
"You hate the video chat!" he exclaims. "You hate it because I wrote it!" Dinesh is right: Richard hates it so much that he's been biting his fingernails down to their cuticles out of stress, forcing Jared to paint iodine on them as a preventative measure. "It's like I would rather bite off my fingers than type code for that video chat," Richard will later tell Monica (Amanda Crew).
"You're killing us out there," Dinesh says, referring to the fact that they can't get funding. "Don't kill us in here!" "I don't think I've ever said this before," says Gilfoyle, "but I agree with Dinesh." Hold this moment close, folks, for it will never happen again!
Meanwhile, professional badass Laurie Bream (Suzanne Cryer) doesn't appear in this episode, but her decisions from last season affect both Action Jack Barker (Stephen Tobolowsky) and Monica. After Laurie "exited" Action Jack from the Pied Piper payroll, he hooked up with Richard's nemesis, Gavin Belson (Matt Ross), to successfully pitch the Maleant backup box to Gavin's company, Hooli. "Success Failure" finds this super-rich duo ecstatically toasting an enormous deal they've made to construct the boxes in China. On the private jet, Action Jack convinces the pilots to fly him to Jackson Hole before dropping Gavin off in Mountain View. Now, Mountain View is in California, which is closer to Shanghai than Jackson Hole's state of Wyoming, but Action Jack still gets his illogical wish. After all, he is the master of the Psychological Foot Massage.
Gavin, on the other hand, is the master of petty vindictiveness. He flies his trusted security adviser Hoover (Chris Williams) 20 times between Shanghai, Jackson Hole, and Mountain View to see if dropping off Action Jack first took less time. It didn't — Action Jack's stop cost Gavin a measly 28 extra minutes of travel time. Those unnecessary extra trips also cost Hooli shareholders millions of dollars. But that's how it is when you're rich and privileged in the Valley. With the Gavin-Jack feud, Silicon Valley continues its series-long commentary about the absurdities perpetrated by tech big shots. This is just the latest in a long line of pissing contests.
Speaking of pissing contests, Monica's decision to vote against Laurie's ouster of Richard has resulted in her being relocated to a much smaller office with a clear view of the men's room urinals. Every time someone opens the door, Monica gets to see what the Raviga men are packing. She sees another, more figurative Dick when Richard visits with big news: He's going to pivot Pied Piper in order to create a "new Internet." Monica is stunned. Despite the financial problems, PiperChat is working with enviable skill. Of course, Richard hates PiperChat. Plus, his idea has been given credence by the biggest dick of them all, venture capitalist and Tres Comas tequila drinker, Russ Hanneman!
Readers of these recaps know I hate Russ Hanneman the way programmers hate salespeople. But I gotta hand it to writer Alec Berg for giving Russ a profane rant that is not only insightful, but also fuels that sexy online Jared-Richard fan fiction I keep saying I don't read. "You don't believe in that video chat," Russ begins. "It's like you're trying to date a woman but you're really gay. You want to plow a dude!" "Okay," Richard acquiesces reluctantly. "What dude?"
"Jared!" I yelled at my TV. "You want Jared, the guy who paints your fingernails and stares lovingly at you! Go to him!"
Russ then lists a whole slew of gay-men types, including bears, otters, twinks, and a "Donald Duck," which is a new one for me. "If you're gonna spend all day fucking," Russ continues metaphorically, "shouldn't Pied Piper be a dude you wanna fuck?!"
Putting Richard on the spot, Russ demands Richard decide what he wants from Pied Piper. Richard reveals "a new internet," one that's run using everybody's cell phones and is free from spying, government interference, firewalls, and tolls. It's an idea that makes me think this season will be all about Richard succumbing to his own delusions of grandeur. Based on this episode, it also appears Richard will keep the orneriness and the occasionally maddening inflations of ego he embraced last season. I look forward to this potentially sweet aggravation.
"Success Failure" ends with two ousters. The first is self-applied: Rather than face a mutiny by his Pied Piper staff, who are damn tired of all that pivoting, Richard quits. He allows his algorithm to be used for free by PiperChat and suggests that Dinesh would make a great CEO. Shockingly, Gilfoyle agrees to have Dinesh as his boss, if only so he can have a front-row seat when Dinesh crashes and burns.
Over at Hooli, Gavin "promotes" Action Jack. But instead of sending him up to the useless place on the roof like he did Big Head, Gavin sends Jack four basements deep under Hooli where he meets that ponytailed server guy from "Meinertzhagen's Haversack." He shows Jack to his new office. It's a closet-size server cage complete with a better view of the men's room urinals than Monica's.
Looks like a great season awaits us, and unless I get into the wrong Uber, I'll be here for my fourth go-round as your humble recapper.