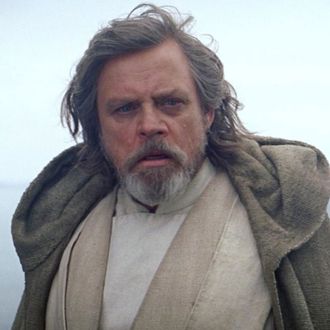 Mark Hamill as Luke Skywalker.
Good news for Aquaman: Disney released its updated schedule of opening weekends for its next 15 blockbusters, and the water-loving superhero won't have to compete with a Star Wars movie. Episode IX, due May 24, 2019, will return to the series' summer-release schedule, against Robert Downey Jr.'s Dr. Dolittle movie. (Force Awakens and Rogue One both had fall/winter openings for the first time in series history, while the Han Solo spin-off will first bring Star Wars back to the summer when it debuts May 25, 2018.) This means winter 2019 movies — including Aquaman (December 18), Fantastic Beasts 2 (November 16) — won't have to worry about losing out to Kylo Ren & Co. Instead, they'll go up against Frozen 2, which Disney is planning for release on November 27, 2019.
The live-action Lion King will now open July 19, 2019, according to Disney's release, taking the weekend previously planned for Indiana Jones 5. See the full list of updated Disney release dates below.