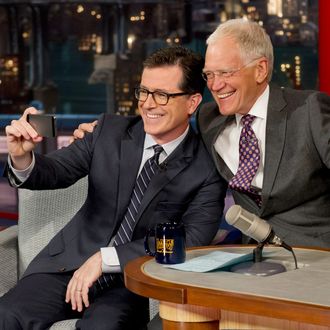 Colbert and Letterman.
Photo: Jeffrey R. Staab/CBS via Getty Images
Watch out, Leslie Knope: There's a new star gift-giver in town. In a new interview with The Hollywood Reporter, the Late Show host mentions that he gave his now-iconically bearded predecessor David Letterman a particularly special Christmas gift. "Before I even started the show, I was like 'Okay, where do I want to stand, where do I want to do the monologue?' I said, 'Yeah, I want to stand here.' And I looked down, and I literally was straddling his dot where he did his monologue," Colbert said. "As we were renovating the theater, I said, 'Can you please have this taken up and have it cleaned and framed?' It was just a blue square of floor material with a red dot painted on it. It was in the corner of my office for over a year. It looked like art. People thought it was an Ellsworth Kelly or something; it really was quite beautiful."

As time went on, though, Colbert realized there might be a better home for this special little artwork. "I said, 'Why aren't I hanging that up? Oh, I know why. It's not mine. It's Dave's,'" he continued. "So I mailed it to him and said, 'Nobody who visits my office can figure out what this is. I hope you do.' And I said, 'It's not mine; it's yours. Merry Christmas.'" Letterman was apparently thrilled with the gift and wrote a "lovely" note back to Colbert to express his gratitude. So, what's your gift exchange like, Seth and Jimmy?