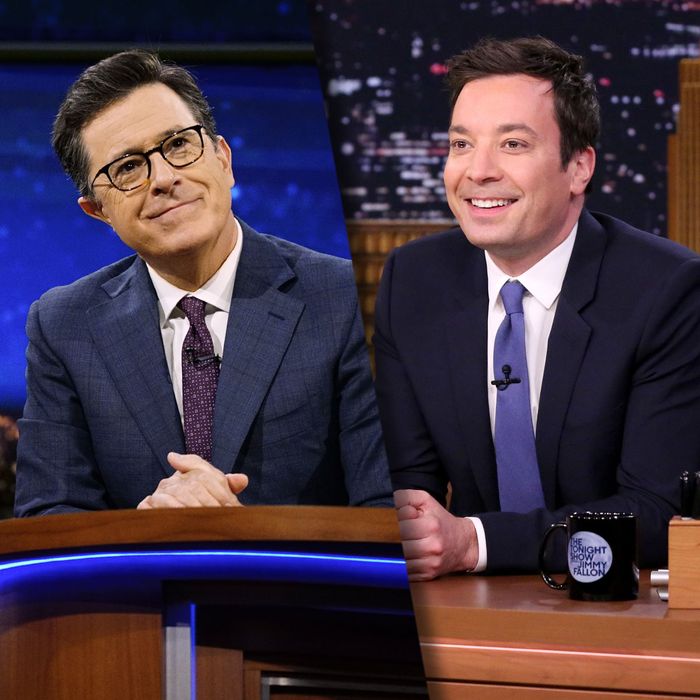 Photo: Scott Kowalchyk/CBS; Andrew Lipovsky/NBC
Stephen Colbert's Late Show has been TV's most-watched late-night talker for three months now, a string of victories that has put him tantalizingly close to an even bigger — and once unthinkable — triumph: winning the 2016–17 television season outright.
With about a month left before Nielsen closes the (ratings) book on its official measurement period, The Tonight Show With Jimmy Fallon's lead over its CBS competition has shrunk to a mere 67,000 viewers. There's not much time left for Colbert to close that gap, but industry insiders say it is possible he'll catch Fallon, assuming he can continue beating his NBC rival by the same margins as recent weeks. If it happens, it'll be a massive turnaround from where Colbert was a year ago — and the first time since the Clinton administration that CBS can claim a clear-cut win in late night.
Colbert's comeback story is most impressive when you consider where the race for viewers stood just a year ago. As the chart below illustrates, at this point in the spring of 2016, Tonight's overall audience of 3.783 million viewers was nearly one million more than Late Show's inaugural season, which was averaging 2.911 million viewers. Fallon's nightly audience was about 30 percent bigger than Colbert's that year. One year — and one President Trump — later, Fallon's season-to-date average is a minuscule 2 percent better than Colbert's, and shrinking. Even if Colbert can't quite pull out the win by the end of May, he'll have rallied from being a distant second to finishing in a virtual tie with his time slot competitor. What's more, he'll have done so by growing his audience by about 8 percent during a TV season in which almost every entertainment show in prime time, broadcast and cable, is losing eyeballs.
A Colbert win would also be an important psychological sea change at CBS. Save for the first years of Late Show With David Letterman, when Dave easily beat Jay, CBS has historically always played second fiddle to NBC in late night. Johnny Carson's Tonight Show dominated for nearly three decades, and Jay Leno spent the bulk of his Peacock tenure at No. 1. The last time a CBS late-night host could claim a win over a NBC late-night host for a full season was in the spring of 1995, when a Winter Olympics–boosted Letterman celebrated his second, and final, triumph over Leno. (The 2009–10 season has to be seen as something of an asterisk in the history books, split as it was between Conan O'Brien's last five months as Tonight host and Leno's bizarro return. The tumult did allow for Letterman and Late Show to end up with the most viewers during the 2009–10 season, if you compare his audience to the averages for both O'Brien and Leno. But Leno started beating Letterman almost immediately upon his return in March 2010, and never looked back until he retired — again.)
As much as Colbert beating Fallon would make for an awesome CBS press release, it's important to keep in mind that Fallon's Tonight Show is not anywhere close to collapsing. Indeed, Fallon is still a comfortable No. 1 in the ratings demographic that matters most to (most) advertisers: adults under 50. By that metric, Tonight (0.83) is nearly 20 percent ahead of Late Show (0.66) for the season to date, putting NBC in a good position to snag more money from ad buyers when networks start selling commercial time for next season later this spring. In recent weeks, Fallon has also been widening his demo lead over Colbert, perhaps indicating Colbert's Trump bump has faded just a tad — or, just as likely, the return of The Voice to NBC's schedule has boosted young-adult circulation at the Peacock. Fallon certainly can't be happy about his Nielsen declines, but where it counts most — NBC's bottom line — the former SNL star is still delivering a win. Plus, unlike during Conan's brief reign at Tonight, Fallon has the complete confidence of his network's bosses, not to mention the backing of producer Lorne Michaels.
So what does this tight race in overall audience mean for viewers and the hosts? Well, for one thing, expect the booking wars between Tonight and Late Show to be fierce in the weeks to come. Colbert and his producers will likely be trying to lure every A-list star they can think of in the hopes of getting the sort of bounce Alec Baldwin delivered last week. It wouldn't even be surprising if Colbert went live for a night or five, though there's been zero suggestion any such stunt is in the works. Fallon could also try to pull a few tricks, given his vast network of showbiz buddies. Assuming he's available, it's not hard to imagine Justin Timberlake making an appearance before the end of May. Longer term, the challenge for Fallon will be to not panic and start making radical changes to his format. Colbert, meanwhile, has to constantly monitor just how much interest his audience has in Trump-related monologues and bits, or whether audiences start to tire of the political focus as Trump settles in. And then there's this: Ratings for linear TV networks continue to decline, and quickly. Younger viewers in particular are less interested than ever in watching a late-night show. No matter who's No. 1 a year from now, odds are both Colbert and Fallon's biggest rivals won't be each other (or Jimmy Kimmel), but rather the allure of on-demand streaming services such as Netflix and Hulu.