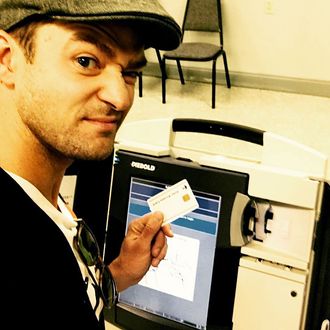 Citizen Justin Timberlake.
Photo: Courtesy of Instagram/justintimberlake
Last October, while bringing sexy back to the voter booth, Justin Timberlake inadvertently broke a Tennessee law by posting a selfie of the polling station on Instagram. Though the case was "up for review" — the "Cry Me a River" singer was looking at a potential $50 fine and up to 30 days in jail — it seems like he might be off the hook. According to Billboard, the state passed a bill recently that allows photography and videotaping devices to capture filled-out ballots. Selfies in polling stations are now allowed, except in the case of intimidation, fraud, or vote-selling, which are all still illegal no matter how great your duck face is. So when it comes to the 2018 elections, go ahead, Justin, rock your body rocking that vote all over social media.