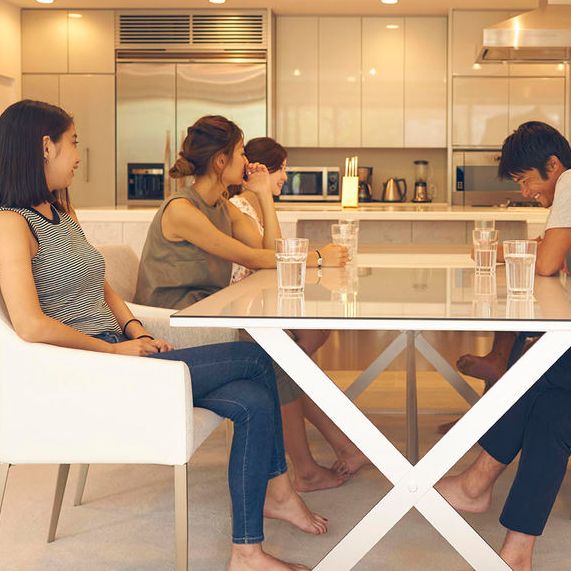 Terrace House.
Photo: Netflix
The appeal of most American reality TV is simple: Whether it's The Bachelor, Survivor, or The Real Housewives franchise, viewers are there for the drama. While the dramatic web of lies the cast of Vanderpump Rules spins to entrap one another is worthy of its own Shakespearean play, I've found a far more subdued reality show from across the world that's just as (if not more) fascinating to watch.
The Japanese reality show Terrace House, which ran for eight seasons in Japan on Fuji Television before it was rebooted as a Netflix/Fuji co-production in 2015, has a premise that's similar to that of The Real World in that it involves filming the interactions of six young adults who live together in a sleek, modern house in Tokyo (Netflix's new Hawaii-set spinoff Terrace House: Aloha State is equally charming, though we recommend starting with the original, Terrace House: Boys and Girls in the City). But that's where the similarities end. The show's mission statement, which is read at the beginning of every episode, declares that we will "observe" how these six strangers interact. And it takes that observing part very seriously: This is a show that is more about dissecting mostly mundane interactions between normal people than it is about explosive fights or scandalous hookups. So why is a show so devoid of drama so addicting?

1. It's full of lifestyle porn.
The first thing you'll notice when you watch Terrace House is the house itself. The show isn't shy about showcasing all its amenities, from its jacuzzi tub to its luxuriously large kitchen to its fashionably minimal white and grey furniture. Everything, including the housemates themselves, who dress with the same kind of understated style you'd see in a Muji store (it helps that many of them model at least part-time), is damn pleasing to look at. Where other reality shows sacrifice camera work to capture the drama, Terrace House seems more concerned with getting the lighting just right to get the prettiest shot of a couple's first date or a close-up of a particularly delicious meal one of the residents is cooking. The result is that Terrace House is the rare reality show that develops a sense of place, making it a great and calming show to put on to unwind.

2. The thoughtful discussions of feelings.
Perhaps the most fascinating part of Terrace House from a Western perspective is how virtuous the show and its contestants seem without being saccharine. Sure, members drink, occasionally disagree, and have sex (though that last one allegedly takes place mostly in the house's Japanese-style room for couples and is for the most part left offscreen). But while American reality shows have given the saying "I didn't come here to make friends" near-comical ubiquity, the default preference in Terrace House is that everyone gets along. It treats conflict like a stain that everyone must diligently help to remove (there's plenty of collective house cleaning, too), and it's genuinely shocking how maturely the residents confront each other to discuss how specific actions affected their feelings.

3. To get a glimpse of an entirely different dating culture.
Though it's tough as a Western viewer to parse just how much of the show's unique qualities are the result of cultural differences, it's safe to say that the way residents on Terrace House date is quite different than the regimented, hyperromantic settings on The Bachelor or the casual drunken hookups on shows like The Challenge and Vanderpump Rules. Dates on Terrace House often involve grabbing food or checking out a local tourist attraction; they're usually not overtly romantic and are used to get to know each other. Because kissing and even hand-holding generally don't happen until after a couple makes it official (usually with a kokuhaku, or confession of love, after which the couple is effectively going steady), these dates become all about analyzing the minute details of their interactions. (She put ointment on his cut! She must really like him if she's willing to touch his oozing wound!) Which brings us to one of the most crucial and entertaining aspects of this show …

4. The commentary.
Since Terrace House doesn't have confessional interviews, we don't get any extra insight into what the residents are thinking or feeling. Thankfully, though, a group of six Japanese commentators — a mix of comedians, actors, and other on-air personalities — check in periodically throughout the episode to discuss their feelings and crack jokes. While this is probably the most jarring part of watching Terrace House at first, it's the feature with the biggest payoff: The hosts have great chemistry, and their often genuinely insightful commentary gets looser and increasingly innuendo-filled as the season progresses.
5. Because members know when they've overstayed their welcome.
There's nothing worse than a reality show character whose grating presence threatens to derail your enjoyment of the entire show. While there aren't too many grating characters on Terrace House, it helps that the show's loose structure allows residents – who still attend school or work – to decide when they've had their fill of appearing on the show (once they leave, they get replaced by someone new, and it always gives the show a jolt of energy). It's hard to imagine any reality star in America seeing themselves out for reasons as innocent as "I finished my important architecture exhibit and it's time to think about my next professional move," but honestly, that's usually what happens, and every member leaves voluntarily at some point. And the house always gives them a tearful goodbye!
6. Because there is an entire episode arc involving a "meat crime."
Sometimes, you leave meat in the freezer and it is not to be touched under any circumstances. Spoiler: There are tears.