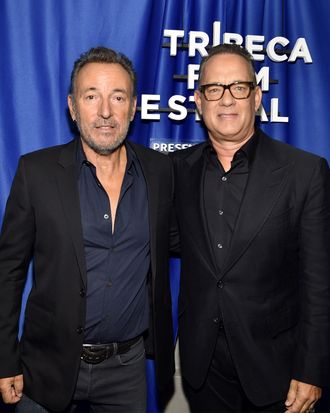 Springsteen and Hanks.
Photo: Kevin Mazur/Gettty Images for Tribeca Film Festival
On Wednesday, beloved filmmaker Jonathan Demme died at 73. While Demme won an Oscar for directing The Silence of Lambs, his subsequent film, Philadelphia, is regarded as some of his most groundbreaking work. Coincidentally, Tom Hanks and Bruce Springsteen — both of whom worked on the film — were already scheduled for a joint appearance as part of the 2017 Tribeca Film Festival, even before Demme's passing. As soon as the two sat down at the Beacon Theatre, the conversation went straight to Demme. "God bless Jonathan Demme. We just lost him," said Hanks, who won an Oscar for playing a gay man dying of AIDS in the film. Springsteen won his own Oscar for best original song for the film. "He was such an inspirational guy," he said. "With no Jonathan Demme, there's no Philadelphia. And with no Philadelphia, there's no 'Streets of Philadelphia' for me."
Hanks was there at the Tribeca talk — which counted Malia Obama and Hanks's wife, Rita Wilson, in the audience — to interview Springsteen about his memoir Born to Run. But Hanks's first order of business was requesting that Springsteen share the impressive origin story of "Streets of Philadelphia." Springsteen, it turns out, was not the first musician Demme had called to soundtrack the film. "He had Neil Young working first, so Neil had 'Philadelphia,' which ended the film. And Demme wanted a rock song for the beginning," Springsteen recalled.
Springsteen shut himself in his studio for a day but came up empty, save for some lyrics. Then, finally, he found the heart of the song. "Demme had sent me that opening piece of film where the camera moves slowly through Philly," Springsteen said. "Eventually, I came up with that tiny, little beat and I figured it wasn't what he wanted, but I sent it to him anyway and asked, 'What do you think?'" Springsteen heard back from Demme and, in two days, made the song that went on to define the film. "You couldn't have pounded out something from a G, with an A with a D chord in it?" Hanks joked of Springsteen's ease in making the song.
Hanks said he credits the song with giving both him and Demme film's an iconic sequence: "If you ever want to have a great moment in a motion picture, walk out a door and make sure they just put up a Bruce Springsteen song."