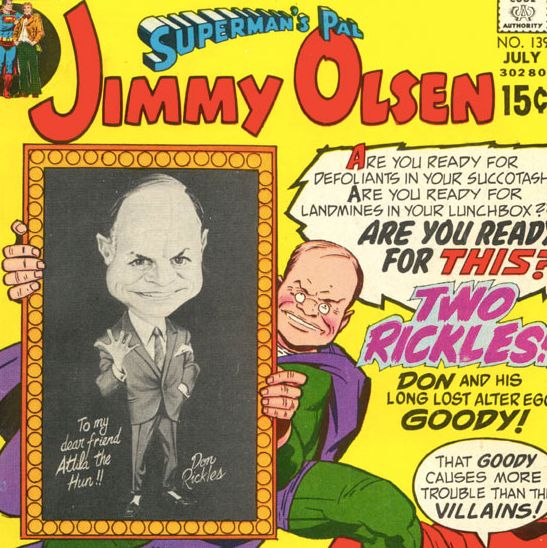 Excerpt from Superman's Pal Jimmy Olsen.
Photo: Jack Kirby; Vince Colletta/DC Entertainment
Few mediums are as prone to oddity as the American comic book, and few comics creators were as capable of imagining the strange and uncanny than the late writer-artist Jack Kirby. But even for Kirby, issues 139 and 141 (issue 140 was a giant-sized retrospective issue with reprints of old Jimmy Olsen stories) of Superman's Pal Jimmy Olsen, published by DC Comics in 1971, are supremely bizarre. It's not the presence of alien spacecraft or faster-than-light travel that sets it apart — no, it's the introduction into the DC mythos of none other than Don Rickles.
In fact, not only did Kirby deliver the famed insult comic, he even dreamed up a cape-wearing doppelgänger named Goody Rickels [sic], a "sweet, lovable soul" whose dunderheaded antics inadvertently help defeat space aliens. In honor of Rickles, who just died at the age of 90, let us revisit his delightful and borderline incomprehensible escapade from the hands of a sequential-art master. As Kirby asked on the cover of the first issue: "Are you ready for defoliants in your succotash? Are you ready for landmines in your lunchbox?? Are you ready for this?" If so, let's begin with the appropriately weird origins of the saga.
The Rickles pitch began not with Kirby, but with his young assistants, Mark Evanier and Steve Sherman. Evanier recalled the backstory in a 1997 panel at the San Diego Comic-Con:
Steve and I, at the time, were enormous fans of Don Rickles. Like many people at that time who were our age, we all went around doing Don Rickles, insulting each other. Rickles used to say, "I never picked on a little guy, I only pick on big guys." Somehow, this gave us the idea that we should have Don Rickles make a cameo appearance in Jimmy Olsen to insult Superman. It was gonna be like a three-panel thing. So we wrote out a couple of pages of Don Rickles insults. One of them was, "Hey, big boy, where're you from?" And Superman says, "I'm from the planet Krypton." And Rickles says, "I got jokes for eight million nationalities and I've gotta run into a hockey puck from Krypton!"
So we took these out to Jack. Jack was a big fan of Rickles. And he says, "That's great, that's terrific." And, of course, he used none of it. He said, "We've gotta get permission from Don Rickles for this." So Steve contacted Rickles's publicist, and they gave us permission to have Don Rickles do a cameo. Then Jack tells [DC Comics publisher] Carmine Infantino about it, and Infantino thinks this is great; this is something promotable; it's gotta be a two-issue story arc. So instead of us writing two pages, it's now Jack writing two issues.
And what issues they were. The first cover, in addition to querying about succotash, promised "TWO RICKLES! Don and his long lost alter ego Goody!" and depicted a bespectacled Rickles look-alike in purple-and-green superhero garb leaping into the air while holding a photograph of Don. "That Goody causes more trouble than the villains!" a stern Supes says while running behind the oddball.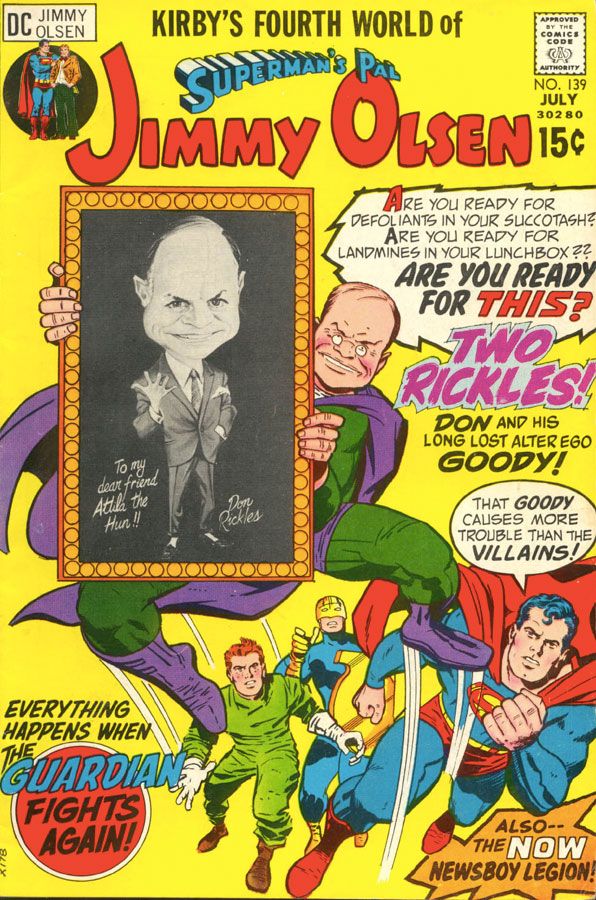 Only after nine pages of the series' preexisting story arc about a crime-fighter named the Guardian and his gang of kid sidekicks, the Newsboy Legion (why they're called that is a whole other strange story), working alongside Superman and Jimmy venturing from a secret science collective to Metropolis. Then the real action starts. We cut to the executive suite of corporate raider Morgan Edge, a media entrepreneur who owns a broadcasting company and has taken over The Daily Planet. After some chatter about Jimmy and Clark Kent, Edge, out of nowhere, asks his assistant, "How are we progressing on those contracts for Don Rickles?" She replies, "Oh, Mister Edge, I just hope Don signs with us! He's such a funny man!"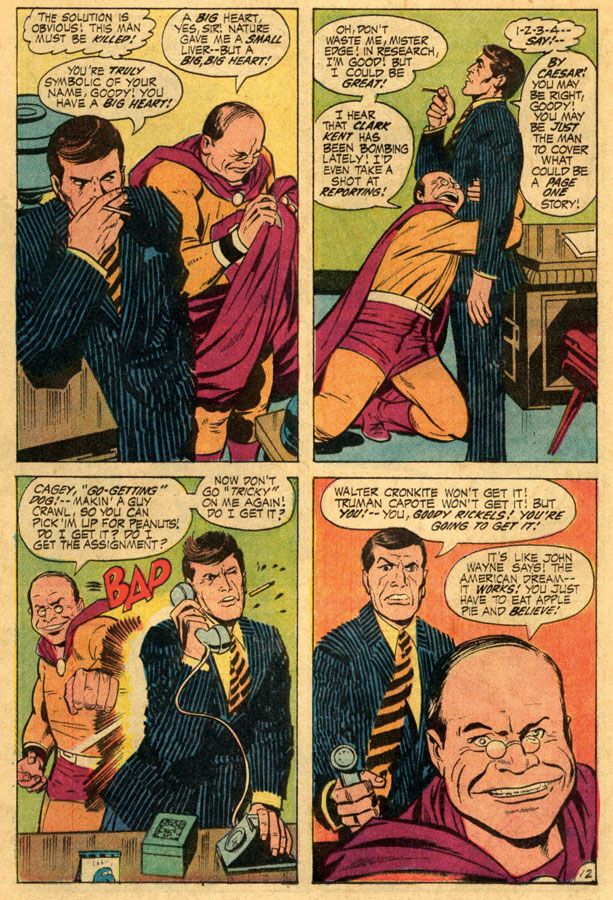 Edge says he'll be able to snag the funnyman (presumably for a TV show, though there's no such explanation); the assistant enthusiastically says they'll "have two of them now! Don — and his 'look alike!'" She's speaking of Goody Rickels, a staff researcher, whom Edge apparently loathes. "If the real Don Rickles and this yo-yo ever bump into each other — it'll be utter chaos!!" he thinks to himself. And in walks Goody, dressed in a superhero getup that he confusingly says "some of the fellows in another office" forced him to wear. He begs Edge for a promotion and spouts non-sequitur dialogue that doesn't quite work as humor, though it's unclear if that's intentional on Kirby's part. For example: "Nature gave me a small liver — but a big, big heart!" and "It's like John Wayne says! The American Dream — it works! You just have to eat apple pie and believe!"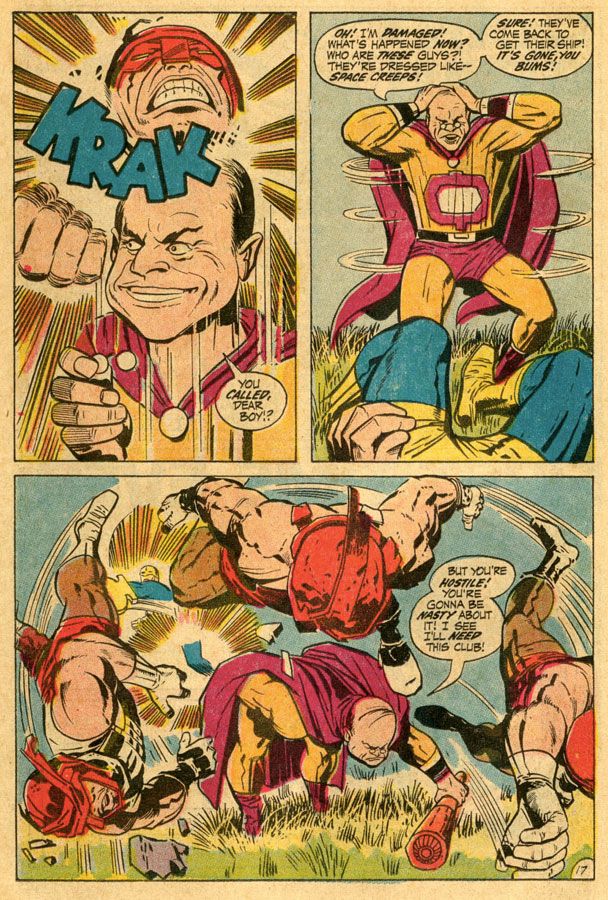 Edge decides he needs to kill off the maddening Goody and sends the man to investigate a UFO. Supes, Jimmy, and the Guardian show up at the same UFO, and aliens (or "space creeps," as Goody puts it) attack them. Terrified and clumsy, Goody doesn't know how to fight, but survives and even defeats some baddies through slapstick luck. The issue ends without Don actually appearing, but the next chapter promises his arrival in its bizarre title: "WILL THE REAL DON RICKLES PANIC?!?" Don arrives at the GBS offices and, while parading past a crowd of autograph-seekers, declares, "Relax, you cockamamies! You're liberated! The Nazis are gone! That's right! I just saw General Patton grab von Rundstedt!" Ever the disser, he calls a zaftig lady a "runaway locomotive"; tells Edge's assistant, "Get yourself a bikini and start a chain of heart attacks at a garden party!"; and curses the assembled masses by yelling, "And may the gods rain on your memos!"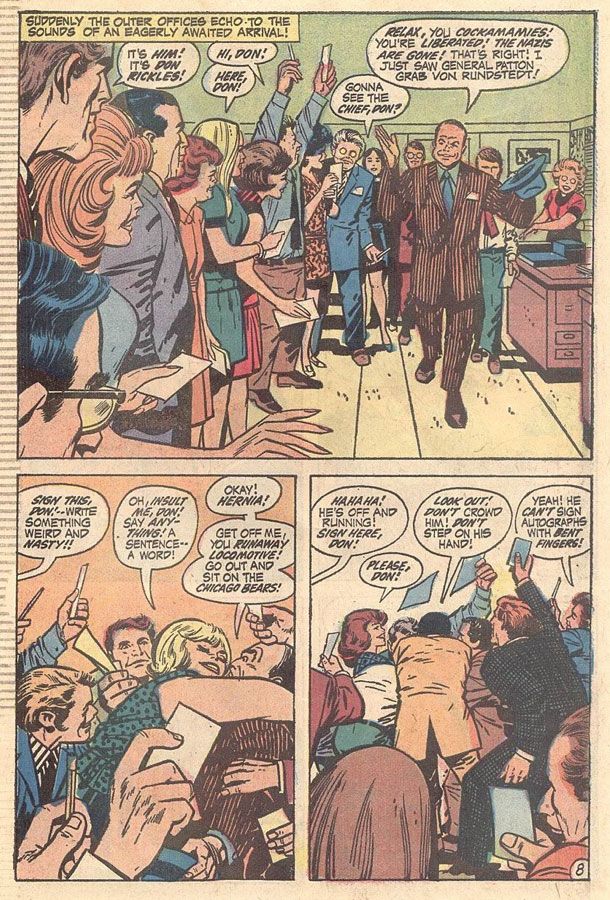 Then comes the moment you've been waiting for: Goody returns to GBS and meets Don. "I-I-I-I — I think I'm going — bananas!" the latter cries upon seeing the Goofus to his Gallant. Goody reveals that the UFO encounter left him infected with some weird science-fiction-y ailment that's killing him, and the unsympathetic Don wanders off to read a book while all the mishegoss sorts itself out, which it does. Don's odyssey isn't done, however — Superman shows up, as does a bomb-disposal squad that got a report of a human bomb (i.e., Goody), and an exhausted Rickles runs after the latter, declaring that he is the bomb, and therefore needs to be evacuated. Goody screams after him for an autograph, but is denied one. The squad lift Don away and one of them, noting the comedian's declaration of his status as a bomb, delivers the punch line to the whole cameo: "Poor guy! With your routine — this had to happen!"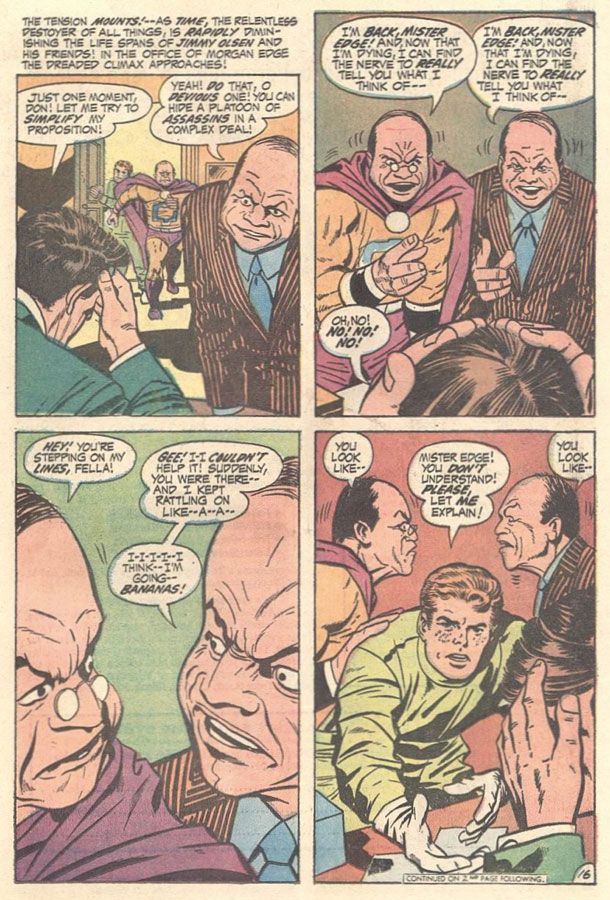 Alas, the real-life Rickles was just as displeased as his four-color counterpart. According to Evanier, Rickles "felt exploited" by the story — it had been pitched to him as a brief cameo in which he insulted Superman, but the finished product was long, bizarre, and featured no such insult. Years later, when asked about the comic on a talk show, he frustratedly told the host to put it away. It's also not one of the better-remembered Kirby stories, so the whole thing has more or less been left on the dust pile of comics history.
The whole story is easily one of the craziest and least sensical of Kirby's illustrious five-decade career, but its wacky ambition is admirable. If you're wondering what the whole deal behind the inclusion of Goody is, you're never going to find much of an answer: Kirby had an expansive imagination that regularly conceived of ideas that even he couldn't explain. He also managed to capture Rickles's face remarkably well and his jokes, though often incomprehensible, are at least fresh and not simple carbon copies of existing bits. Though sadly out of print, it's worth digging up this oft-forgotten story to see one of the most interesting appearances of a comic in a comic.