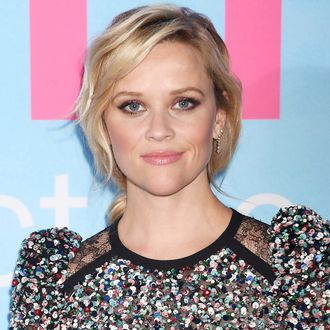 Photo: Jeff Kravitz/FilmMagic
Reese Witherspoon has really fine-tuned her brand of being a relatable yet aspirational woman who is a master of both home and industry. In that spirit, Reese took some time out during her "spring break" last Friday to sit down with fans for a Facebook livestream in which she told everyone to get excited for the Big Little Lies finale, and gave by-name shout-outs to dozens of people who tuned in to watch. It's a fascinating exercise in star power watching Reese casually field hello after hello, and repeatedly (but genuinely) say, "Thank you!" and "I love that!" to compliments we the viewer cannot see. We can, however, say definitively that Reese loves how much you love her movies, particularly Legally Blonde, Cruel Intentions, Wild, Water for Elephants, and Freeway. We can also tell you there are a few places Reese loves, including Guatemala, New Zealand, the ocean, Alabama, Pittsburgh (her husband's hometown), Australia, South Carolina, the bridge in Big Sur you see in the opening credits of Big Little Lies, and Huntington, West Virginia. Another popular Reese-ism you'll find here is "That's so cool!" — which she might say if you told her you always quote Legally Blonde or that you're from Ireland.
The video has been viewed almost 600,000 times since going live last week, but if you haven't treated yourself to 25 minutes on a roof deck in the Caribbean with Ms. Draper James herself, we've assembled the highlights below. Reese is fighting an ocean breeze the entire time she broadcasts, and even though she could have just gone inside to not worry about it anymore, Reese had a damn vision, and not even the weather was going to compromise that. Her greatest hits are as follows:
1. When she starts out the stream by finding her light and tilting her head ever so slightly to the side while smizing into the camera.
2. When she says, "Hola, Lupita!" with adjusted accent inflections.
3. When a man named Bubba says hello to her, and she responds with, "Just a good old Bubba from Georgia!" in her best Southern accent.
4. When we learn that no, she can't tell you if Alexander Skarsgård wore a prosthetic for the scene in which Nicole Kidman hits his penis with a tennis racket.
5. When she tells people to message her on Facebook if you have great ideas for a possible Big Little Lies second season, and really sounds like she'll read them all.
6. When she tells Susie she loves boiled peanuts because, according to her, "They're delicious."
7. When she says she loves monogramming with no context.
8. Any time she sounds more Southern because someone from the South is saying hello.
9. Any time she adjusts her hair out of her eyes.
10. When she seemed genuinely delighted that someone's favorite movie is Freeway, which she "loved making," because it was "really fun."
11. When she tells Vanessa she loves "Madeline," and pronounces it the wrong way like Renata does in the show.
12. When she told Francesa, "I see you," and Francesa has surely never felt more seen in her life.
13. When Noel said Reese didn't include her name when Reese said hello, but Reese assures her she definitely did. (And yes, she did.)
14. When she leans into the camera and places her chin on her hand as she says hello to Philip and proves what it means to be a star.
15. When she taunts Jen in "cold Maryland" by saying, "Do you guys wanna see the beach?" and shows everyone the coastline view from the deck of her Caribbean vacation home.
16. When she acknowledges her shout on Girls by thanking "Andrew Rain-els."