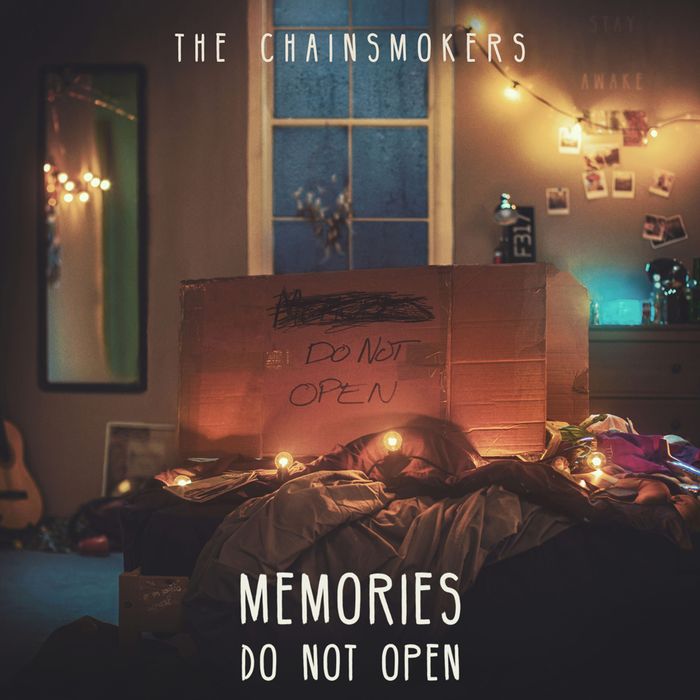 Nostalgia is pop music's topsoil. Our affection for our favorite songs often stems from their ability to either transport us back to simpler times or revisit bygone rough patches, to remember how we made it out. New York EDM duo the Chainsmokers sell this — and little else — in a growing catalogue of hits that started with the torrid novelty song "#SELFIE" but turned a corner on the bombastic, romantic "Roses" and "Closer" and never looked back. The group's debut album Memories…Do Not Open presents 13 variations on the latter song's winsome breakup drama. As with the Bouquet and Collage EPs before it, each cut is a too-clean EDM–piano-pop hybrid that's ultimately only as intriguing as whatever voice happens to be delivering the lyric.
More and more, the voice of the Chainsmokers is that of its singer-songwriter and producer Andrew Taggart. (According to a Billboard interview last fall, Taggart's partner Alex Pall's role in this group is that of DJ and fixer for outside guests; tellingly, his name appears in Memories' credits exclusively as executive producer and engineer for the hit single "Paris.") Taggart's an unpolished, unfussed writer and singer whose arch creative muse is regret. Many of the memories collected here appear to be times he screwed things up with a friend or an ex. "Honest" is about blowing off a girl to do rich-people shit, as is "The One." "Young" sums his entire deal up in a single line: "We're learning to love, but it's hard when you're young."
The Chainsmokers' growing list of big, sad "I'm sorry" songs float because their message is simple and universal, but greatness eludes them in part because Taggart's delivery is plasticine and ordinary. Memories lags in the stretches where it's just him singing because his songs ape the same loud-quiet sad-boy dance-pop ethos as Coldplay's "A Sky Full of Stars," but to cloying returns. Ironically, it isn't until the actual Coldplay shows up on "Something Just Like This" that Memories stops feeling like it was assembled in a factory. Elsewhere, pop scribe Emily Warren breathes warmth into "Don't Say" and "My Type," and closer "Last Day Alive" receives a lifesaving care package of vocal harmonies from country duo Florida-Georgia Line. The best cut here is "Wake Up Alone," where Jhené Aiko sells a lyric about loneliness and fame better than Taggart could because she's soulful and earthy, and this group so clearly is not.
It's hard to settle into this stuff because Memories…Do Not Open doesn't strive for much beyond polished hooks and drunken regret. There's nothing new happening. Textbook piano-pop and emo records nail Taggart's plaintive longing with greater depth and specificity. EDM predecessors like Porter Robinson's Worlds and Madeon's Adventure got this pop-dance hybridization swinging, where Memories prefers to two-step. Pinning the heartbreak of the former to the big choruses of the latter isn't a novel idea, and the Chainsmokers' specific mix of the two often takes away from their potency. It doesn't transform a room when it's playing (although "It Won't Kill Ya" and "Wake Up Alone" do run energy levels up a notch, and "Last Day Alive" makes serviceable M83 cosplay). It doesn't make you feel much or even dance very hard.
This is music tailor-made for drinking and thinking about the recent past. The demand for that will likely increase as our recent past begins to look sexier in our rearview, but the Chainsmokers are going to have to serve something smarter than "She wants to break up every night / Then tries to fuck me back to life" next time, if they're to register as anything other than high-school-prom dance fodder. Memories…Do Not Open cracks the box and peeks at old mementos but fails to say anything remarkable about them. The story of your past is only as profound as what you've learned from it.