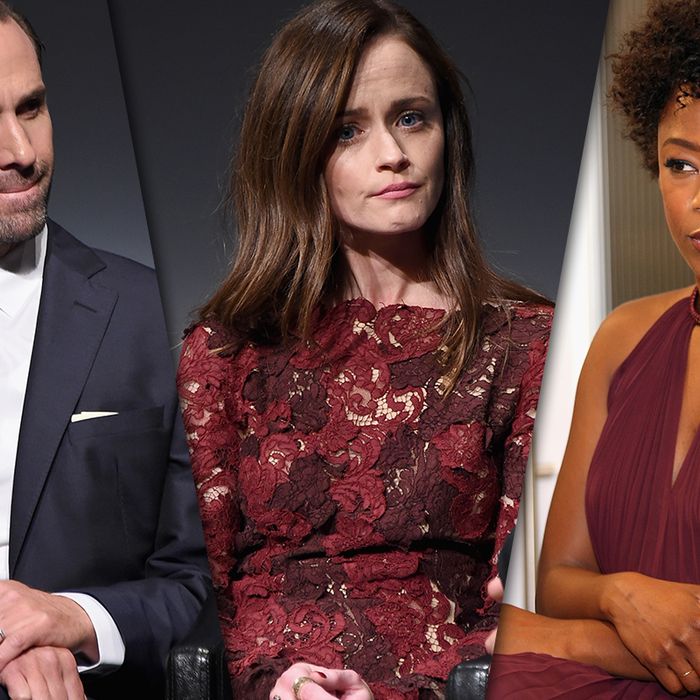 L-R: Joseph Fiennes, Alexis Bledel, Samira Wiley.
Photo: Michael Loccisano/Getty Images for Tribeca Film Festival/ Marchant/Getty Images for Hulu
In an introduction for the rerelease of her dystopian classic The Handmaid's Tale, Margaret Atwood addresses the question of whether the work is "feminist." "If you mean an ideological tract in which all women are angels and/or so victimized they are incapable of moral choice, no," writes Atwood. "If you mean a novel in which women are human beings — with all the variety of character and behavior that implies — and are also interesting and important, and what happens to them is crucial to the theme, structure, and plot of the book, then yes. In that sense, many books are 'feminist.'"
Elisabeth Moss, star of Hulu's adaptation of Handmaid's, caused a stir over the weekend when she stressed humanism over feminism in the story, saying, "It's not a feminist story — it's a human story, because women's rights are human rights." The ensuing blowback prompted Margaret Atwood to tweet that she simply needed to add a "only" and an "also" into the sentence. Moss has since clarified her statements, telling HuffPost, "I'm not sure that that was exactly what I was trying to say, or what we were trying to say," hours before Hulu released the first three episodes to stream. "I wanted to say ― and I'll just say it right here, right now ― OBVIOUSLY, all caps, it is a feminist work. It is a feminist show."
Vulture posed the same question to the rest of the show's cast, Alexis Bledel, Samira Wiley, Yvonne Strahovski, Joseph Fiennes, and showrunner Bruce Miller: Is The Handmaid's Tale feminist? Here's what they had to say.
Samira Wiley
Absolutely, I do. I think that it's plain and simple. It's very self-explanatory in the book. It can't really be labeled as anything else. I think maybe some of what my castmates were saying got a little bit misconstrued. The message that was trying to get across was there are people out there who don't identify as feminists that can get so much out of the show as well. It is for feminists, it is for people who are also possibly afraid of that word.
The society of Gilead has really been orchestrated primarily by the men of the society. The constructs they put into place are pitting women against each other. And honestly, I think that that is what really, really keeps them down, is how they've hired women at the top of society to have this false sense of authority over one another, and that's how they're able to keep each other down. And it is something that really helps perpetuate the society that they're living in.
Alexis Bledel
I think that, because women's rights are human rights, it's both. Calling it a "feminist" work might limit it to only feminists, but I think that the story's reach is greater than that. That doesn't mean it's not a feminist work. It's both, because it's a woman's story and because women are human.
Joseph Fiennes
It is a seminal piece of feminist literature, and a seminal piece of feminist TV, without doubt. I think that my colleagues were trying to be inclusive from the whole spectrum. That's what I gauged from it, and someone being asked if they play it as a feminist and she said, "No, I play it as a human being, and then the feminism follows." That's what I construed from it, so I think it was more an inclusive comment than saying it wasn't. I don't think anyone would deny it's a feminist piece.
What is a feminist? To me, it's someone who believes in and fights for equality among the sexes. This story lays down that ordeal in the most graphic and horrifying terms, and it's more graphic and horrifying because of how prescient it is. I have two daughters and when they come of age, I'd love them to read this and see this, and I want them to have equal rights, so I'm a feminist on their behalf when I look at the projections of women's pay parity with men.
It's a feminist piece and I think the F word is a really important one. There's no shying away from it. I think we also want to be inclusive though — that this is not just for an audience of feminists. We want non-feminists to look at it and get a handle on this subject.
Bruce Miller
This is absolutely a feminist show. I mean, I hope it's going to be received that way! I'd be thrilled if it was perceived as a feminist show. I always considered it a feminist book and a feminist story, and it was one of the most important books for me in understanding how feminism works together with politics and religion and social interactions in ways that were illuminating to me. This is undoubtedly a feminist story.
In terms of people's reactions, I completely understand how people feel, that this book is very precious, and also that feminism has been cruelly maligned, and ignorantly maligned, just as an expression or a word in the last few years. It's been totally manipulated. So I understand why people would be protective of it and want to make sure that it doesn't feel like something that people can't say.
Yvonne Strahovski
I think, inevitably, it is, and it has to be. First of all, I think feminism has a different meaning for a lot of different people. Feminism is a dirty word for a lot of people, and feminism is an amazing word for a lot of people, and then there's all the in-betweens. I think the show speaks to its audience in however the audience wants to decipher it. But at the end of the day, it is a feminist story. It is a human story. It's a story of tragedy. It's a story of love. But again, I think you have to acknowledge the fact that there are very strong feminist ties.
It's a story where you have women who have lost their rights, and despite the tragedy and the brutality of this story, Offred and the other women still manage to find a way to fight back, and find a way to create their own power and connect with each other and keep going. I think that is one of the most beautiful messages — that despite being squished by authority and power, there is a way to push against it and there is a way to create a sisterhood, and there is a way to unite and be heard.