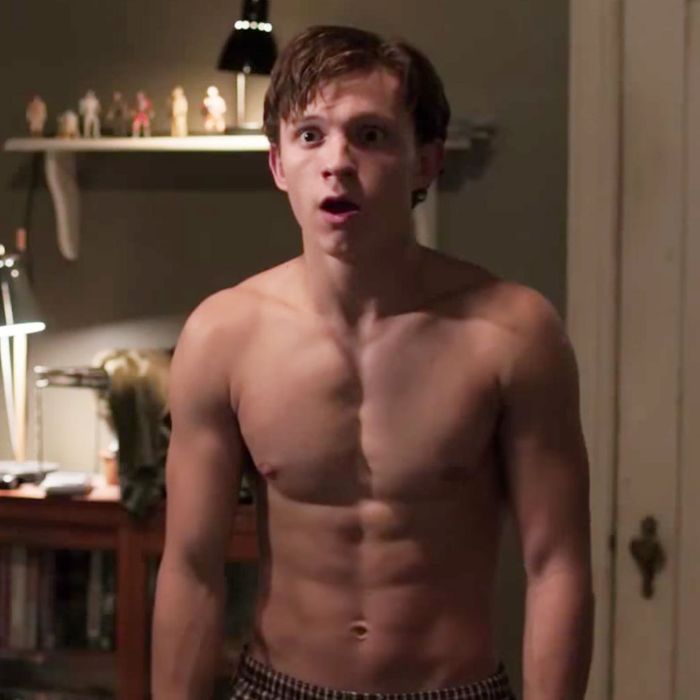 Tom Holland in Spider-Man: Homecoming.
Photo: Columbia Pictures
You can count on three constants in this crazy world: death, taxes, and gratuitous shirtless scenes in Marvel movies. When Marvel shells out to get its actors into superhero shape, the results always end up on the screen, whether the studio is working with a genetically blessed specimen like Chris Hemsworth, a sitcom actor shedding pounds like Chris Pratt, or even a wild card like Paul Rudd or Benedict Cumberbatch.
We learned a lot about Marvel's upcoming movies on a revealing studio tour Monday, but it was a comfort to know that even as the studio barrels through a crowded cluster of films known as "Phase Three," they'll still make time for a pinup shot. In a screening room watching little bits of dailies from Spider-Man: Homecoming, journalists were shown effects tests for Michael Keaton's Vulture and brief glimpses of Donald Glover staring at a high-powered Ultron gun, none of which lasted more than five seconds. The only scene we saw in full was a long alleyway moment where 20-year-old Tom Holland, playing the Marvel Cinematic Universe's version of Peter Parker, sheds almost all of his clothes before hopping into his skintight Spider-Man suit. And while this might be a more lithe web slinger than we've seen onscreen before, Holland's six-pack got a lot of executive-suite appreciation.
"His body is real," volunteered Marvel Studios co-president Louis D'Esposito in what can only be described as a "Dad, stop!" moment.
"We did not do that in a computer," he added.
When it came time to watch dailies for Black Panther, Chadwick Boseman got his own shirtless moment in the spotlight. The first scene we saw Boseman play was the coronation of his character T'Challa, which focuses on Boseman's rippling back as he walks out into a vast area called Warrior Falls, where tribes from all over Wakanda have come to greet the new king.
"We also have a reverse shot of that," D'Esposito said, playing the whole scene again with a camera shooting Boseman from the front. Boseman nailed the shot, letting a suite of compelling emotions flicker on T'Challa's face: Somehow, he looked both driven and nervous as he came out to greet his citizens. And, yeah, that body was real. I think even the straight men in the room leaned forward.
Pratt once again doffed his shirt in Guardians of the Galaxy Vol. 2, which Marvel showed to press last night, but the lone shirtless holdout so far has been a surprising one: Chris Hemsworth keeps the armor on in everything we've seen of Thor: Ragnarok so far, from its well-received trailer to a very funny scene director Taika Waititi showed us where Thor meets a rock alien played by Waititi himself. The director donned a motion-capture suit for the scene, but to give him enough height to measure up to the 6-foot-3 Hemsworth, the production attached a mockup of the rock-character's face to the top of Waititi's head.
Waititi, who's fairly tall himself, appreciated the extra edge that gave him over his perfect specimen of a star. "It's empowering to have him look up," Waititi told me.
"It's empowering any time he looks at you," added producer Victoria Alonso. "Louis D'Esposito once said, 'Whenever Chris Hemsworth looks at me, it makes me want to be a better man.'" Perhaps that's the side effect of all this shirtlessness: After gazing at Marvel beefcake for so long, you start to hope it will gaze back at you.